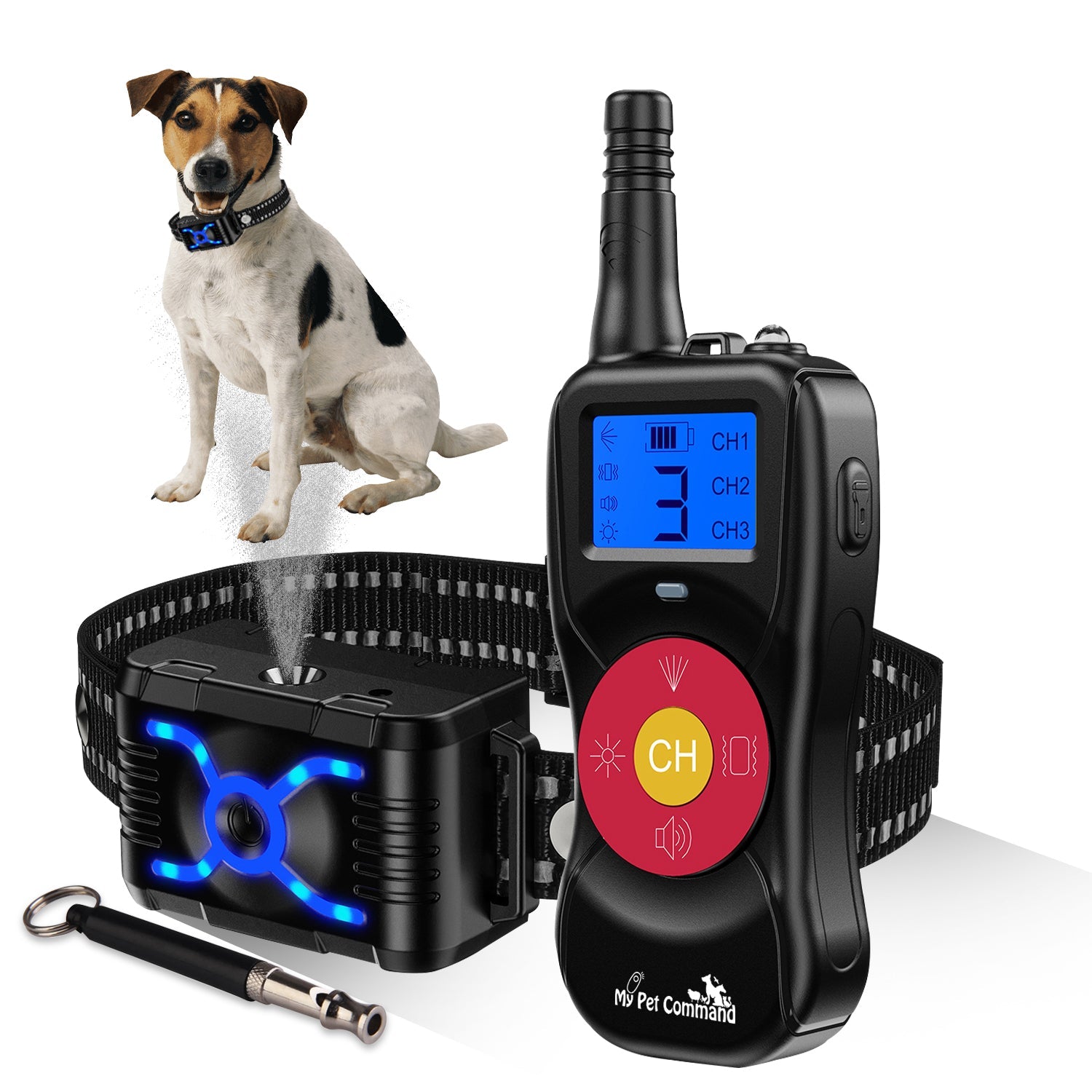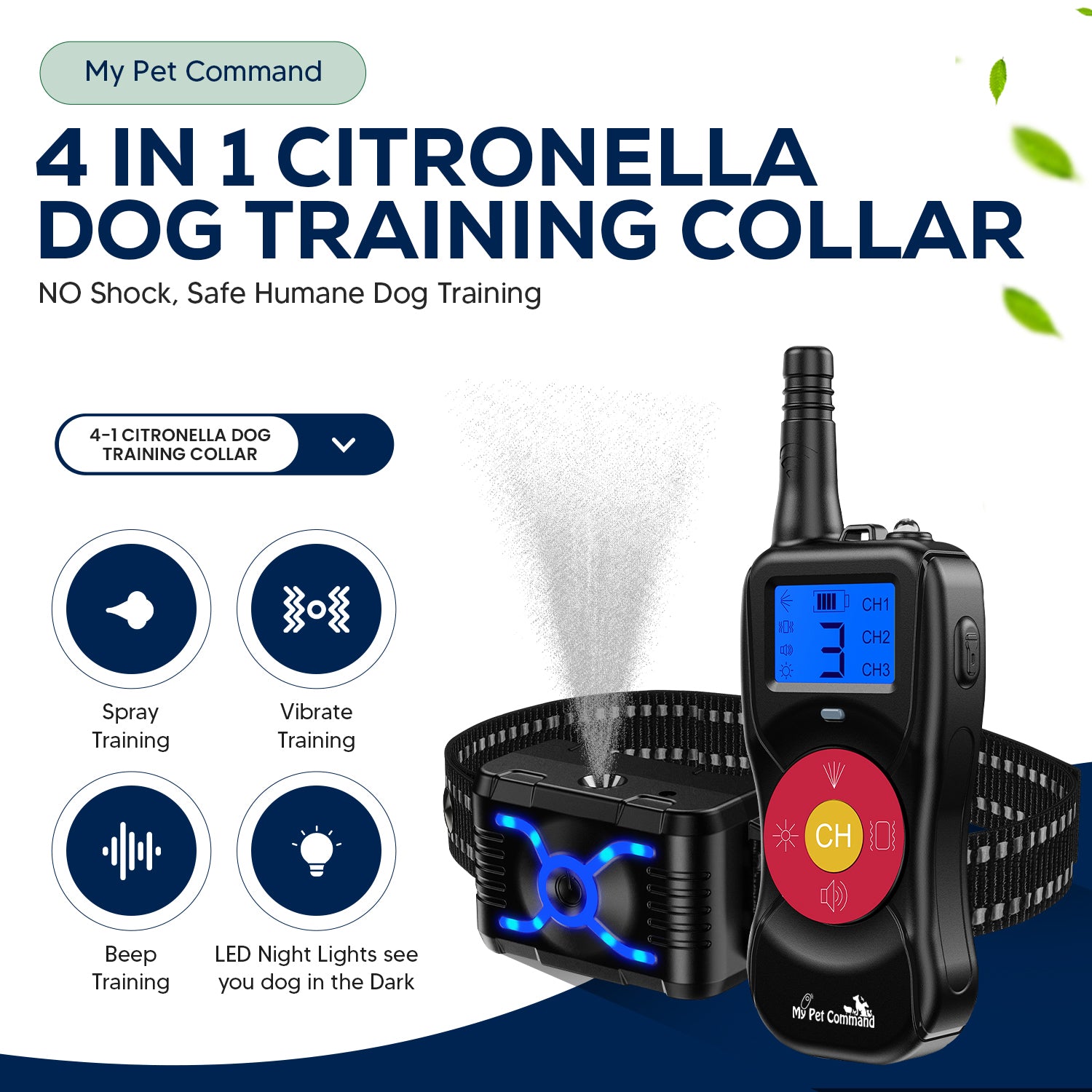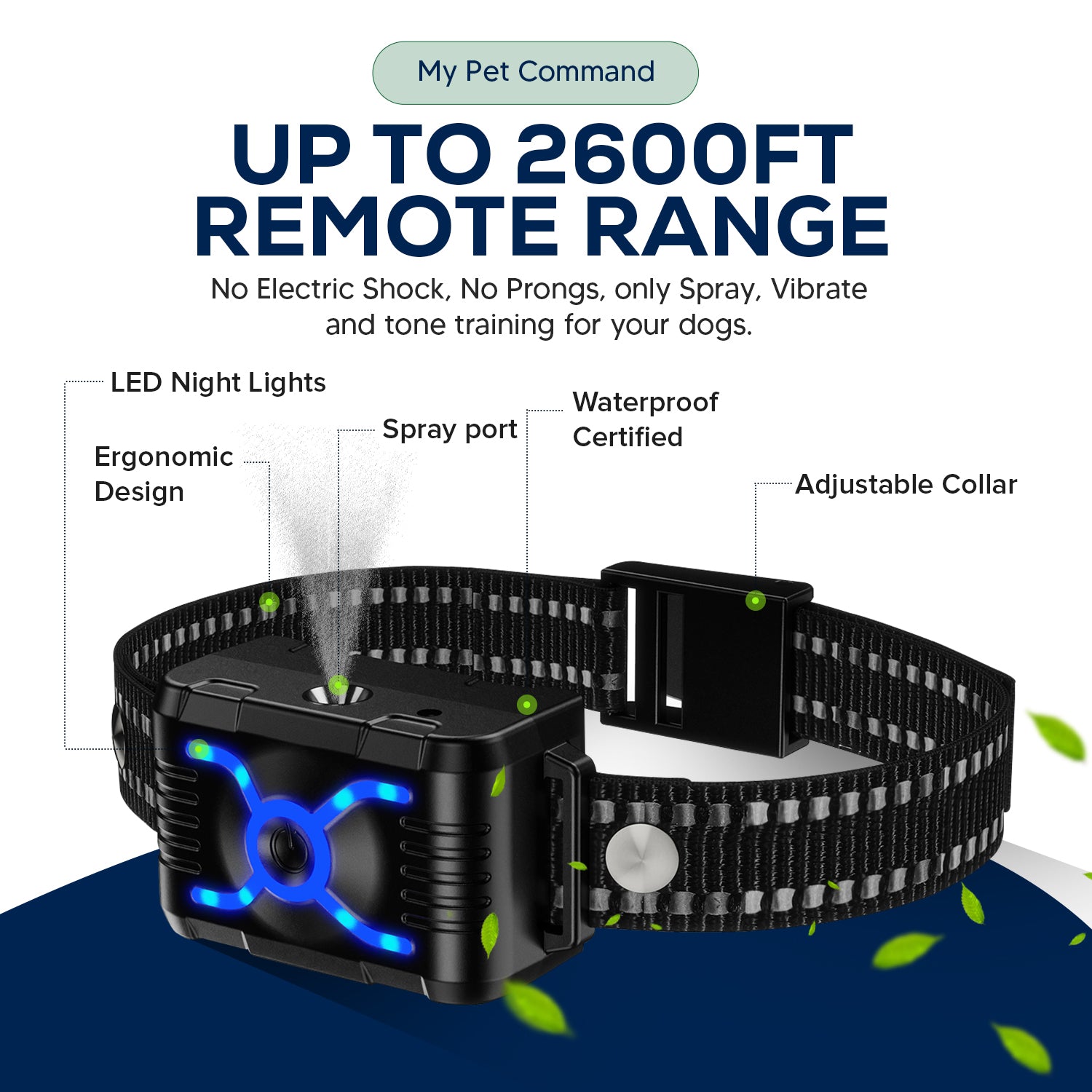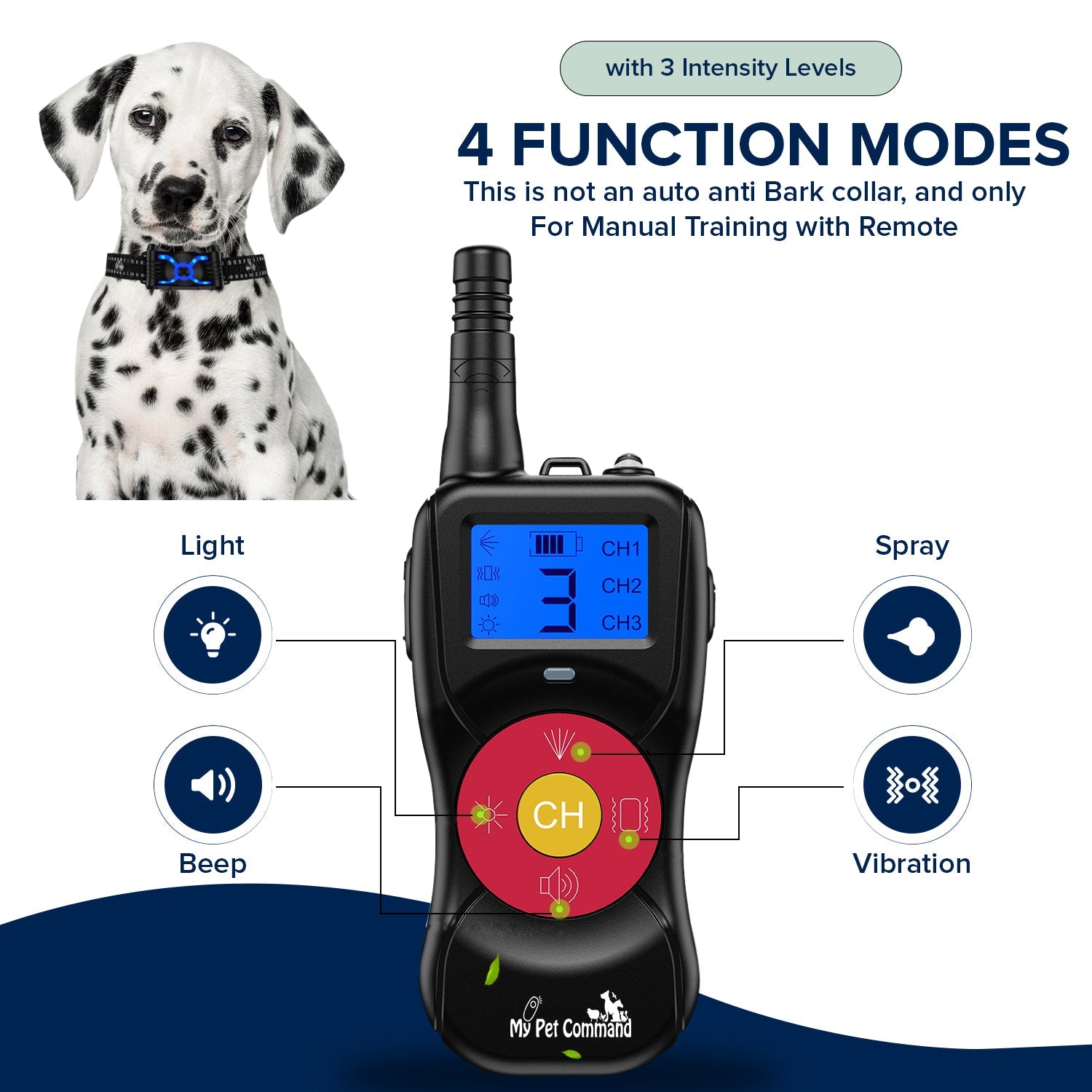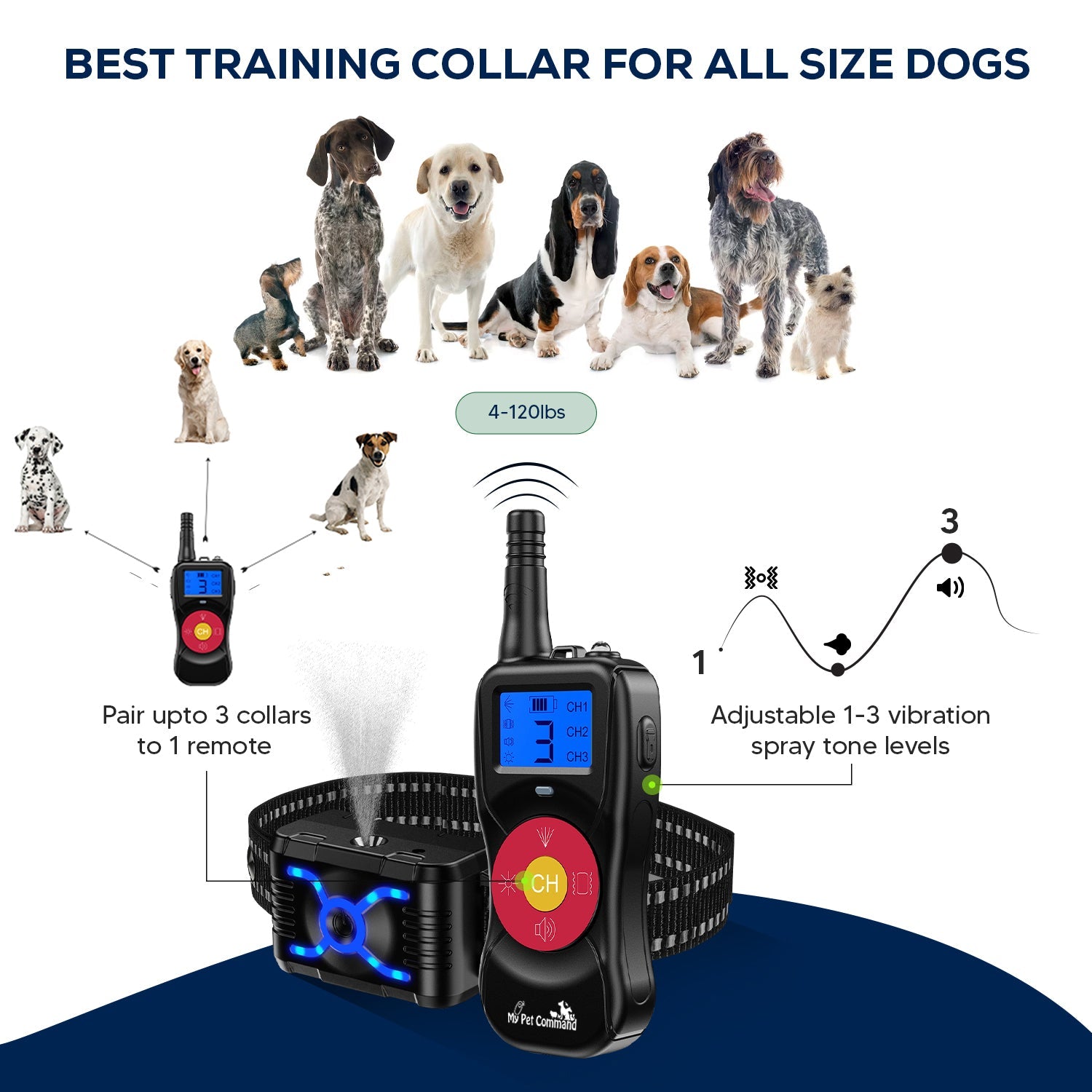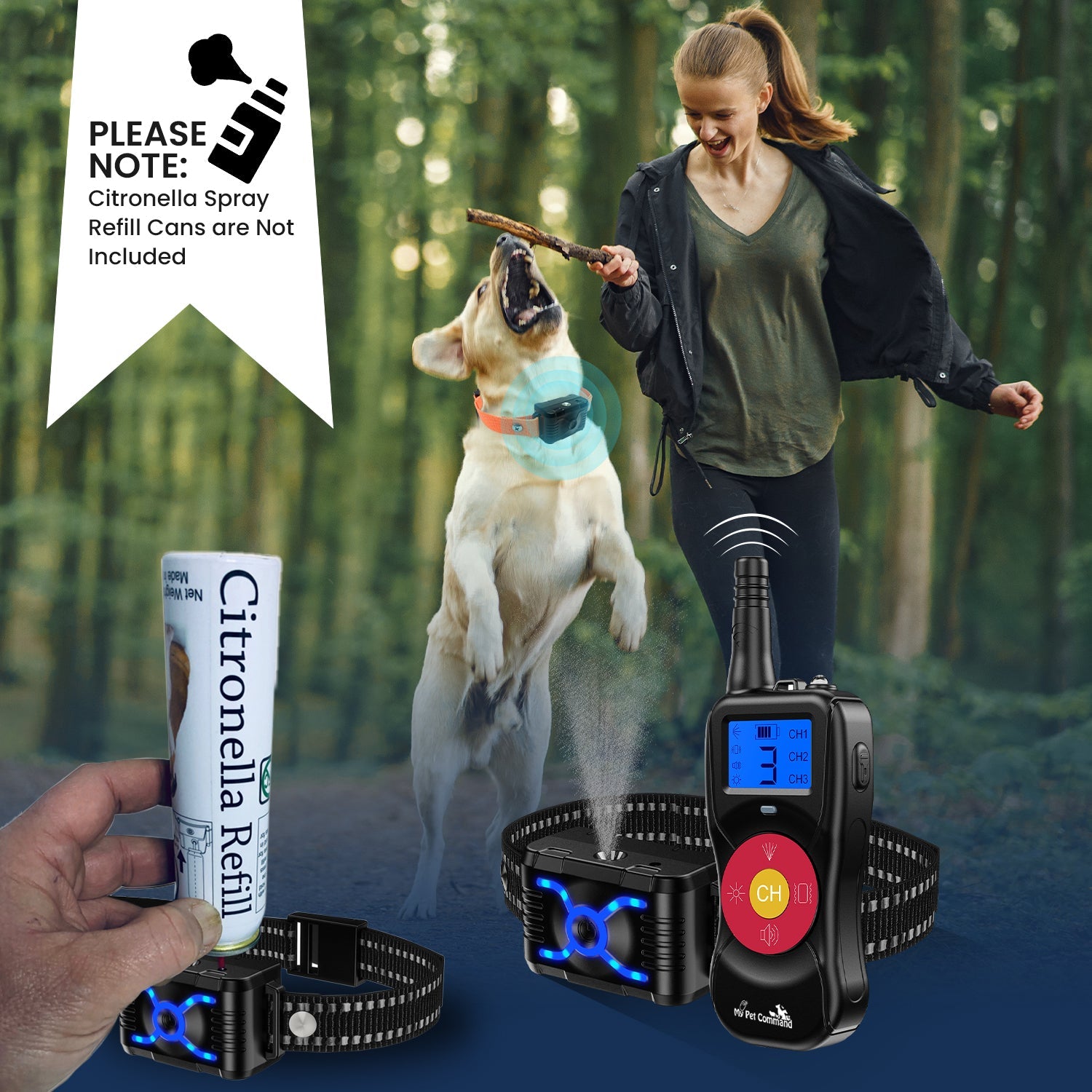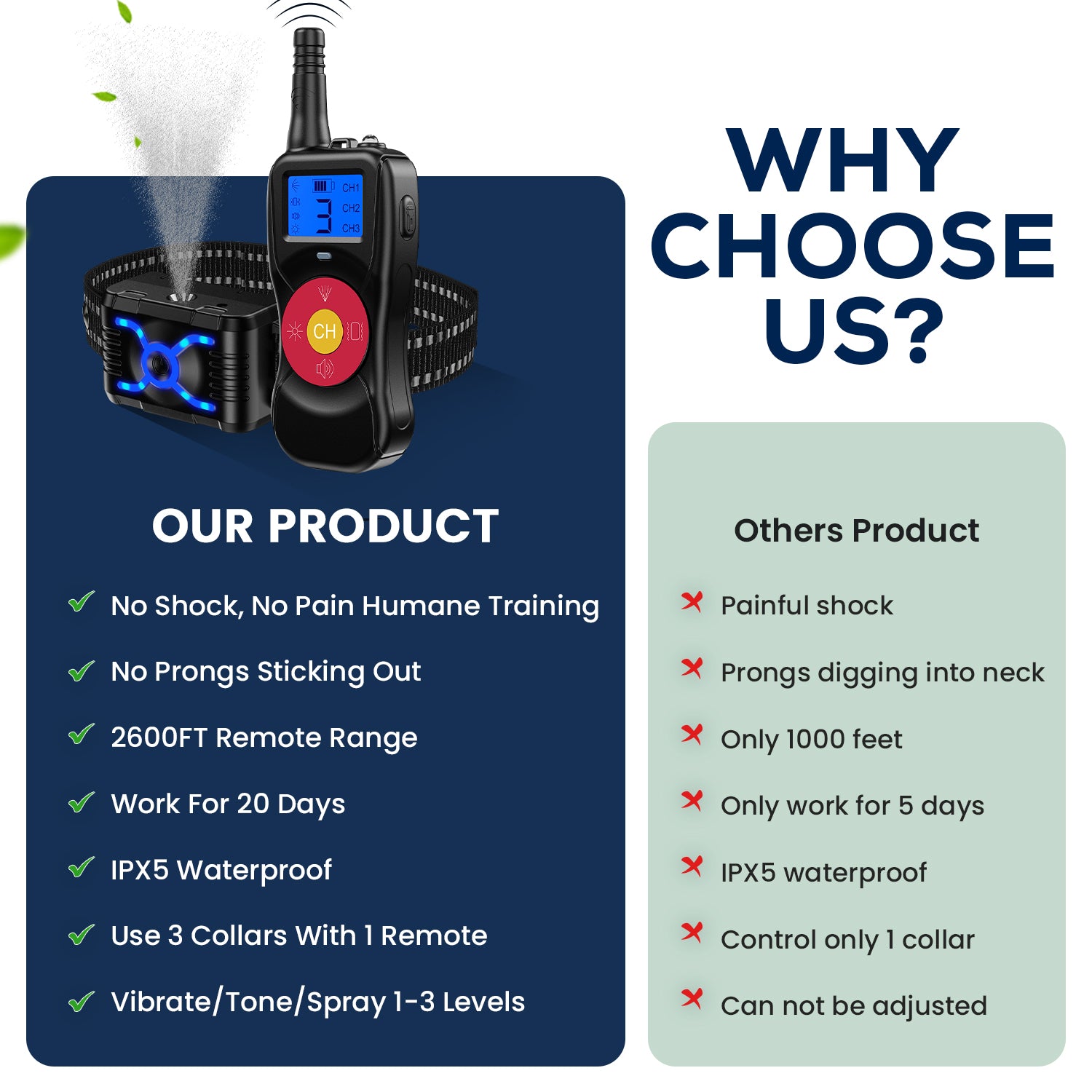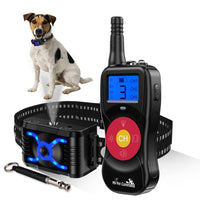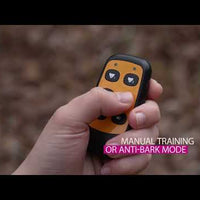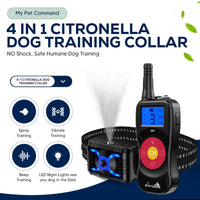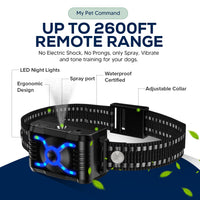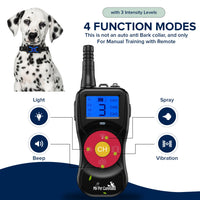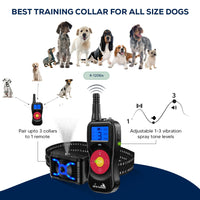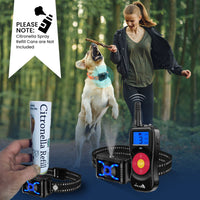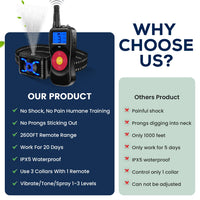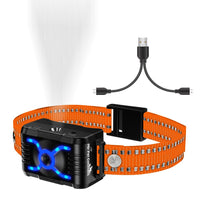 My Pet Command 2600 FT Range (0.5 Mile) 4-1 Citronella Safe Dog Training Collar with Remote, Spray,Vibrate,Tone and Night Light Functions

Brand: My Pet Command
Features:
NO SHOCK. The complete and humane Dog Training solution with 4-1 functionality including Spray, Vibrate, and tone training for your dogs. 3 Levels of adjustments for each feature. Turn on the LED night light on the spray collar from your remote control to see your dog in the Dark with a built in Flashlight on the remote too. Use to Train your Dogs for any unwanted Behaviour such as Jumping, Digging, Barking or simply listening to your commands earning a great time with your best friend.
LONG RANGE. Long Distance up to ½ Mile (2600FT) range in open terrain environments. Add up to 3 collars to the 1 remote. Remote has 3 Individual Channels which allows you to add up to 3 collars to be paired to each channel for individual multi-dog control
NO BATTERIES REQUIRED. Fully Rechargeable IPX5 waterproof rated spray collars and remote control with Long Battery Life of up to 1 week before recharging. Collars can withstand outdoor weather use for up to light/moderate rain (Collars cannot be used for swimming). Suitable for ALL dogs and breeds with adjustable strap for neck sizes 5.9 "-25.5" (15-65cm)
HIGH VELOCITY SPRAY NOZZLE. 3 adjustable levels of Spray modes that can handle up to 42 Sprays before refill, giving you confidence of adequate training. Effective Spray force has shown most dogs react to Spray mist. Use adjustable Vibrate and tone training modes too. USES STANDARD LIQUID AEROSOL REFILL CANS (NOT INCLUDED). Search on amazon to buy such as Pet safe Spray Can Refill for Spray Bark Control Remote Trainer and you can use any type eg Citronella, lemon or unscented as per your choice
INCLUDES (1) Transmitter Remote (1) Rechargeable collar with adjustable Strap (1)Dual USB Charging Cable (1) Lanyard (1) User Friendly Manual and training Guide (1) BONUS FREE Ultrasonic Training whistle. 1 YEAR PRODUCT WARRANTY. Contact us for any help or support needed. Extra Collars sold Separately, Select Extra Collar to purchase extra Collar only
Details:
Do you Struggle to train your Dog ?
Do you have Stubborn and hard to train Dogs ?
Does Your Dog Jump on people, sit on Furniture, Bark Excessively or does things that you don't want them to do and they don't always listen to you ?
Do you need to see and keep track of your Dog in the Dark ?
Our Answer
My Pet Command Long Range Remote Citronella Spray Trainer is the perfect and safe humane Training Aid and training tool to help you.
This Training Kit addresses all issues with this High Quality Training kit such as waterproof spray collars, Safe Humane High velocity Dog Spray Collar and Vibration modes with 3 selectable levels as well as audio tone training mode.
A Safe and Efficient Dog Training Tool suitable for all dogs with Neck sizes 5.9 "-25.5" (15-65cm).
My Pet Command Long Range Citronella Dog Training Collar kits comes with following features:
Multi-dog use from the same transmitter (memorize up to 3 dogs)Nightlight LED Flashing light function for greater night visibility.
See your pet In the dark and includes Flash light on the remote
High Velocity Spray function with 3 levels as well as 3 Levels of Vibrate and Audio Tone settings at a push of button Intensity can be set remotely using the "+" and "-" buttons
LCD digital display with adjustable levels and dog identification
Includes Free Bonus Ultrasonic Dog Training whistle and training guide to help train your dog
Uses STANDARD Liquid Aerosol refill cans (Not Included and you need to purchase separately)
Designed for exceptional Training thanks to its easy to use design.
It's the only Dog Training Collar Kit you should trust for training your dog.
See for yourself the difference between MY Pet Command's newest model and the competition . Extra Collars sold Separately. Search Amazon My Pet Command Extra ½ mile Collar to buy extra collars
Buy today with confidence thanks to immediate customer support help and 12-MONTH WARRANTY. Add to Cart
Video:-