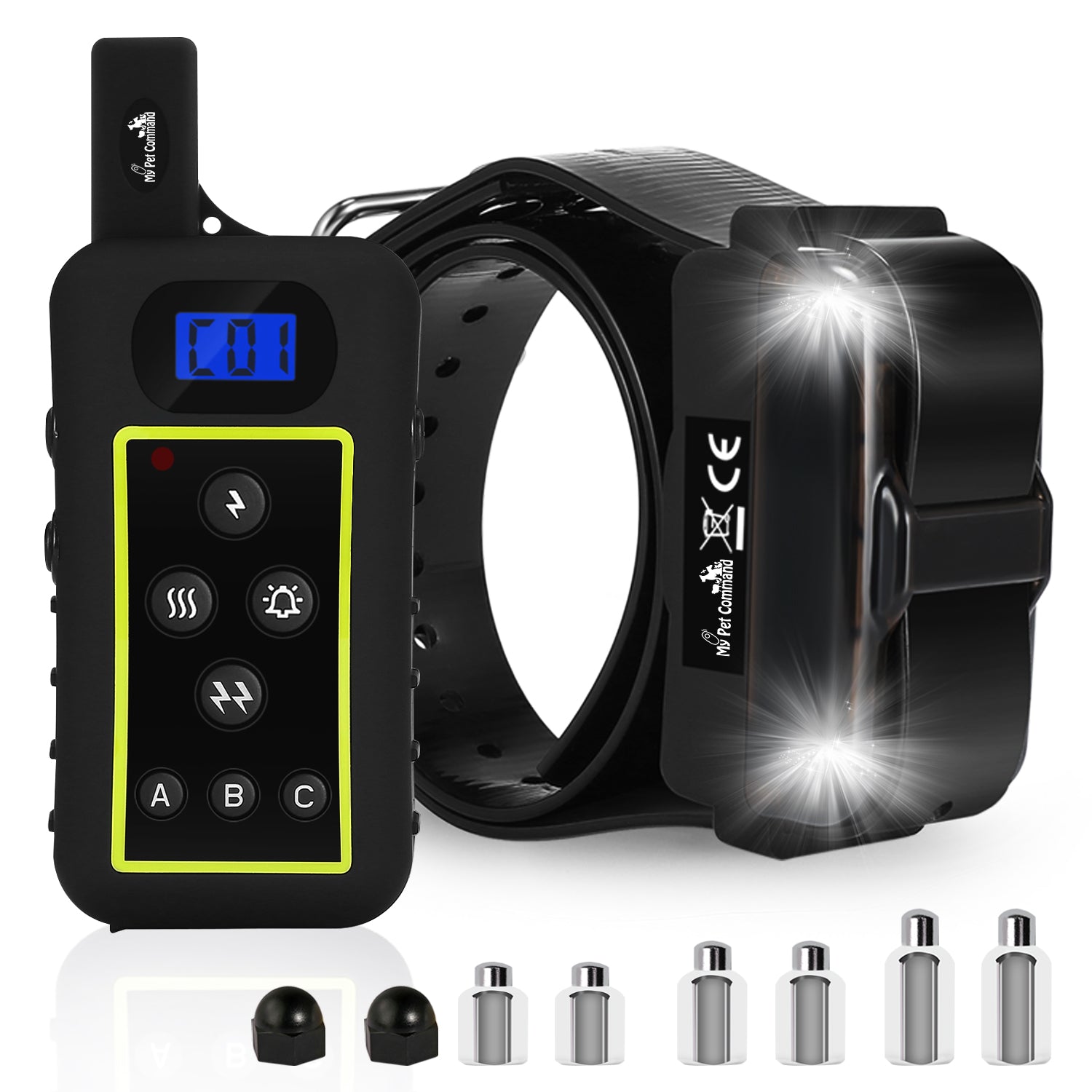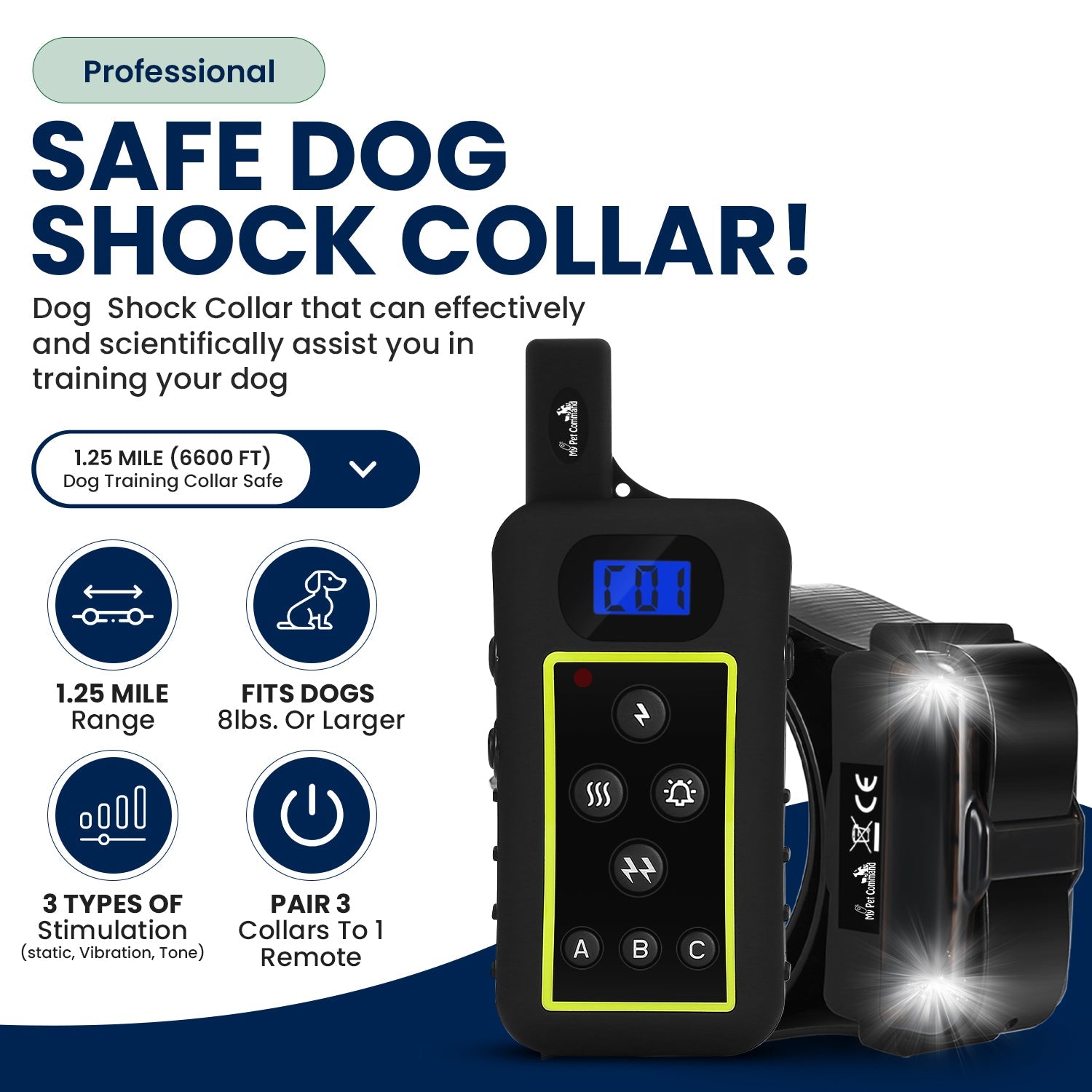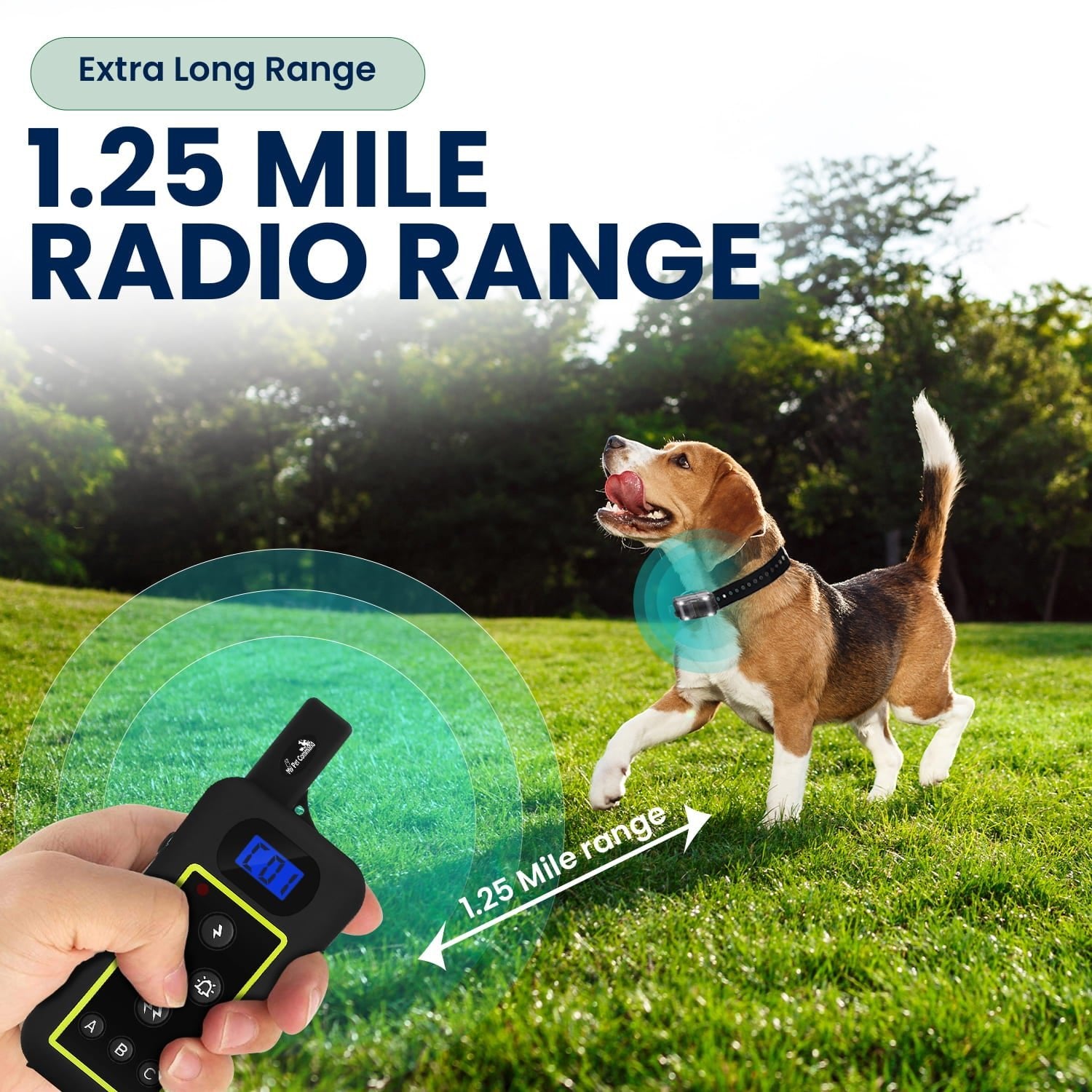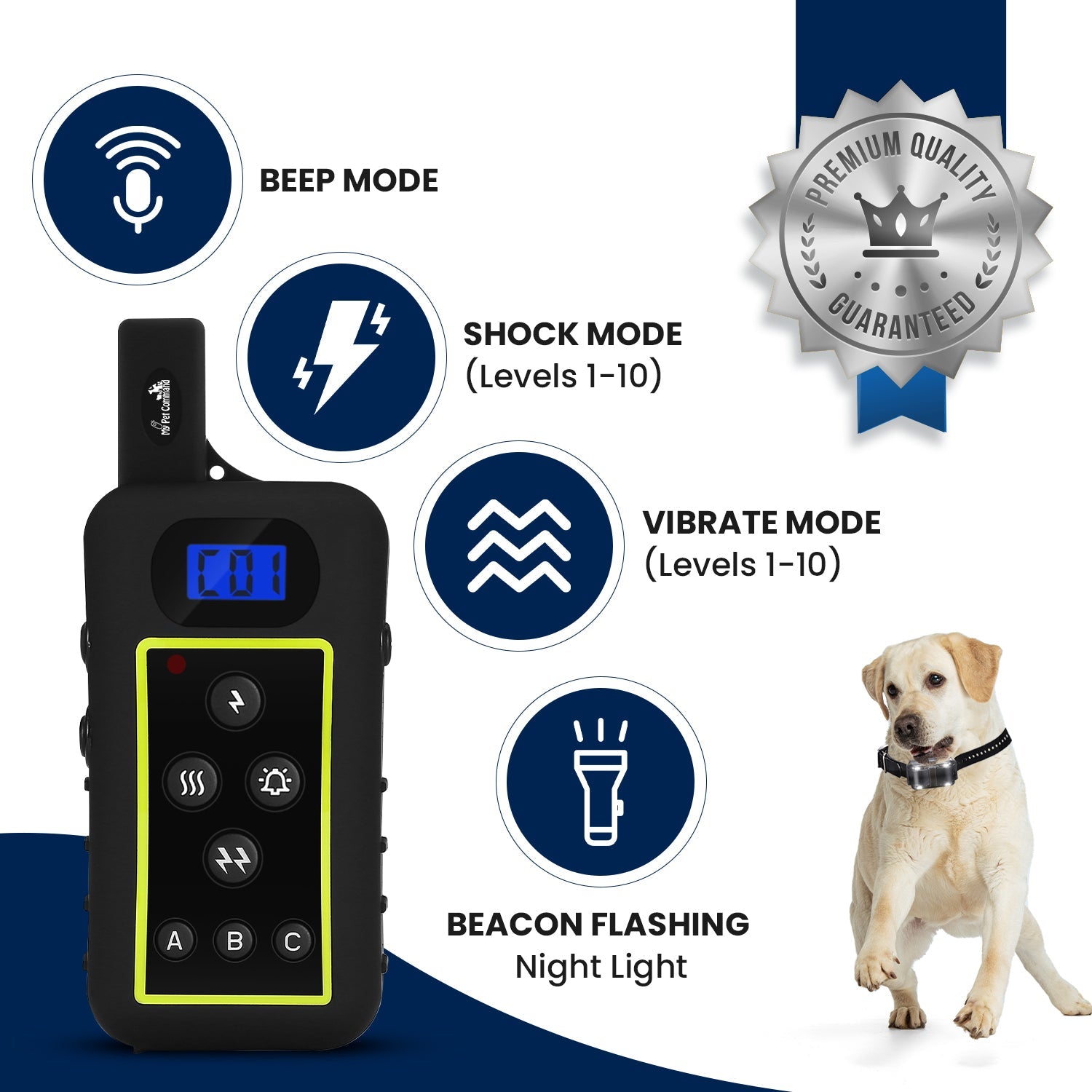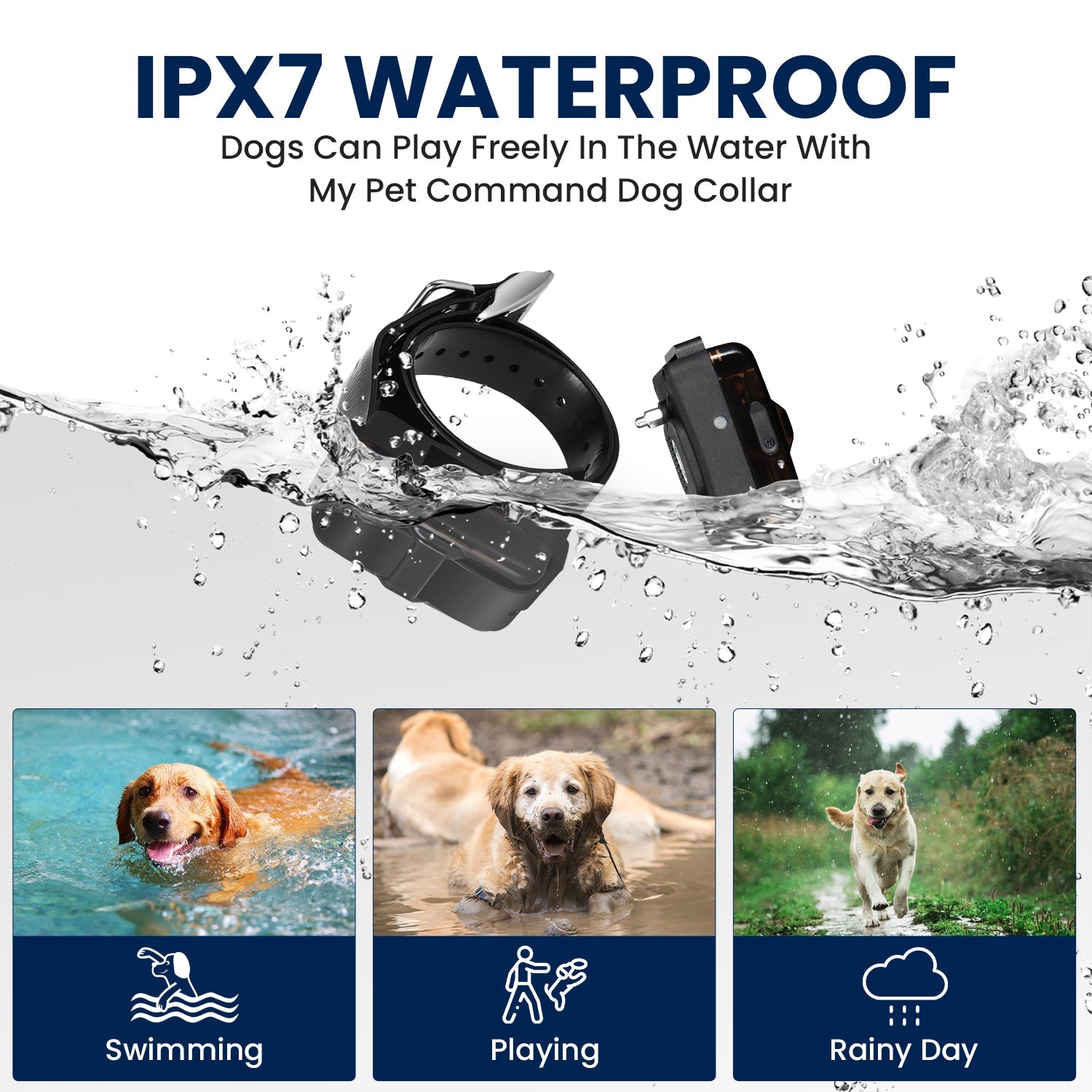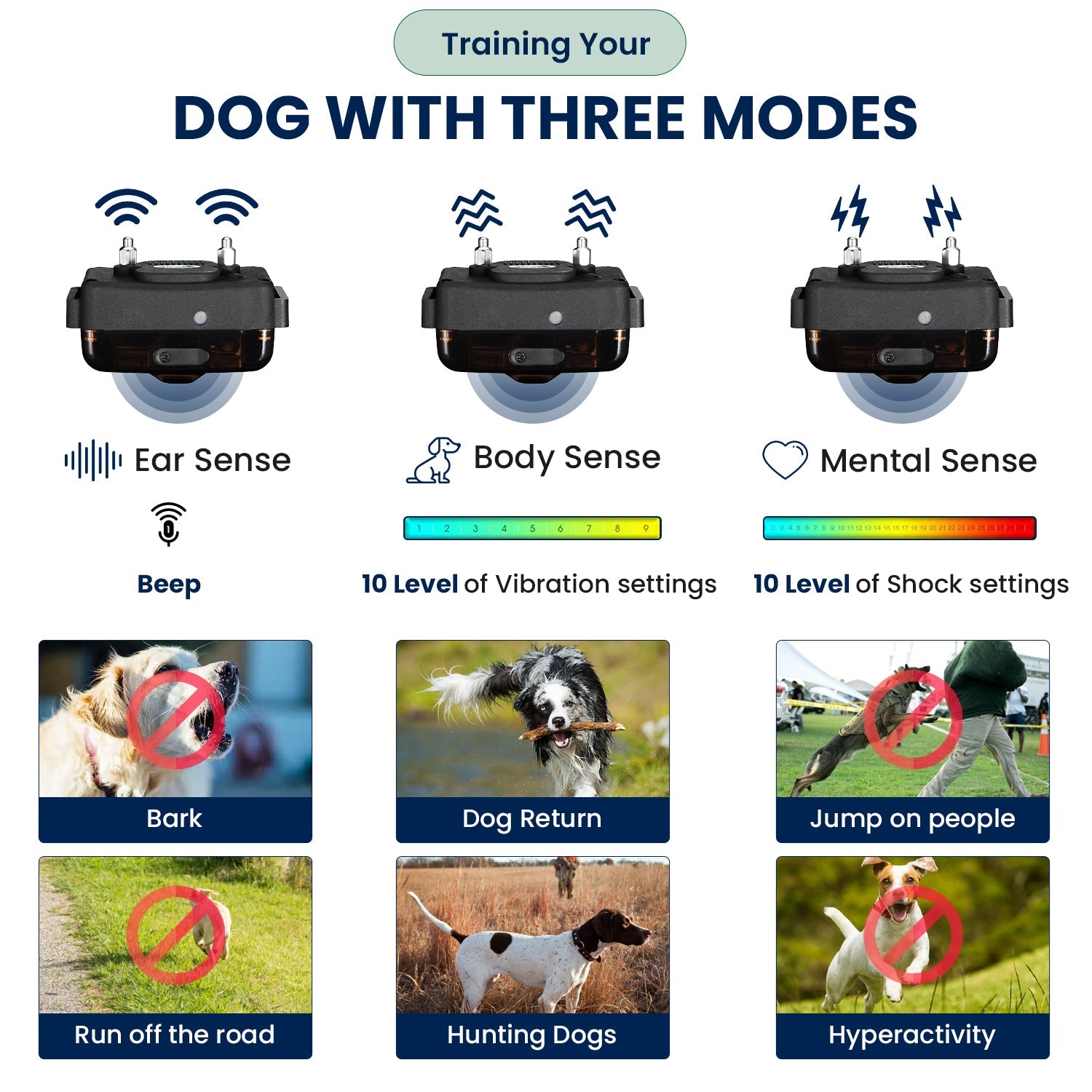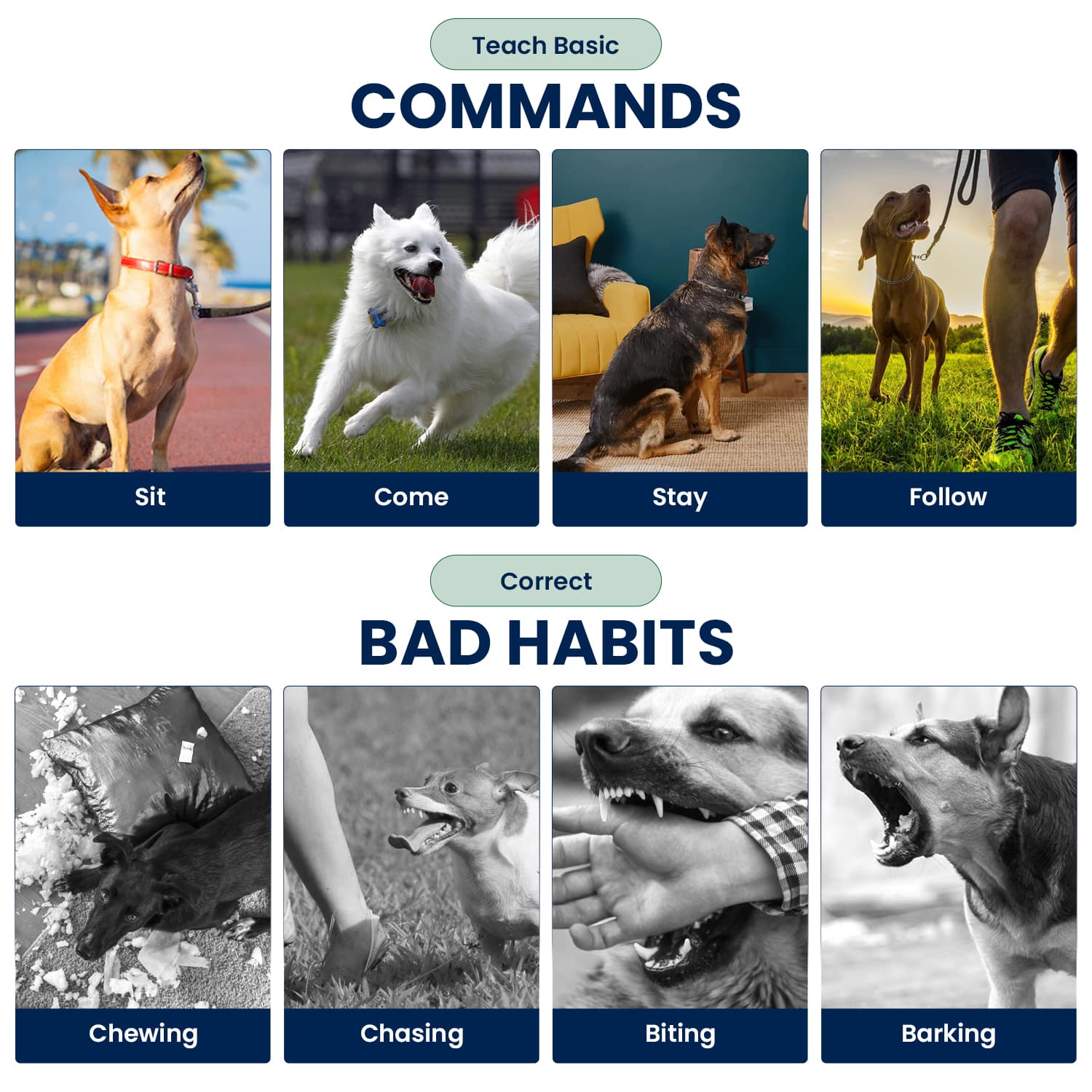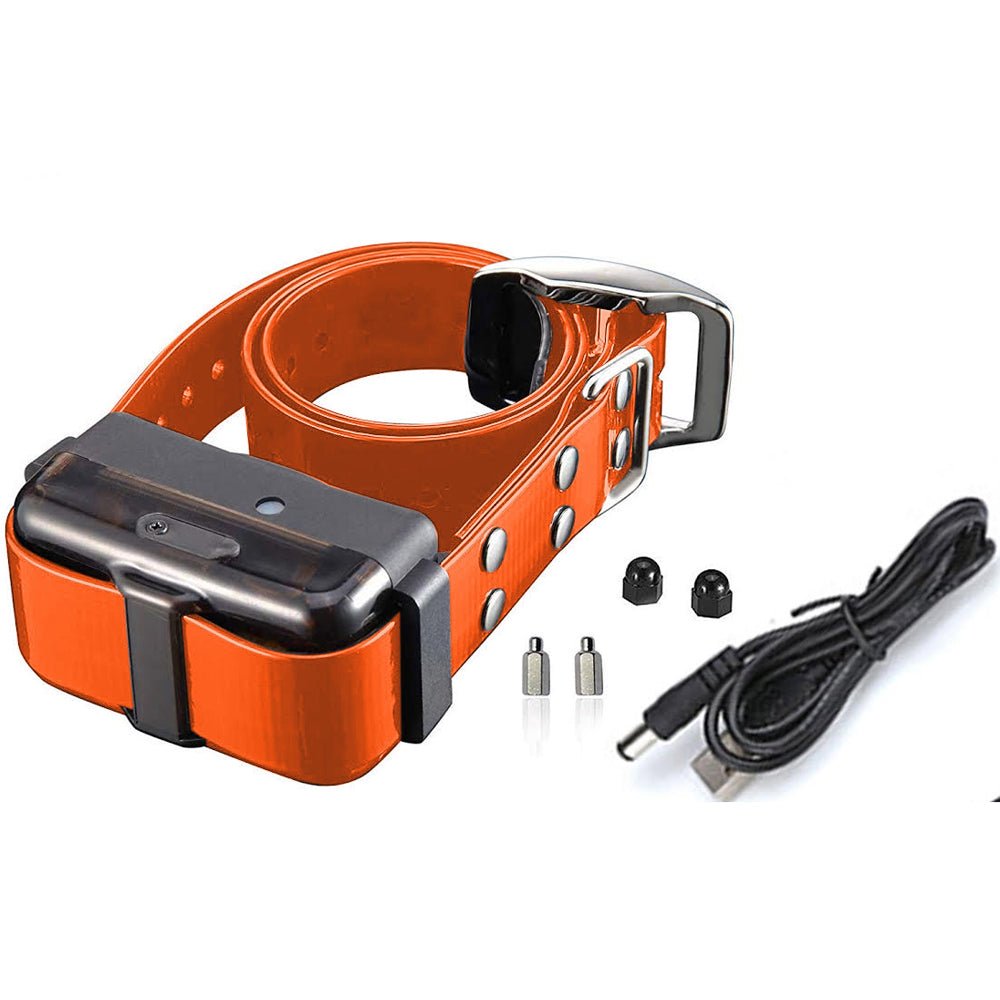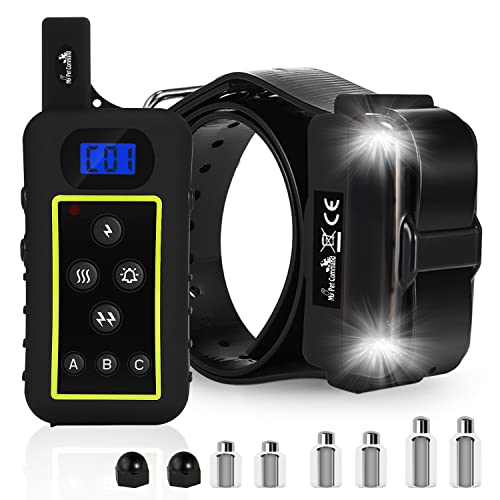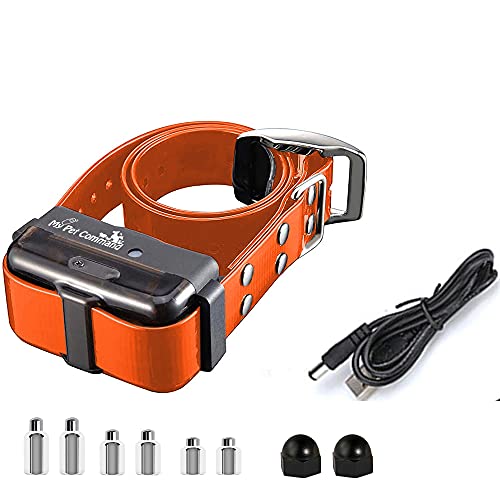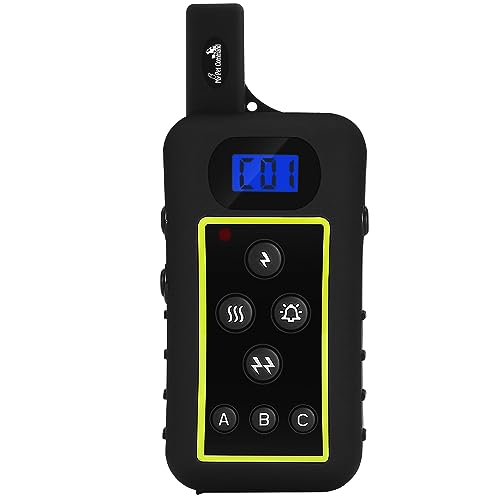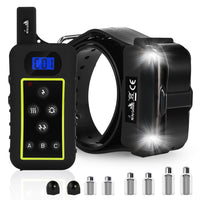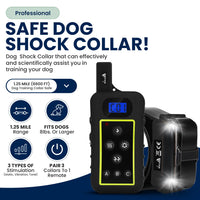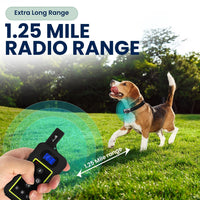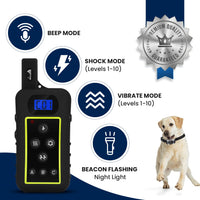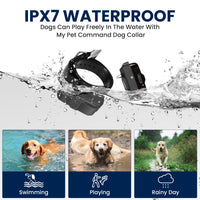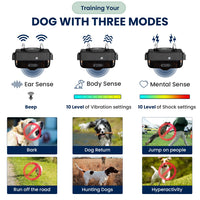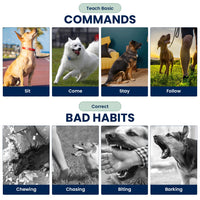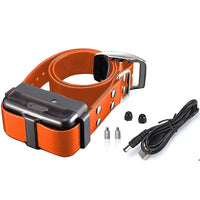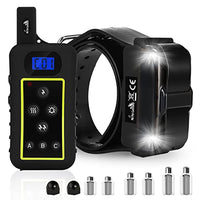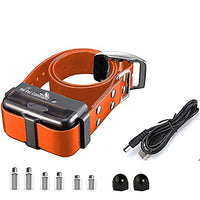 1.25 Mile (6600 Ft) Long Range Dog Training Shock Collar with Remote - My Pet Command

Features
My Pet Command's best long range of up to 1.25 Miles (6600Ft /2km) high-quality Dog Training Shock Collar for Training, Hunting, or sports with Remote and long battery life. It is a safe and effective training collar for up to 3 dogs (Fits small and Big Dogs) with 1 remote. Collar fits Neck sizes of 8.2-26.5" (21-68cm) 
LONG range and Long Battery LIFE. The My Pet Command high quality training Kit can be used remotely, using the comfortable handheld remote to assist in everyday training. With a range of up to 1.25 Miles (6600Ft /2km) in open terrain, allows you to train your dog to heel, stay, or return making it as simple as pressing a button with Long Battery Life
SAFE AND EFFECTIVE TRAINING shockcollar for UPTO 3 DOGS WITH THE 1 REMOTE. fully safe to work on any dog , making absolutely sure that your dog won't be harmed. Select up to 10 levels of Electrostatic Shock and vibration levels and additional audible tone to suit your specific dogs and Breed Types. Use the Plastic Prongs to turn the collar into no SHOCK function and Pair up to 3 Collars to the 1 Remote for Multi-dog Training and Dog Hunting. Collar fits Neck sizes of 8.2-26.5" (21-68cm)
BRIGHT BEACON FLASHING NIGHT LIGHTS. Turn on the Beacon Flashing Night Lights from your remote to see and keep track of your Dogs in the dark up to 328 Yards (300m) Away, meaning that you are always keeping visible touch with your dog
IPX7 WATERPROOF COLLARS Not only are our collars and remotes highly durable, they are also Fully Waterproof. Taking your dog to the beach or lake is never a worry with the My Pet Command Dual training collar. Your dog can safely swim and play in the water up to 3.28 feet (1 meter in depth all day long! The Remote Control is also waterproof and can withstand outdoor weather conditions and rain etc. allowing you to train your dog in every weather condition!
Includes(1 )Collar with LED Night Beacon Flashing Lights (1) remote (1) USB Power Adaptor with USA Plug, Dual Charging USB Cable (4) pairs of 0.8" (2cm) 0.6" (1.5cm), amp; 0.4"(1cm) metal prongs each and a pair of Plastic prongs with collar Spanner tool. (1) Test Bulb and Lanyard Remote Strap. Free Bonus Ultrasonic Dog Training whistle.
To buy extra collars select Extra collar only option
Details
Do you Struggle to train your Dog ? Do you have Stubborn and hard to train Dogs ? Does Your Dog Jump on people, sit on Furniture, Bark Excessively or does things that you don't want them to do and they don't always listen to you ? Do you need to see and keep track of your Dog in the Dark ? Do you have any hunting dogs ?
Our Answer
My Pet Command Long Range Remote Trainer is the perfect Training Aid and training tool to help you. This Training Kit addresses all issues with this High Quality Training kit such as waterproof collars, Electrostatic shock and Vibration modes with 10 selectable levels as well as audio tone warning mode. A Safe and Efficient Training Tool suitable for all dogs with Neck sizes 21-68cm (8.2-26.5") My Pet Command Long Range Dog Training Collar kits comes with following features:-
Open field range up to 1.25 Mile (2km/ 6600 ft).
Dual function remote trainer and Hunting Dog.
Multi-dog use from the same transmitter (memorize up to 3 dogs).
Highlight/Nightlight LED Flashing Beacon function for greater night visibility. See your pet from up to 300 meters (328 yards) away.
10 levels of static shock.
10 levels of vibration.
"Beep" sound activated with a push of a button.
Intensity can be set remotely using the "+" and "-" buttons.
LCD digital display for shock and vibration levels and dog identification.
Includes Free Bonus Ultrasonic Dog Training whistle and training guide to help train your dog Designed for exceptional Training thanks to its easy to use design It's the only Dog Training Collar Kit you should trust for training your dog See for yourself the difference between MY Pet Command's newest model and the competition.
Select Extra Collar only to buy extra collars Buy today with confidence thanks to immediate customer support help and 12-month warranty. Click "Add to Cart" Now!
Use Cases
Dog training collars with shock, or e-collars, are primarily designed for training purposes. However, it's important to note that their use can be controversial, and positive reinforcement methods are generally recommended. Here are some potential use cases for shock collars in dog training:
Basic Obedience Training: Shock collars can be used to reinforce basic commands such as sit, stay, and come. The shock serves as a deterrent for undesirable behavior.

Off-Leash Training: E-collars are sometimes used to train dogs to behave off-leash, providing a means of control at a distance.

Boundary Training: Some shock collars are designed for use in invisible fencing systems, helping dogs learn boundaries and stay within a designated area.

Behavior Modification: Shock collars may be used to deter specific unwanted behaviors such as excessive barking, digging, or jumping.

Safety and Recall: In situations where safety is a concern, such as near roads or wildlife, shock collars can be used to reinforce a strong recall response.

Hunting: Shock collars can be used to train the dog to use them for hunting purpose. 

Sports: Dog shock collars can be also used for Sports.
FAQs

Q. When to start e-collar training?
A.  For starters, we recommend doing it for dogs above the age of 6 months and Weight of 5 lbs because, at a young age, they might not have the ability to receive training or to receive the various types of stimulation. Read more about this here.
Q. What is an e collar or Dog Training Shock Collar?
A. An e-collar, or electronic collar, is a device used in pet training, often for dogs. It delivers remote-controlled electrical stimulation to reinforce commands or deter unwanted behaviors. The controversial devices have supporters who emphasize proper use for effective training and detractors who express concerns about potential misuse and its impact on animal welfare.
Q. How to train a dog with a shock collar?
A. Using a shock collar for dog training should be approached with caution. Consult a professional trainer, choose a high-quality collar, understand settings, pair with positive reinforcement, be consistent, avoid overuse, introduce gradually, and monitor your dog's reactions. Consider positive reinforcement methods as an alternative.
Q. Can I use a Dog Shock Training collar for both small and big dogs?
A. Yes you can use our dog shock collar for any small to big dogs except some very small and miniature dogs.
Q. Is it legal to use dog training shock collars in USA?
A. Yes it is legal to use dog training shock collars in USA as they are harmless and cruelty-free. Read more here
Still have more questions? Contact Us
Video/Instructions
Product Demo and uses Video: 
Pairing/unpairing instructions of Collars to remotes:
Unboxing and use Instruction Video)