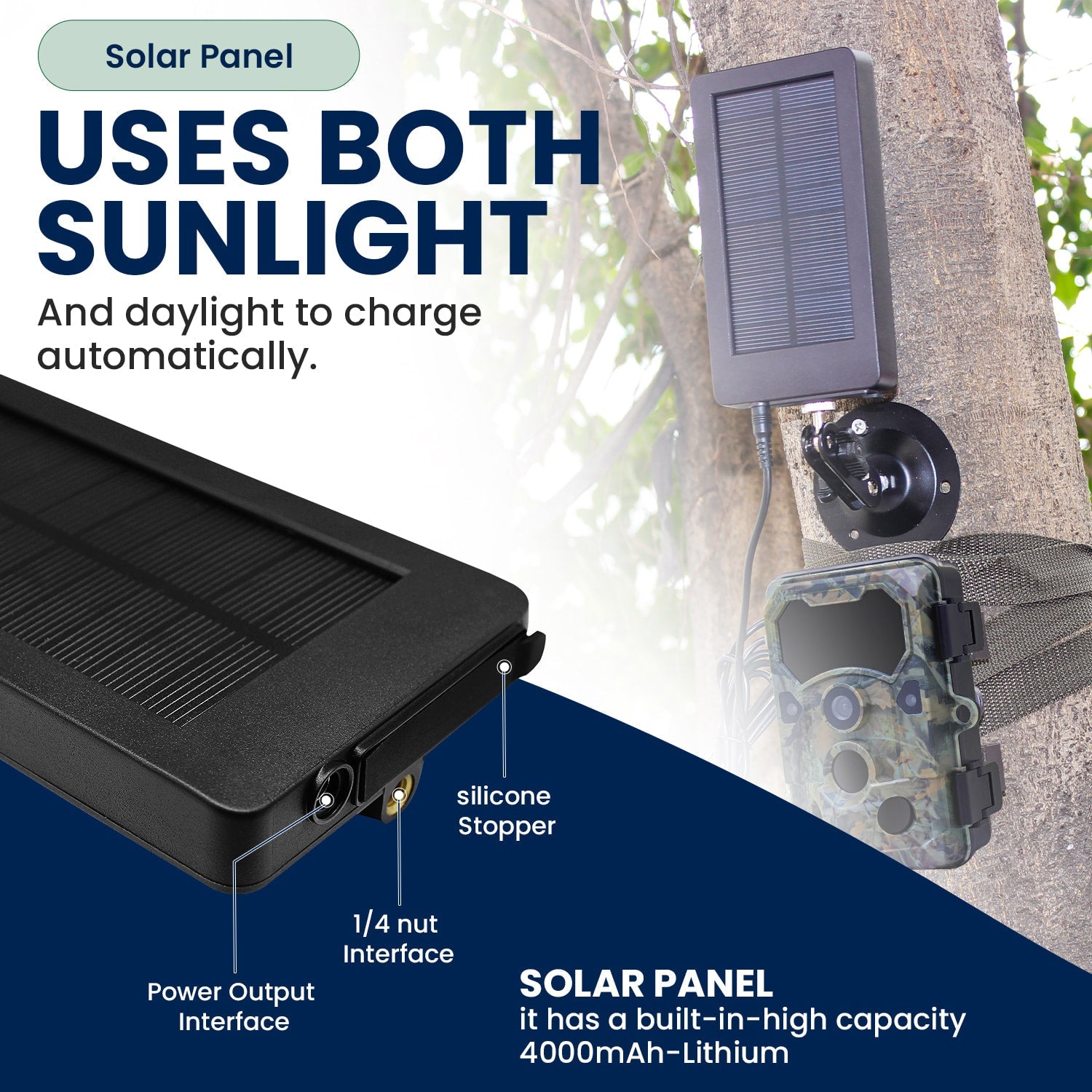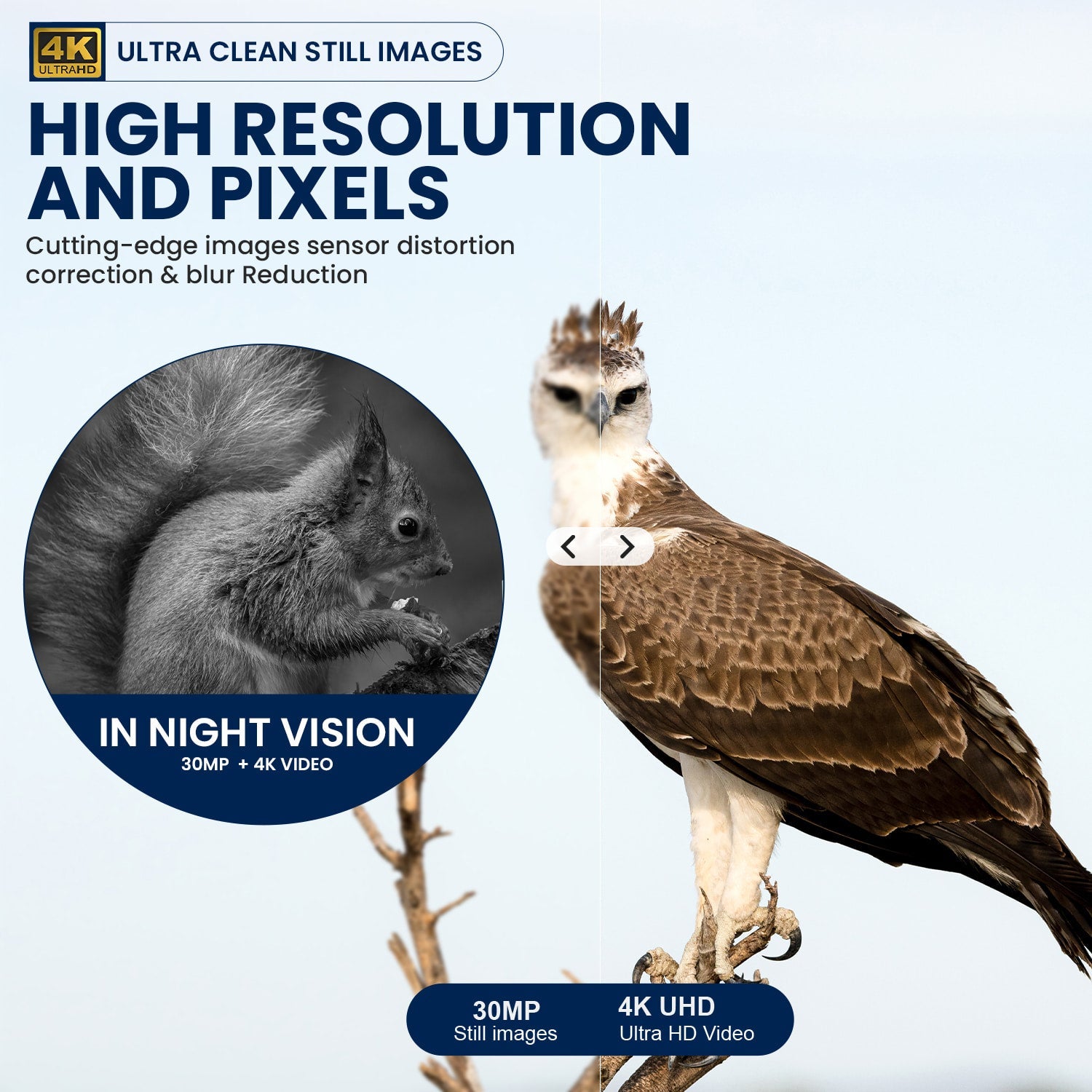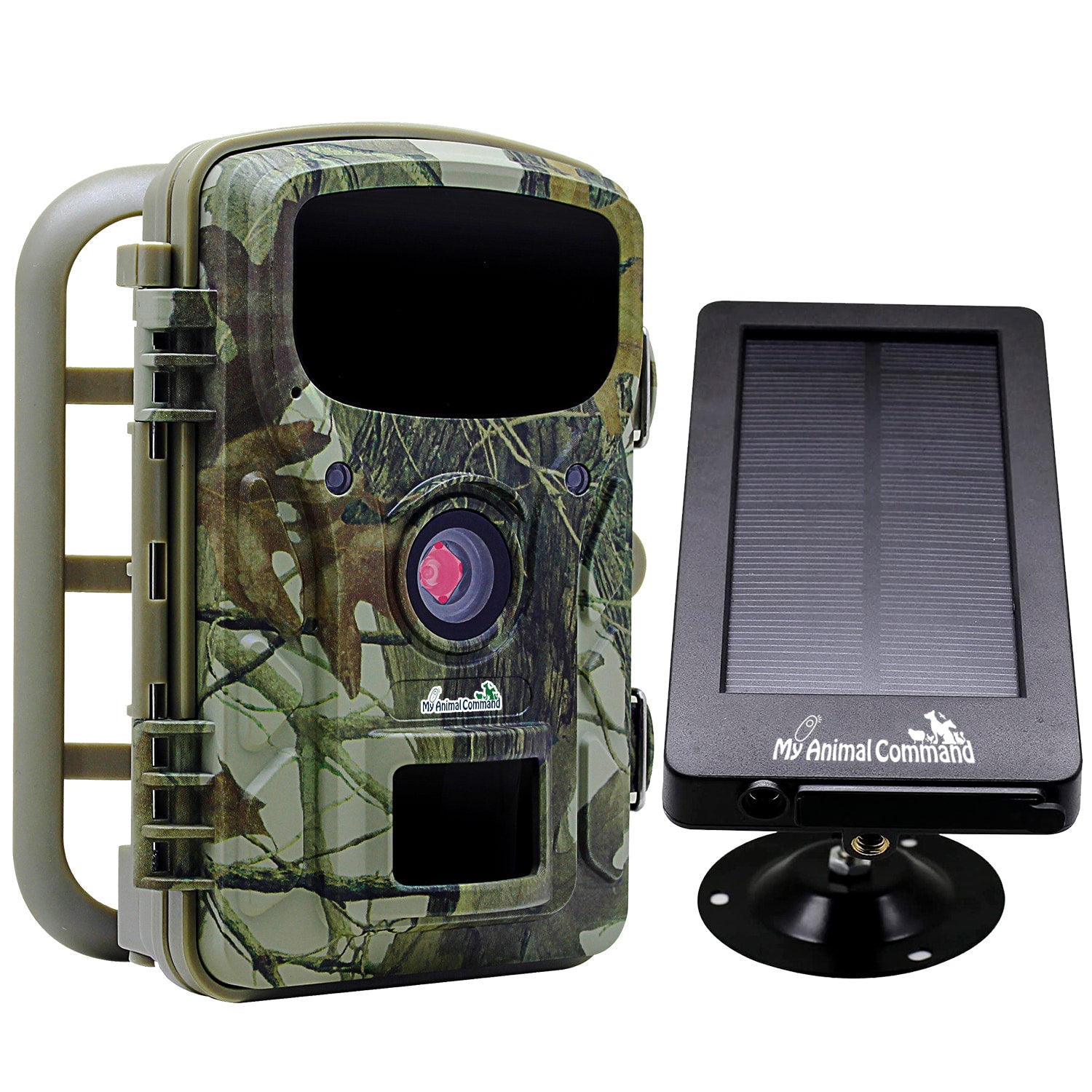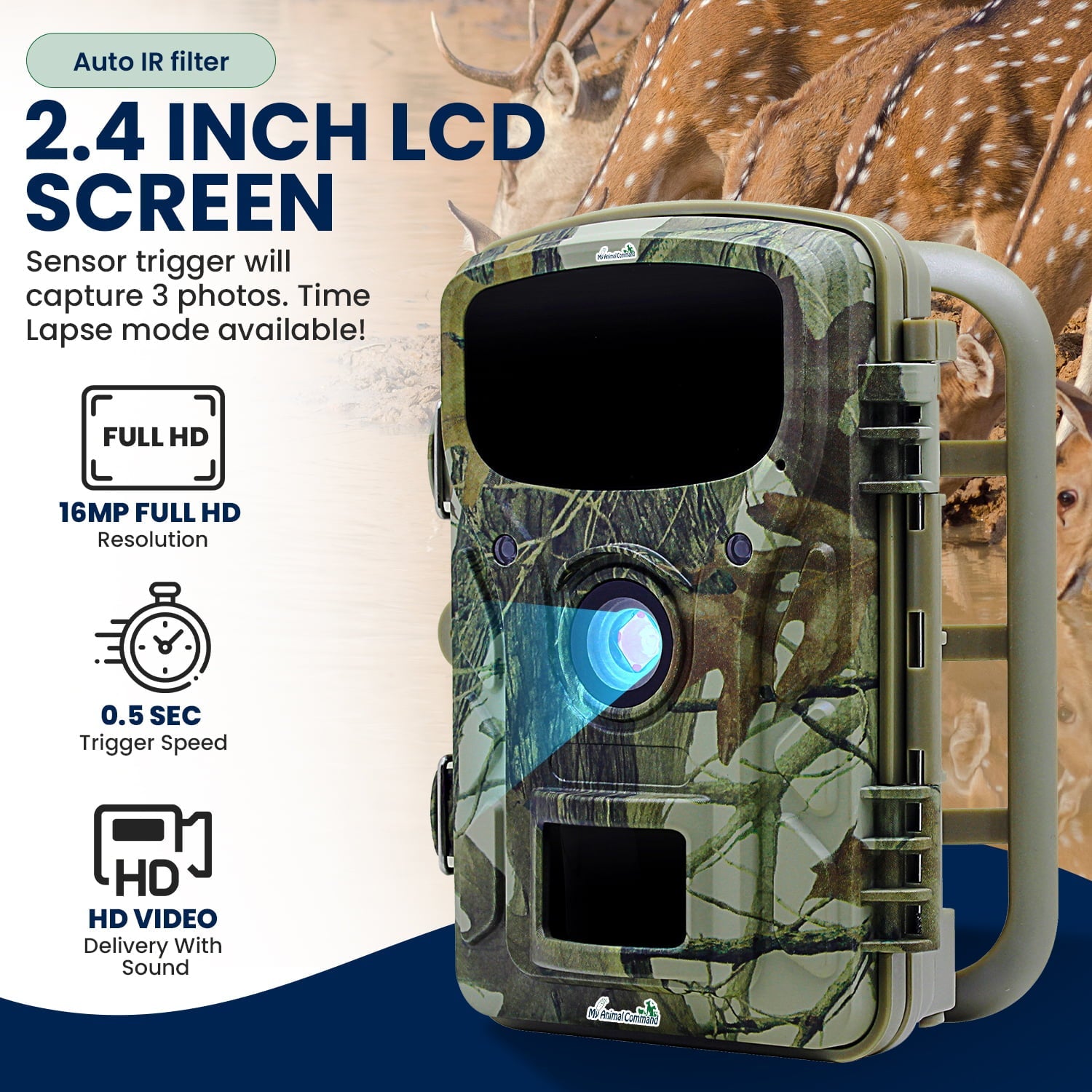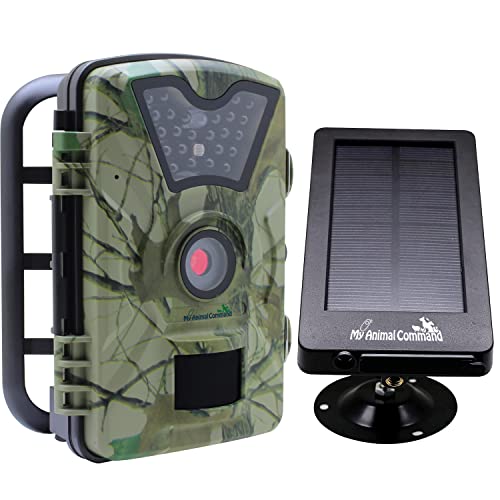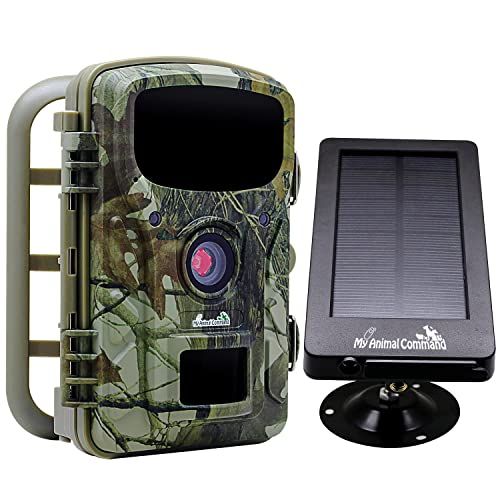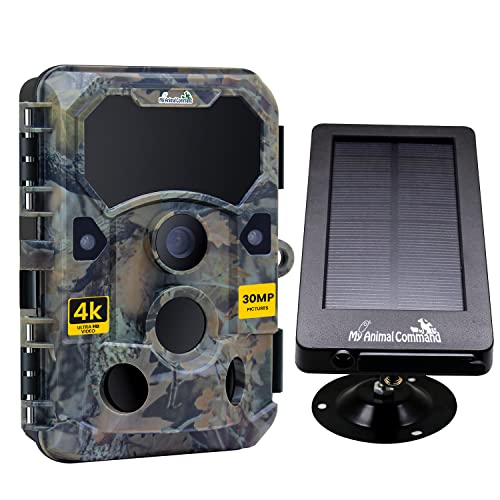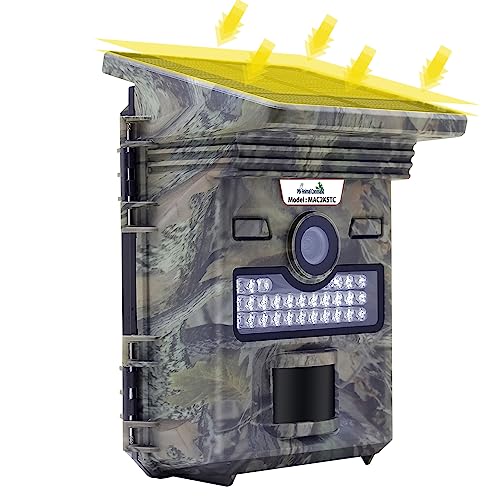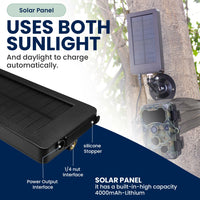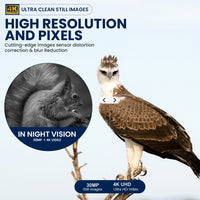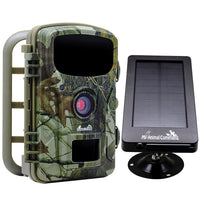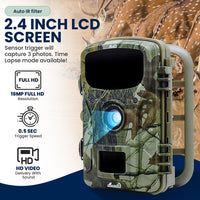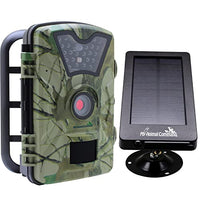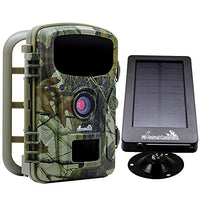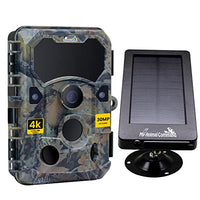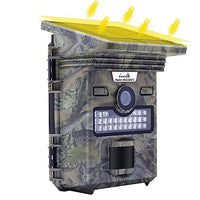 My Animal Command Powered Solar Trail Cameras Game Time Lapse Cam with Night Vision Motion Activated

Features

SOLAR POWERED & LONG BATTERY LIFE: The spy security trail camera and solar power pack (4000mAh) bundle saves you from the hassle of running out of power while you set it up in location. It can make the camera run day & night without worrying about its battery power that can last up to 6 months and longer.
Full HD and Ultra HD WILDLIFE/SECURITY FOOTAGE & NIGHT VISION: The surveillance camera captures 12/16/20/30 MP images and Full/Ultra HD video and crisp sound quality ensuring clear footages that every hunter needs and you can save it using Standard size SD Cards up to 32GB for 12MP.16MP Models and 128GB for the 20MP and 256GB for 30MP Model for ease of use in the field; the camera is fitted with Auto IR Filter to produce superb quality especially at night; it also sports a 2.4" LCD screen with 262K color for a vibrant display.
WIDE DETECTION RANGE & FAST SENSOR: Features 0.3s & 0.5s Trigger time and cover 60-120 degrees of PIR sensing angle to detect any small wildlife movement so you won't miss anything in your hunt or security; sensor trigger will capture 3 photos. Time Lapse mode
IP66 RATING WATERPROOF, DUSTPROOF, SHOCKPROOF: The camera is made with extreme durability in mind so it won't go unfazed whatever weather conditions it encounters, ensuring you it will function continuously without any worries for it to break or get damaged; it can surely stand the test of time.
INCLUDES: (1) My Animal Command Trail/Spy/Security Camera, (1) Solar Power battery Pack- 4000mAh, (1) Instruction Manual (1) Mounting Bracket for the trail camera, (1) Mounting Bracket for the solar Power Pack, All required cables
Description
Looking for an extremely durable trail/Security/Spy camera that will function continuously day and night without interruption?
Do you want your camera to last without any worries of harsh weather damaging your gear?
Our answer: MY ANIMAL COMMAND TRAIL/SPY/SECURITY CAM WITH SOLAR POWER PACK BUNDLE Our bundle addresses the most common problems in deer hunting, gaming and Security – battery life, durability, day and night image quality & sensor detection speed.
A dual camera with an included solar power pack, you can get well over 6 months of battery life, accurately tracking each and every movement and behaviour of game wildlife and Surveillance. It can also be used indoor and has Time Lapse mode
My Animal Command's Hunting/Spy Camera Kit comes complete with:
4000mAh Solar Power battery Pack 24-36 PCs Infrared LEDs for night shots Image Sensor
2.4" Screen with 262K Color High Photo and Video Resolution
Time Lapse Recording Function Auto IR Filter Lens Daytime and Night time Effectiveness
JPEG, Video, AVI Motion Storage Format Options
Waterproof IP66 Protection
65' Triggering Distance 0.3 & 0.5 Second Triggering Time 60-120 Degree Sensor Detection
Mini USB 2.0 Connection Uses Standard amd Micro Size SD Cards for ease of use                                                                          
Designed for exceptional surveillance and wilderness footage, no hunting/Spy video camera can match this bundle thanks to its solar power pack, super-fast trigger, and energy saving design.
It's the only trail/Spy camera set you should trust for hunting game and wildlife, duck hunting and outdoor security and surveillance.
See for yourself the difference between MY Animal Command's newest model and the competition.
Buy today with confidence thanks to immediate customer support help and 12-month warranty. Click "Add to Cart" Now!

UPC: 0600168680047/EAN: 600168680047
Video