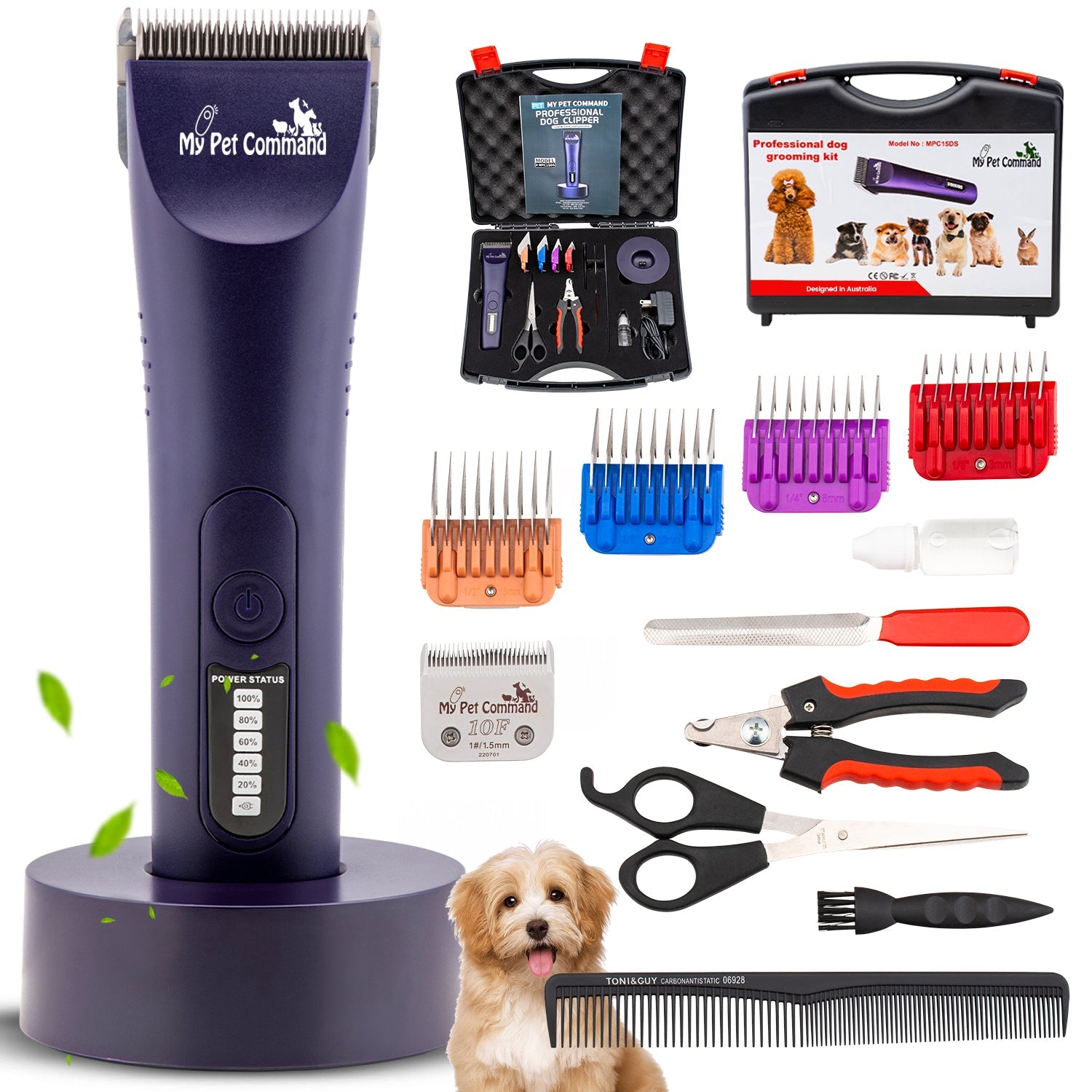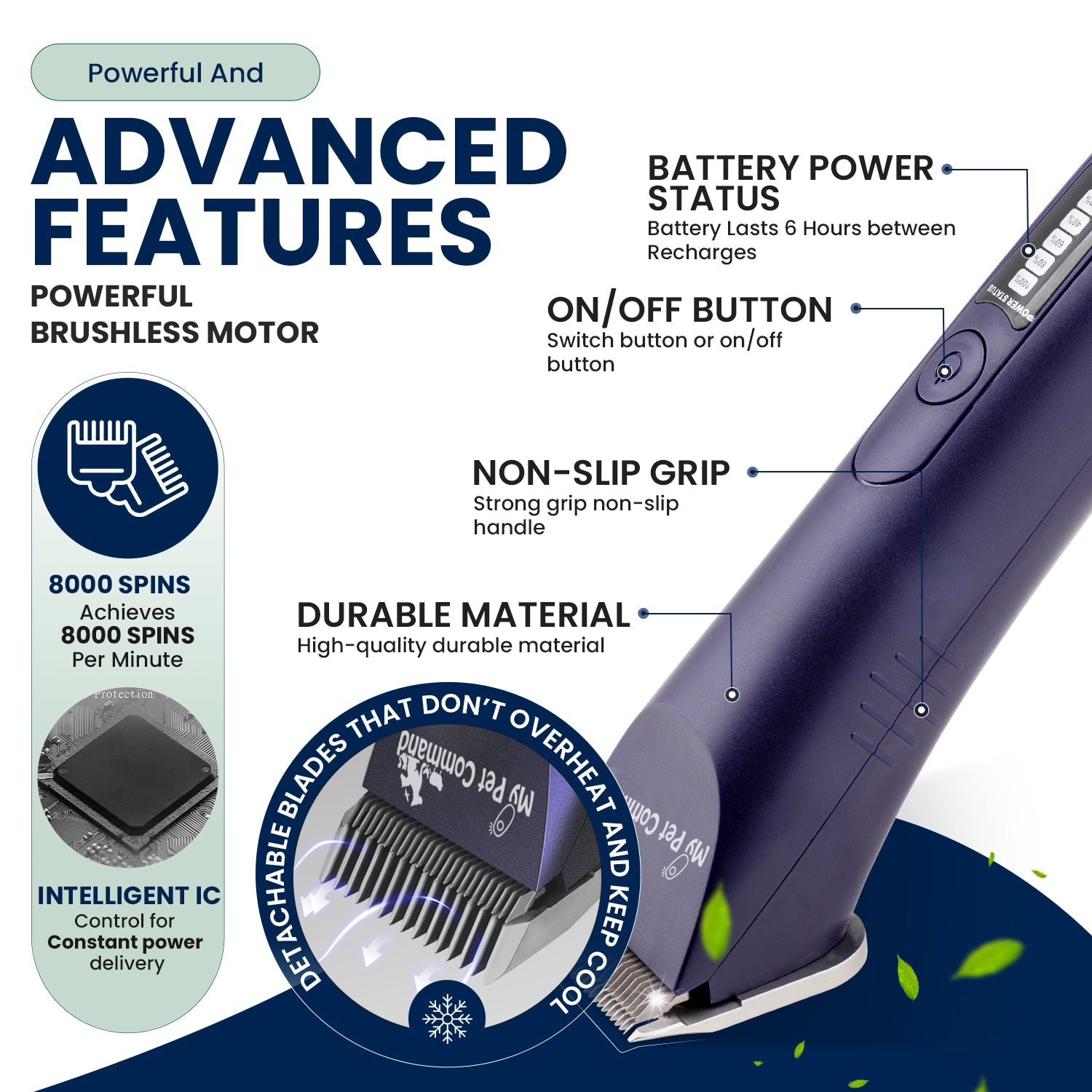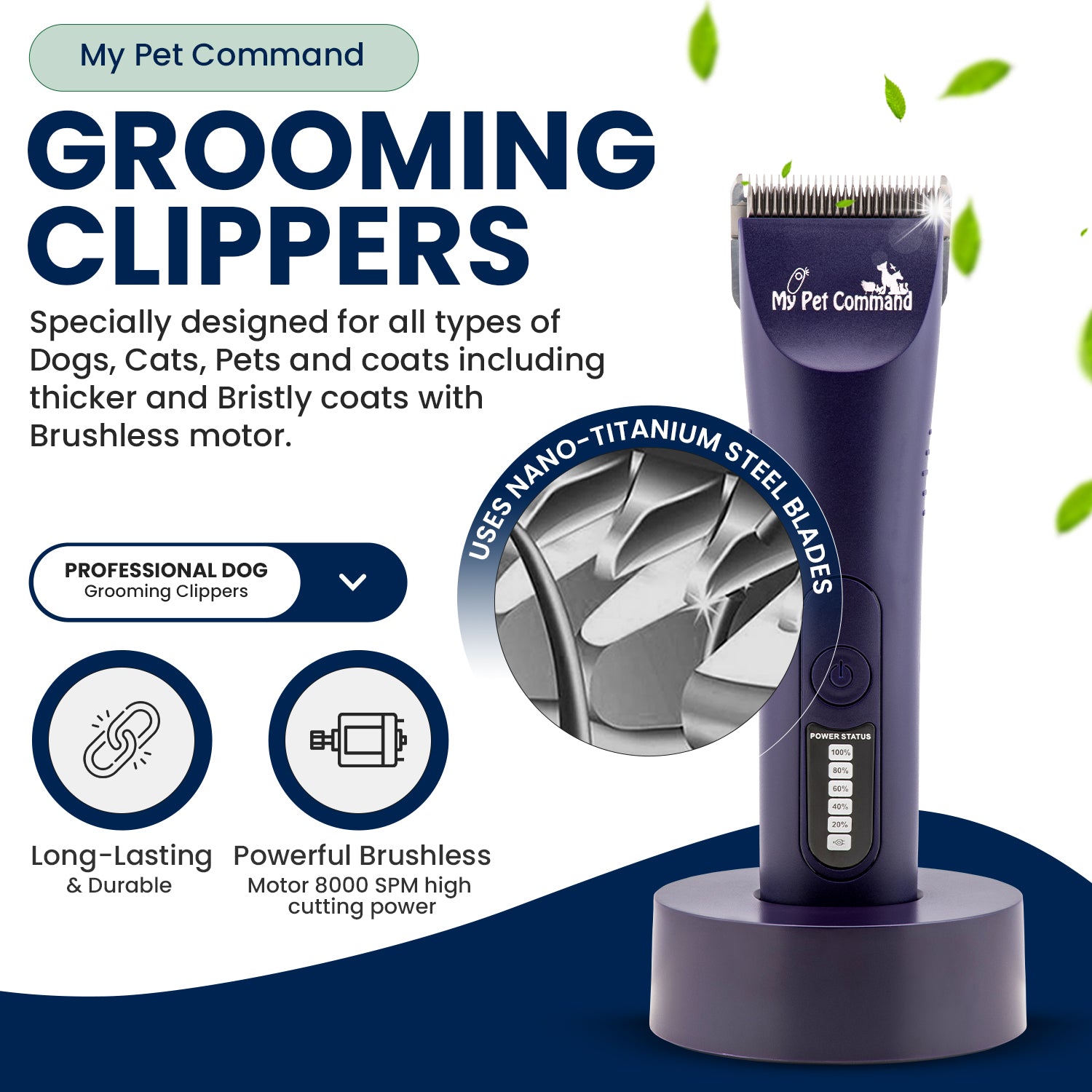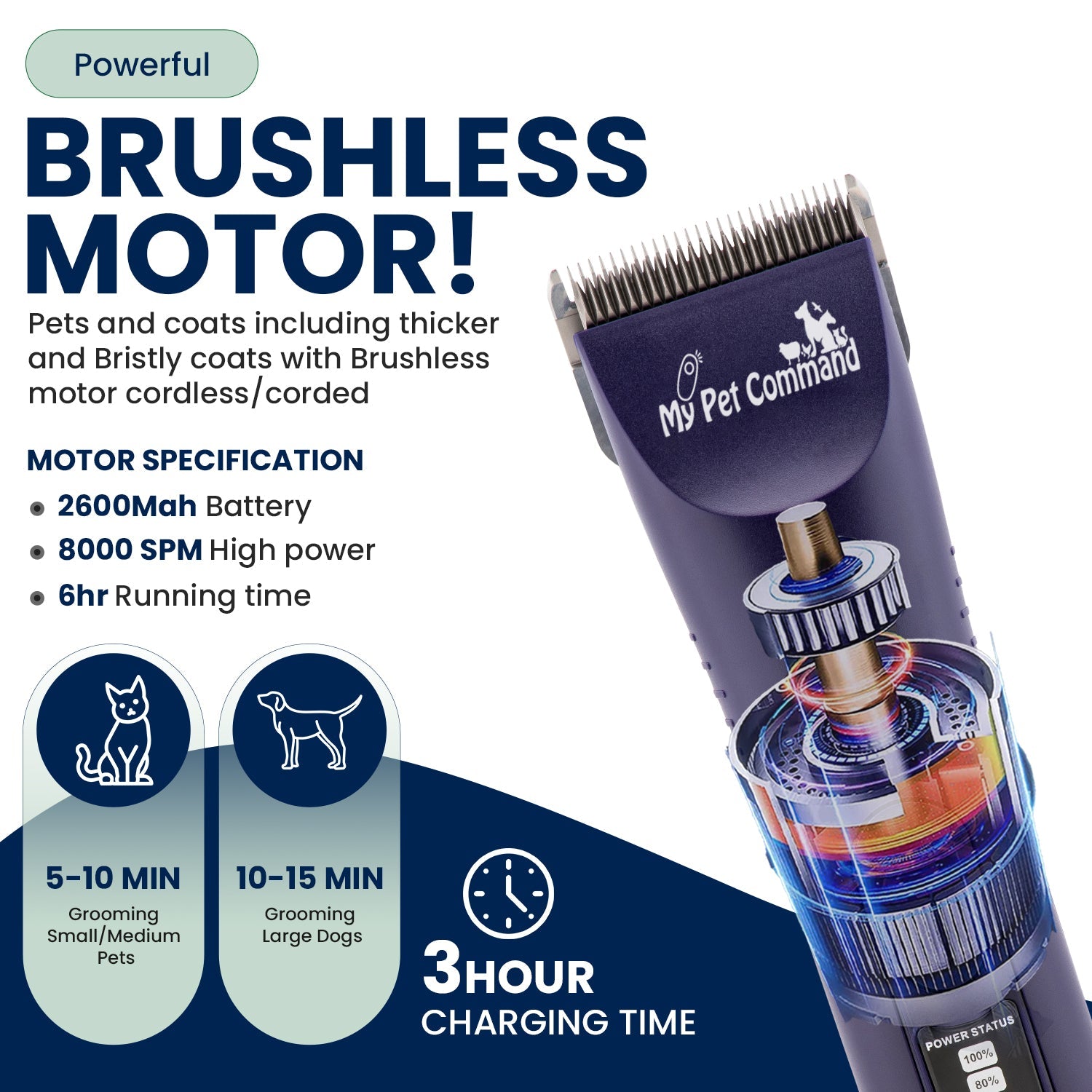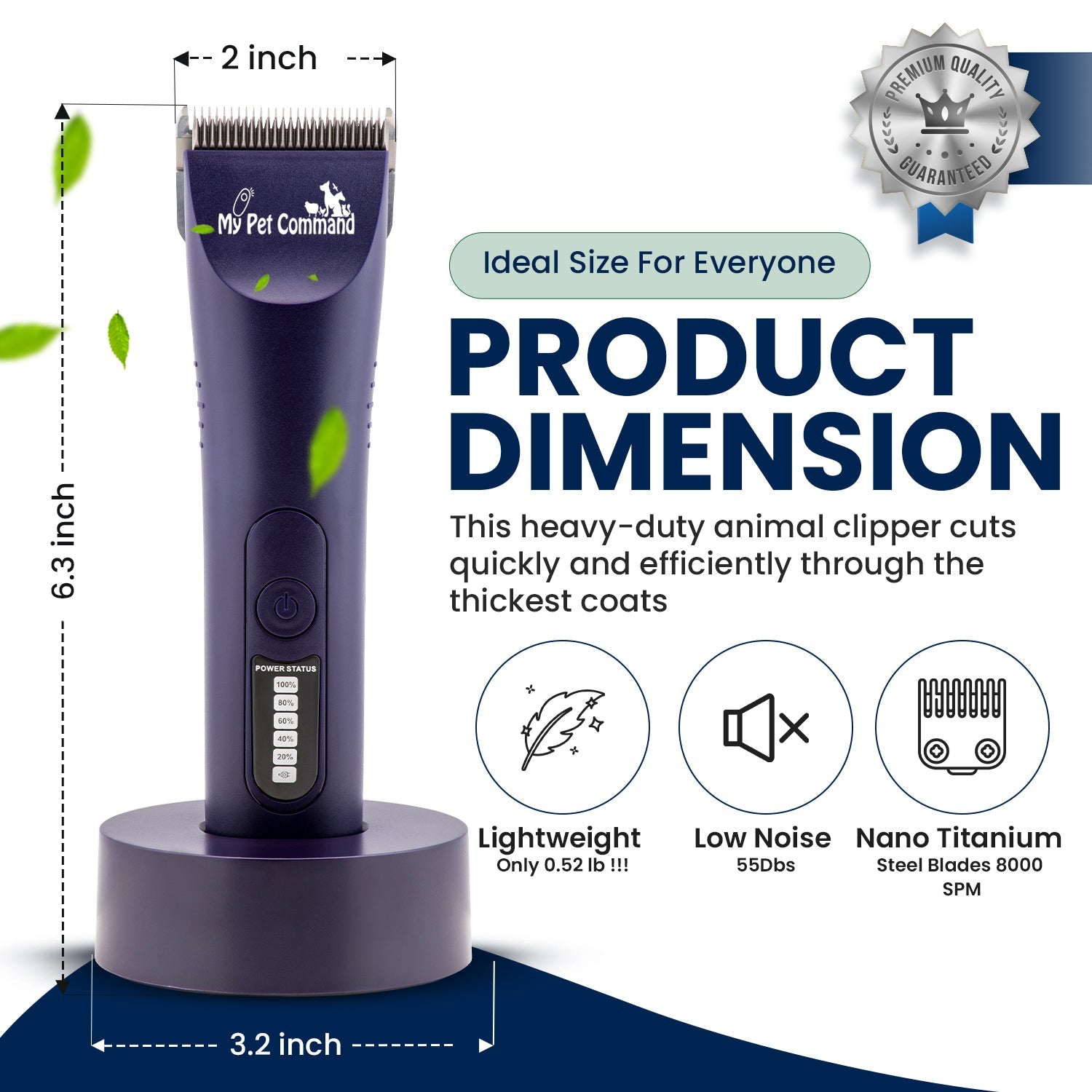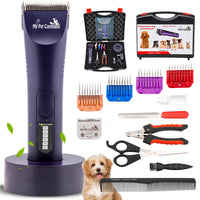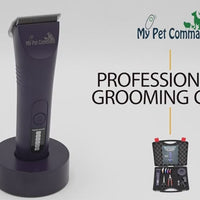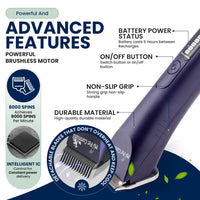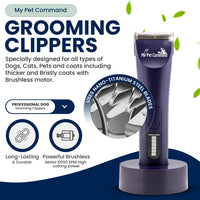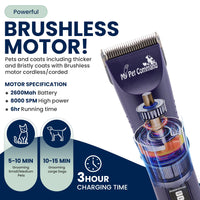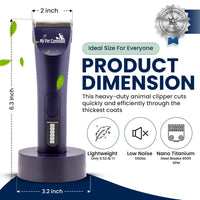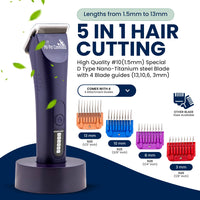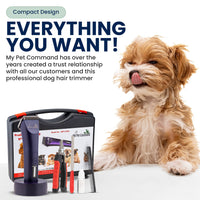 My Pet Command Professional Dog Grooming Clippers Kit for Dogs Pets Cats with Brushless Motor

Features:
SMALL, LIGHT WEIGHT, LOW NOISE, HIGH POWER & CORDLESS : My Pet Command introduces its brand new professional innovating Light Weight heavy duty clippers for dogs grooming, specially designed for all types of Dogs, Cats, Pets and coats including thicker and Bristly coats with Brushless motor cordless/corded with 2600Mah Battery for High power with 8000 SPM and a comfortable grip allowing precision, professional shearing!
EFFORTLESS SHEARING: This electric dog grooming clipper set comes with High a Quality #10(1.5mm) Special D Type Nano-Titanium steel Blade with 4 Blade guides (13,10,6, 3mm) for easy and quick shearing giving you full flexibility on hair length; long lasting use and high quality blade that will not overheat or harm the animal. Do it like a Professional as it efficiently makes pet shearing easy for many animals including your Small, Medium or Large Dogs, Cats and Pets, saving a lot of your time!
DURABLE CLIPPERS: Our heavy duty pet clipper has been made with advanced technology and its cooling air flow ventilators prevent the blades and head from overheating while clipping. HEAVY DUTY QUALITY: High quality Brushless motor and blades provides for long lifespan with high heat resistance, low noise and vibration. Made with durable material and performs heavy duty with regular oiling of the blades
My Pet Command has over the years created a trust relationship with all our customers and this professional dog hair trimmer Uses Special D Type Nano-Titanium steel Detachable Blades. Contact our support for any advice you may need. BUY it NOW and have the benefit of the full Grooming kit that our professional dog grooming shears is coming with bonus accessories
INCLUDES: (1) My Pet Command Cordless MPC15DS (1) D type #10(1.5mm) Blade (4) Blade guides(13,10,6,3mm) (1) Nail Clipper, (1) Nail File (1) Hair Comb (1) Scissors (1) Cleaning Brush, (1) Lubricating Oil, (1) Charging Base with Wall adapter (1) Operating Manual, (1) Durable Carrying Case
UPC: 600168680924
EAN: 0600168680924
Item Condition: New
Product Description

Do you need a professional rechargeable heavy duty dog grooming Clipper to clip your Dogs and Pet's Hair ? Do you have Dogs with Thick or Bristly Coats? Do You have small medium or Large dogs or other pets and looking for a small yet powerful and professional pet shearing machine that does an effortless job ? Experience the confidence that My Pet Command offers to both professionals and home pet owners and give your pet the GIFT of an easy quick and efficient clipping experience
Stop wasting your money and time with less expensive plastic clippers. If you are searching for the perfect set of shearers then our professional dog hair trimmer will be your best choice. This Dog Pet grooming clipper kit for thick coats makes shearing simple and effortless. Buy it, now, AND SAVE Groomer's Cost in ONLYTWO CLIPPINGS!!!
My Pet Command PROFESSIONAL HEAVY DUTY CLIPPER FEATURES:-
Light weight 0.52 pounds (234g), Small and Quiet noise up to 55Dbs
High power Brushless Motor technology with 8000 SPM for the Blades Unique Nano-Titanium steel D Type Detachable Blades which Prevent the Blades from Overheating and achieves the 8000 SPM
Cordless with Rechargeable 2600mAh Li-ion Battery that can last up to 6 Hours
#10 (1.5 mm) Blade with 4 High Quality Steel Blade guides (13, 10, 6, 3mm) for smooth and fast shearing. Other Blades available sold separately
Easy storage and carrying in the durable, portable carrying case
Advanced PCB Controller Chip to provide constant power even when Battery is low
comes with Charging Base and Cord for easy Charging User-friendly design for easy and comfortable gripping
Made Specifically for all Dog sizes and Pets as well as with Thicker Type Fur and Coats
Let our clippers make your shearing season a breeze for you and your Dogs and Pets. What are you waiting for?
DON'T DELAY! ORDER NOW! And get your FREE BONUS GIFTS included with the kit
Video