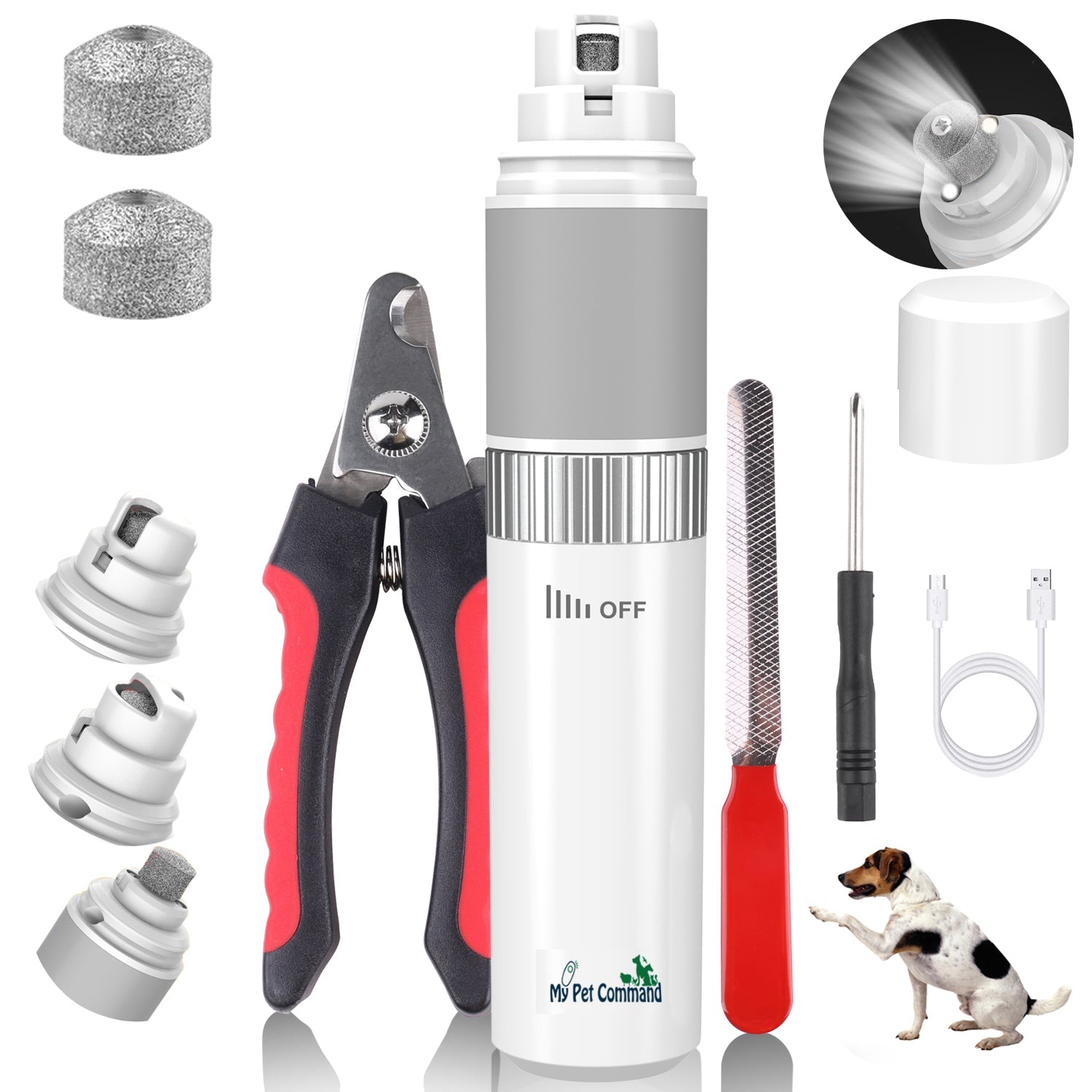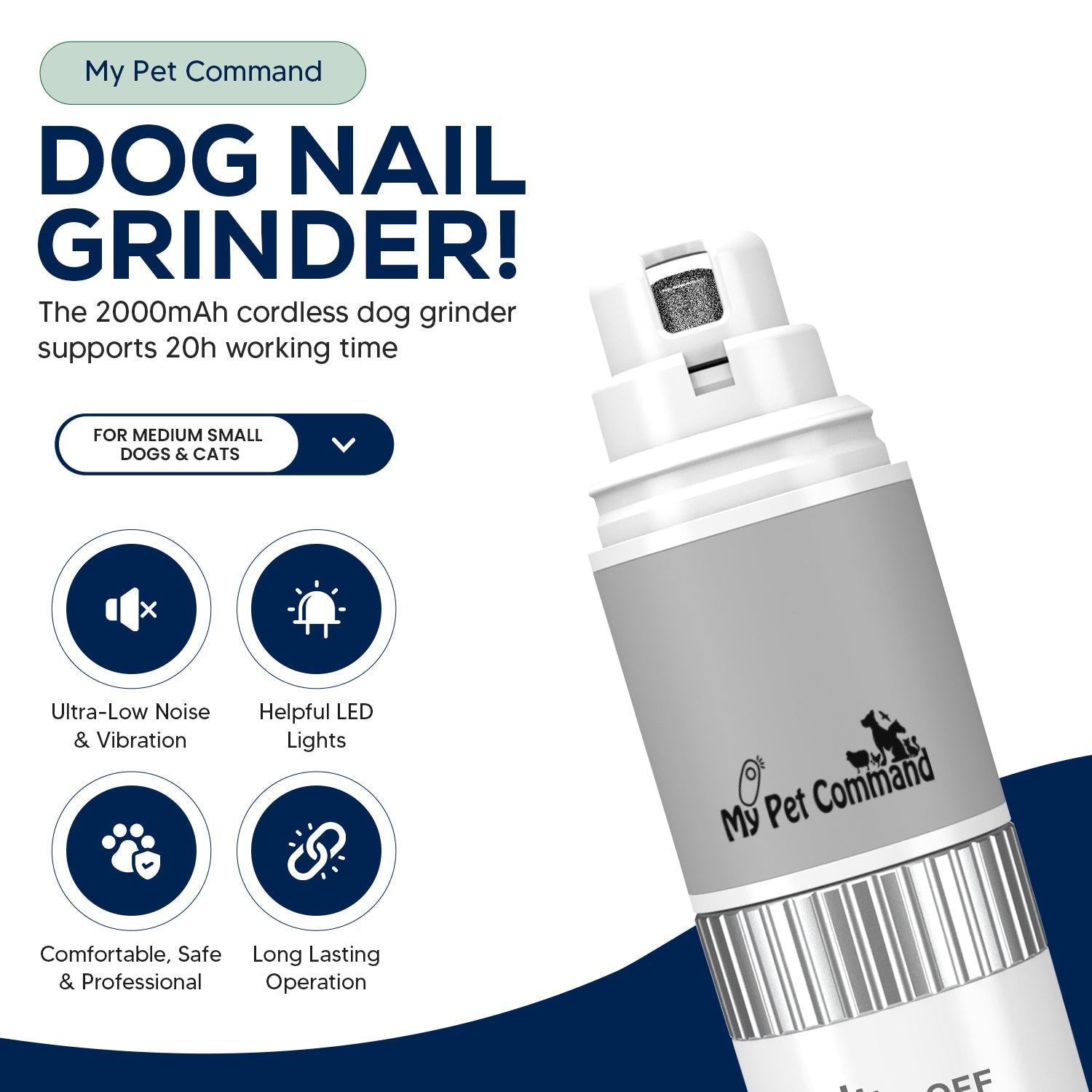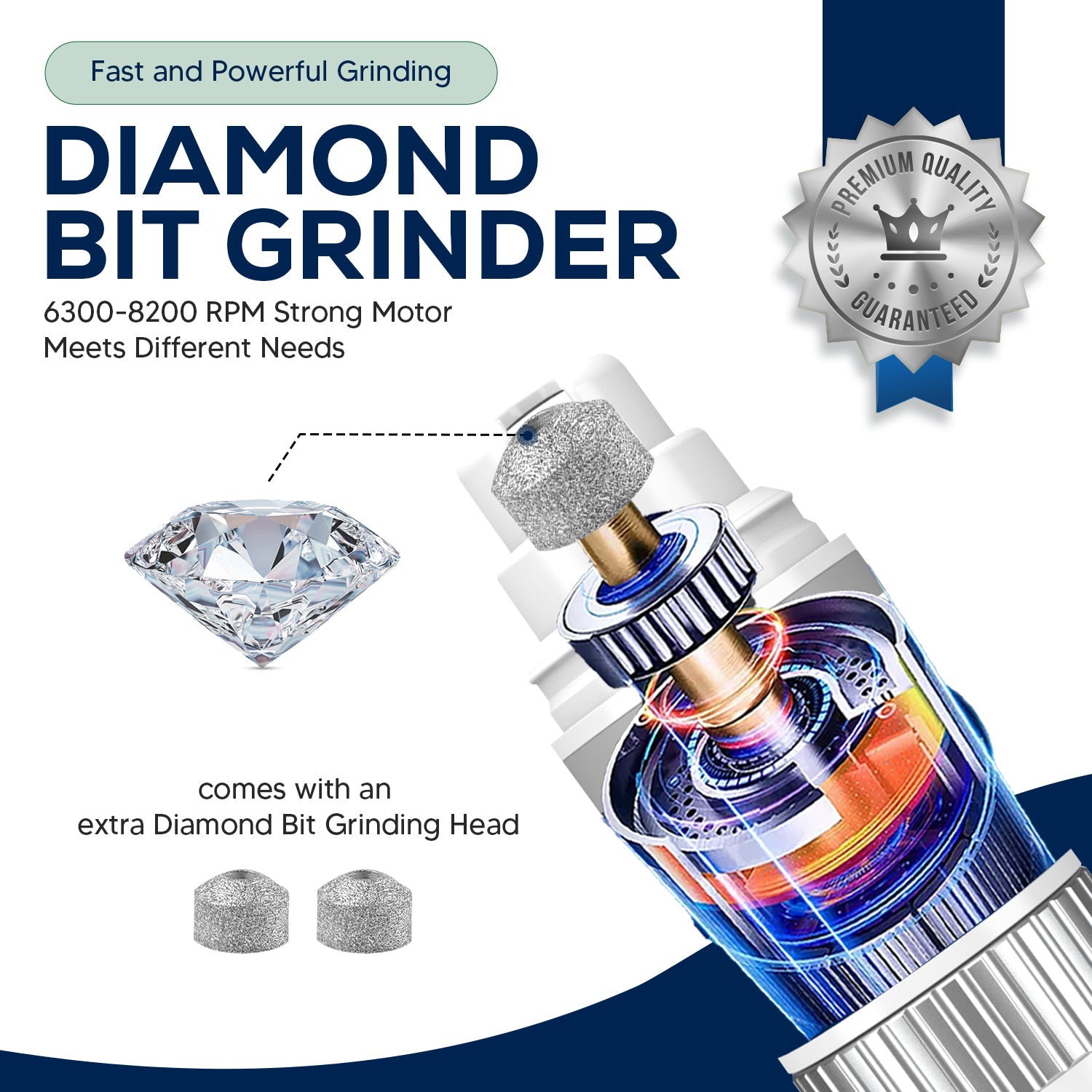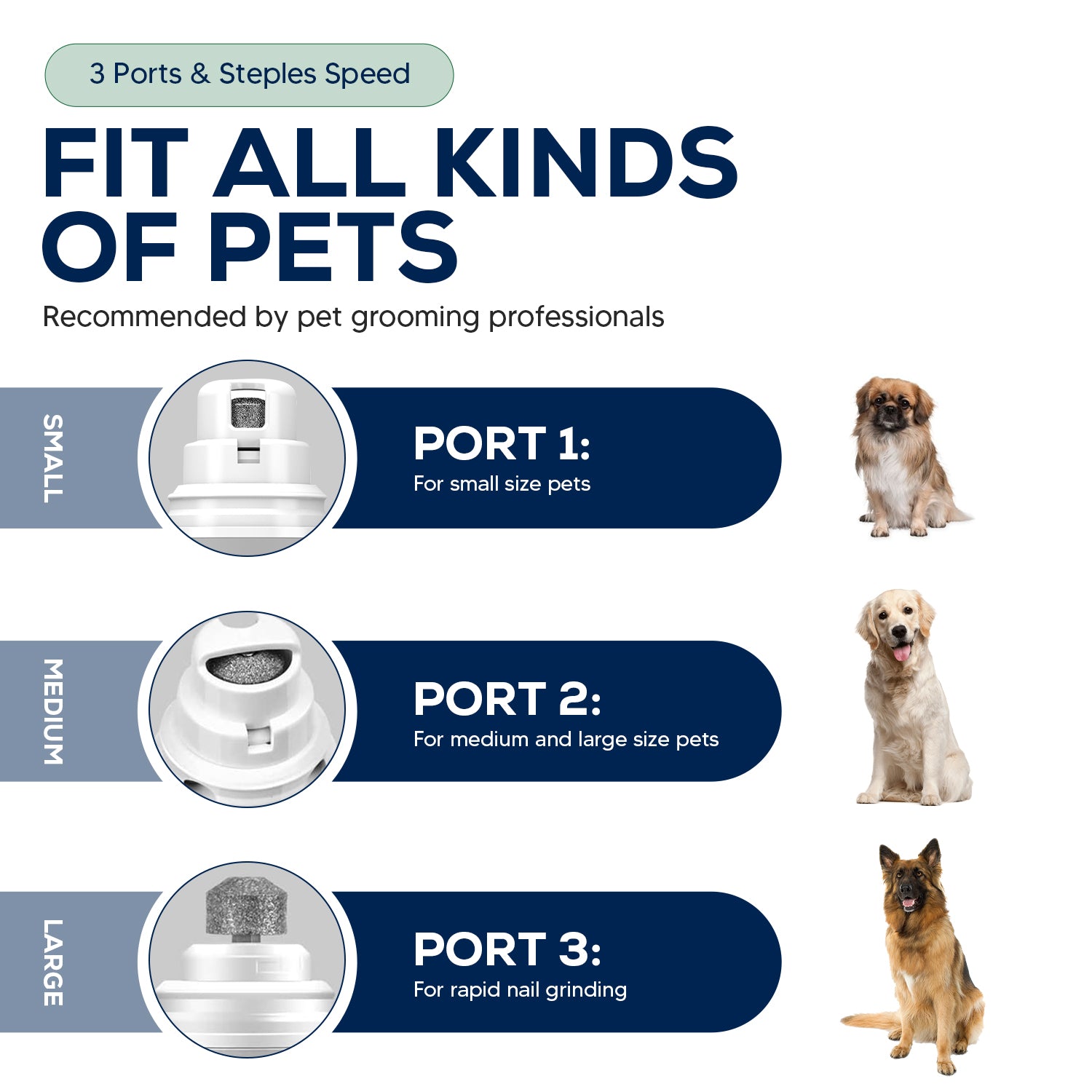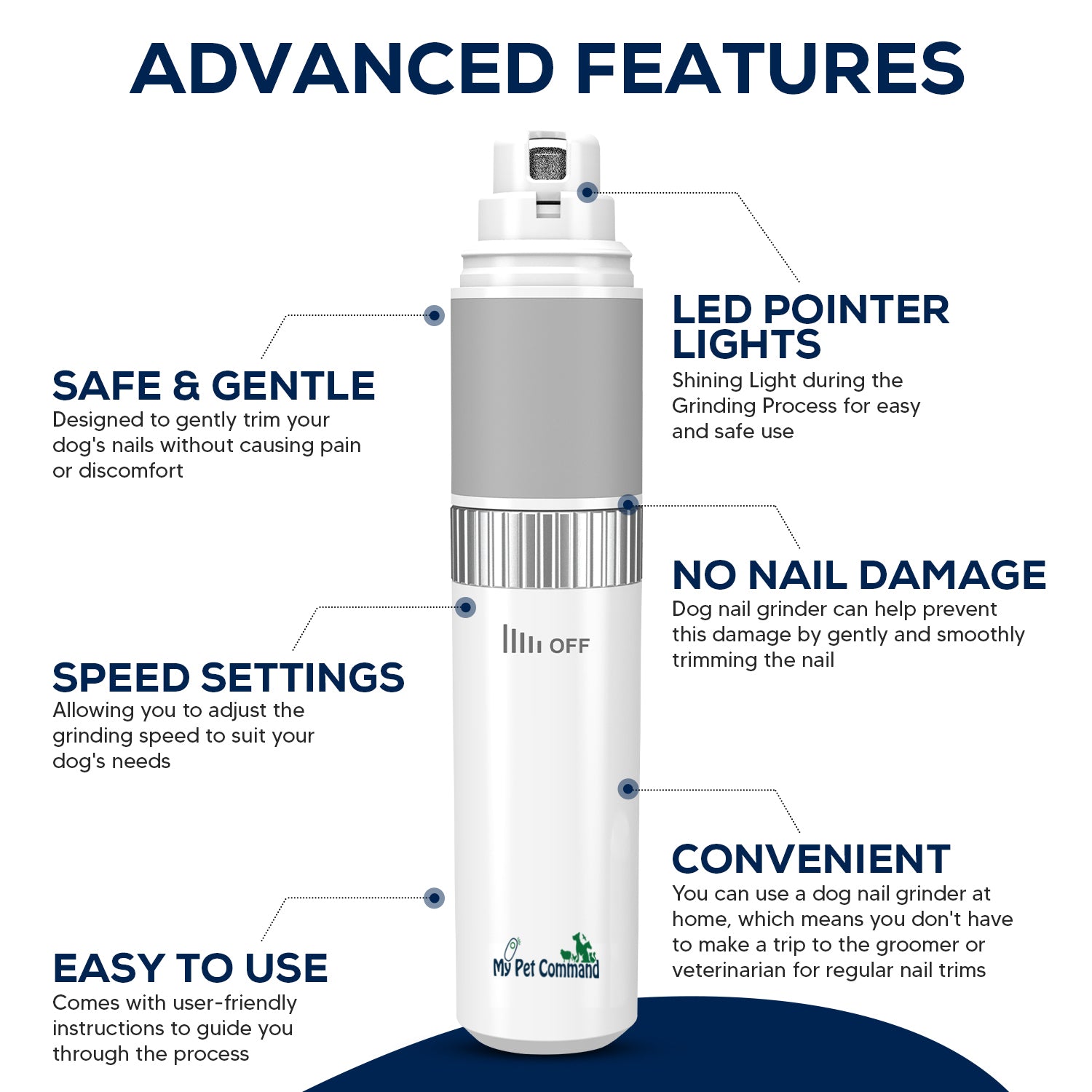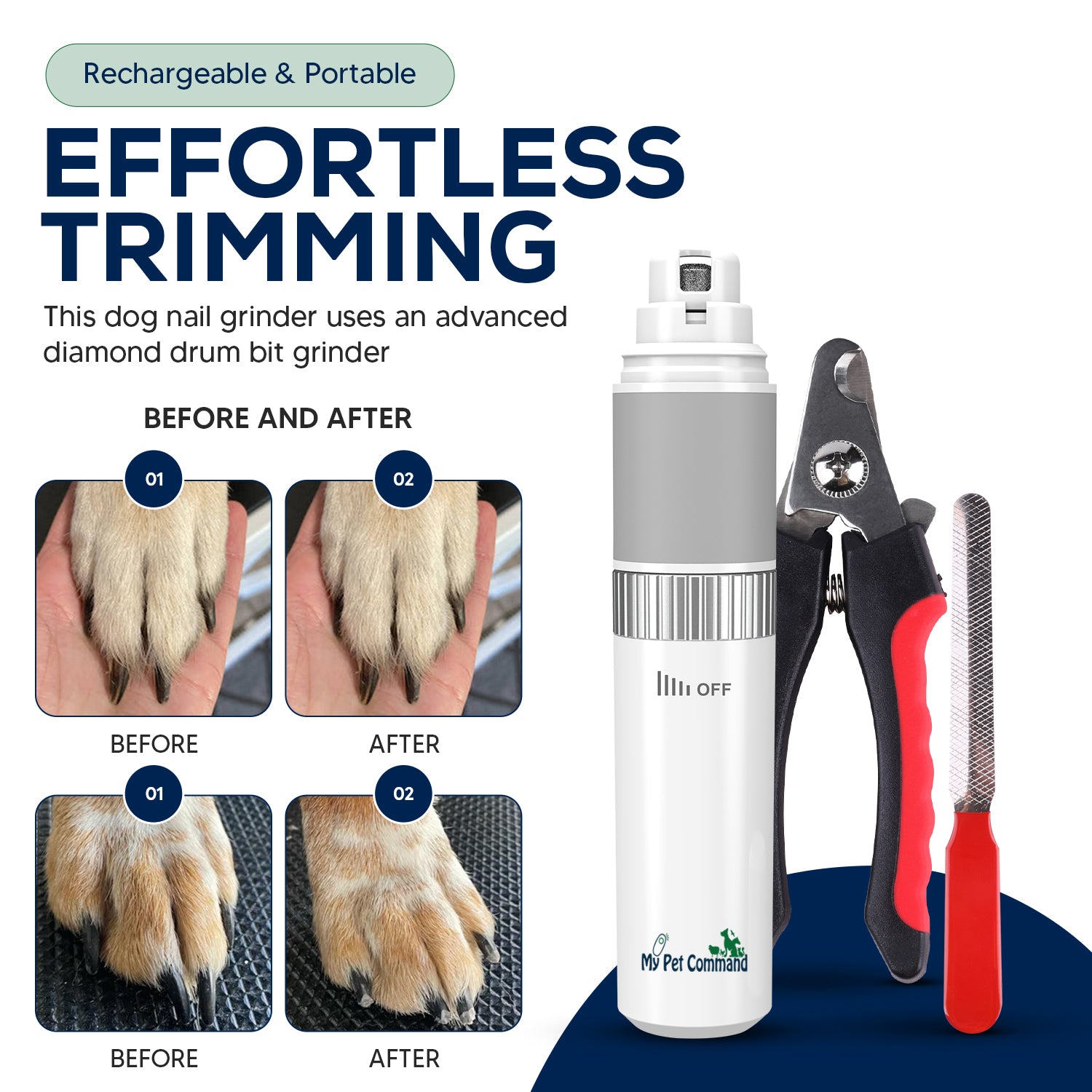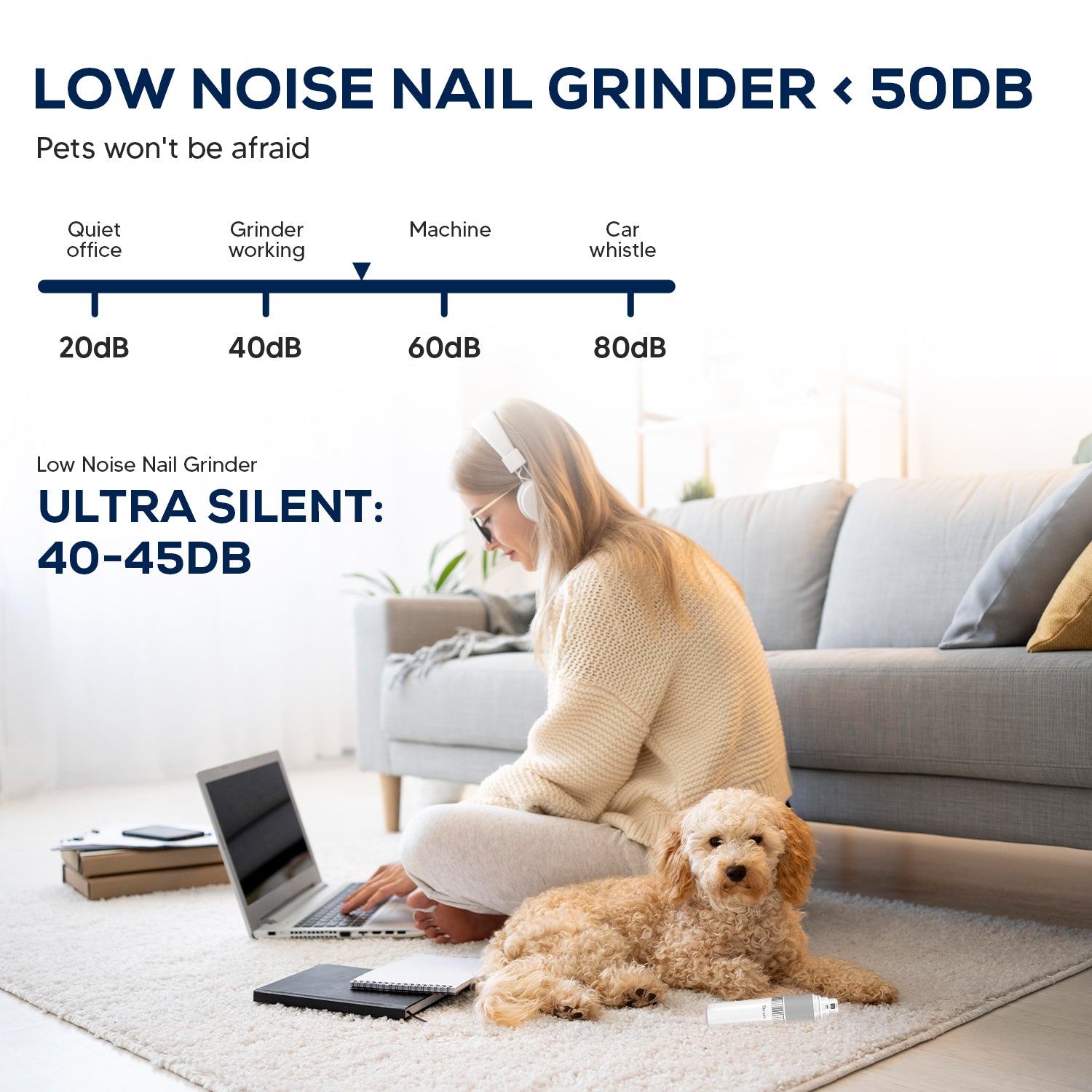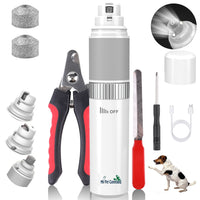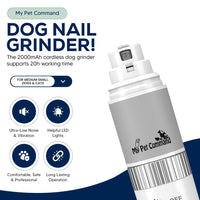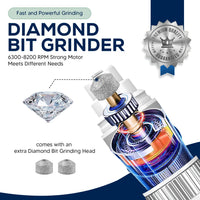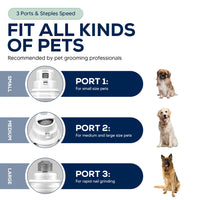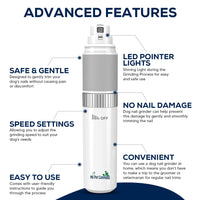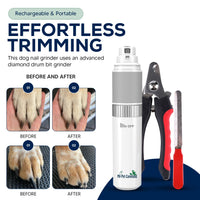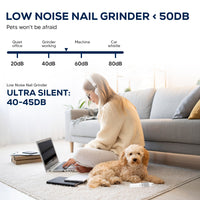 My Pet Command Cordless Dog Nail Grinder Low Noise for Dogs and Cats, Variable Speed Rechargeable

Features:
DIAMOND BIT GRINDER supplied with an additional spare Diamond Bit and dog grooming kit. This electric dog nail clipper uses an advanced diamond bit grinder to deliver comfortable pet claw grinding than regular nail trimmer
VARIABLE SPEED ADJUSTMENT REGULATION with LED Pointer Lights allowing you to adjust the Pet Nail Grinding speed from 6300-8200 RPM as opposed to fixed speed models, fully adjust the Speed easily to the hardness of the nail and to suit your pet grooming with equipped LED Pointer lights allowing you to easily and safety grind your Pets Claws and nails
LOWEST NOISE & QUIET: Low noise design with torque adjustment control ranging from 45-50 DB and it can even polish metal and other surfaces. Suitable for all pets. A superior motor with whisper-quiet technology that produces a very low vibration to keep pets calm giving you a stress-free nail trimming experience with Happy pets
SUITABLE FOR ALL KINDS OF PETS: Equipped with three ports and speed regulation switch, the trimmer is widely applied to small, medium, large pets and cats to be used with many different size nail and Claws. Choose your appropriate port and speed depending on your pet's size and nail hardness for nails trimming. Remove Port Cover to use without port selection
Package includes 1 Dog Nail Grinder complete with Diamond Bit and USB Charging Cable. Manual Toe Nail Clipper and file set. Additional Spare Pet Nail Grinder with Tool and spare Screws and washers complete with English Manual. 1 Year warranty
UPC: 600168681082
EAN: 0600168681082
Model: MPCNG2000
Item Condition: New
Description
Do you need to Grind your Pets' and animals Nails and Claws?
Are you looking for an easy safe powerful cordless dog nail grinder that won't frighten your Pup?
Are you looking for a powerful yet quiet Pet Grinder that can be used on small medium and large puppies' dogs and cats?
If so, why not try the new My Pet Command MPCNG2000 model cordless Electric dog nail grinding kit. This pet nail trimmer addresses all the issues associated with stress free nail grinding for your dogs and pets with the following packed features
High Capacity 2000Mah Rechargeable 18650 Lithium Ion Battery with USB Cable charger giving you 20 Hour working time between Recharges
Variable Speed Control allowing you to adjust the Torque from 6300-8200 RPM giving you the flexibility of low and high speeds to suit your pets their nails and Claws
Low Noise with 45-50 DB that won't frighten your pets and animals giving you a stress free and happy nail trimming experience
2 x LED Light Pointers that will shine light during the grinding process allowing you to see what's going on and offers a safe working environment during the trimming process and keeps your pets safe
Comes with Manual Dog Clipper and File giving you all the options for complete nail and claw care to use in conjunction with the cordless electric nail grinding
High quality Diamond Bit Grinding head with Spare Diamond Bit and screws with screwdriver tool to easily replace the Bit head as required
Designed for exceptional Pet Nail Grinding thanks to its easy-to-use design. It's the only Dog Claw and Pet nail grooming you should trust for training your Pets See for yourself the difference between MY Pet Command's newest model and the competition. Buy today with confidence thanks to immediate customer support help and 12-month warranty.
Video