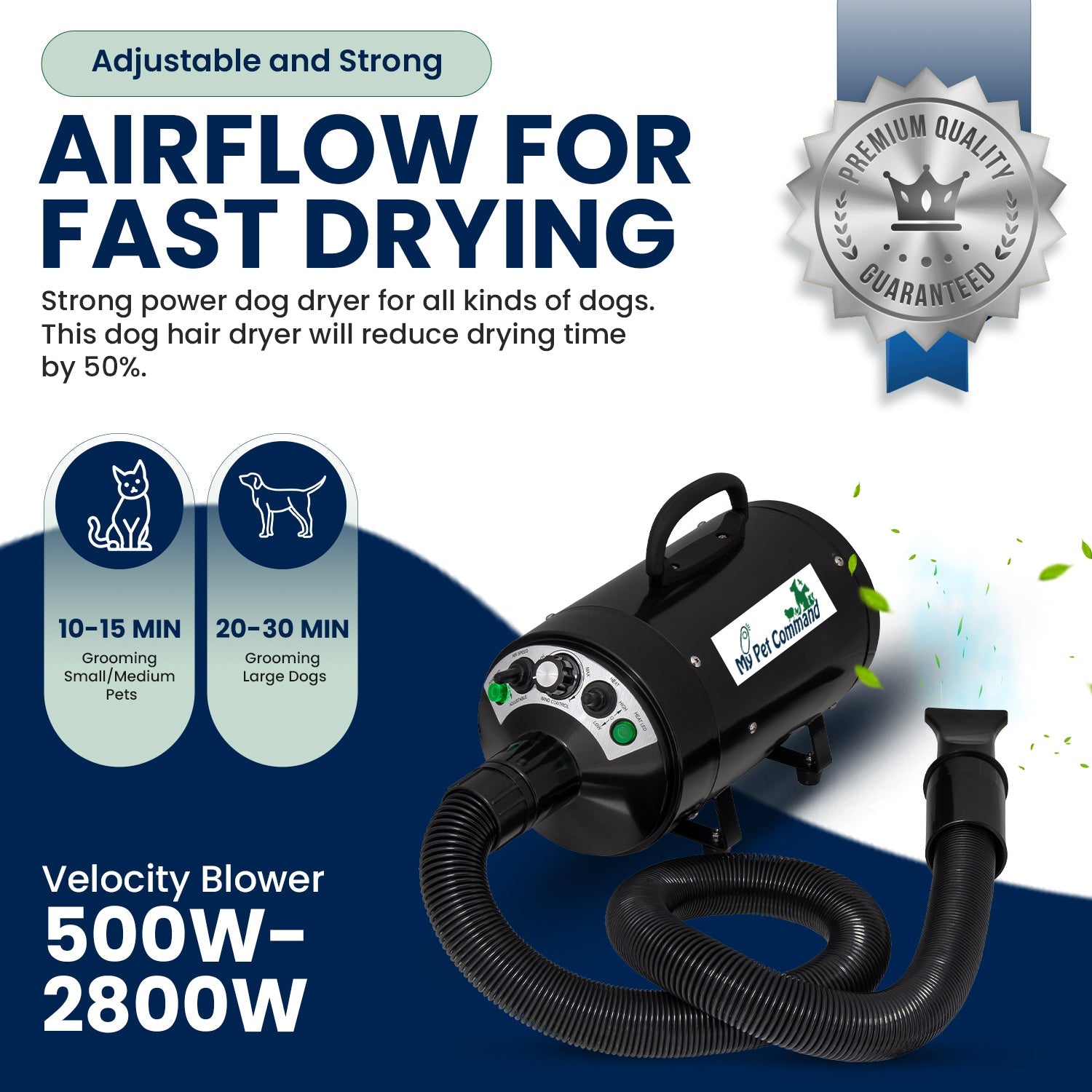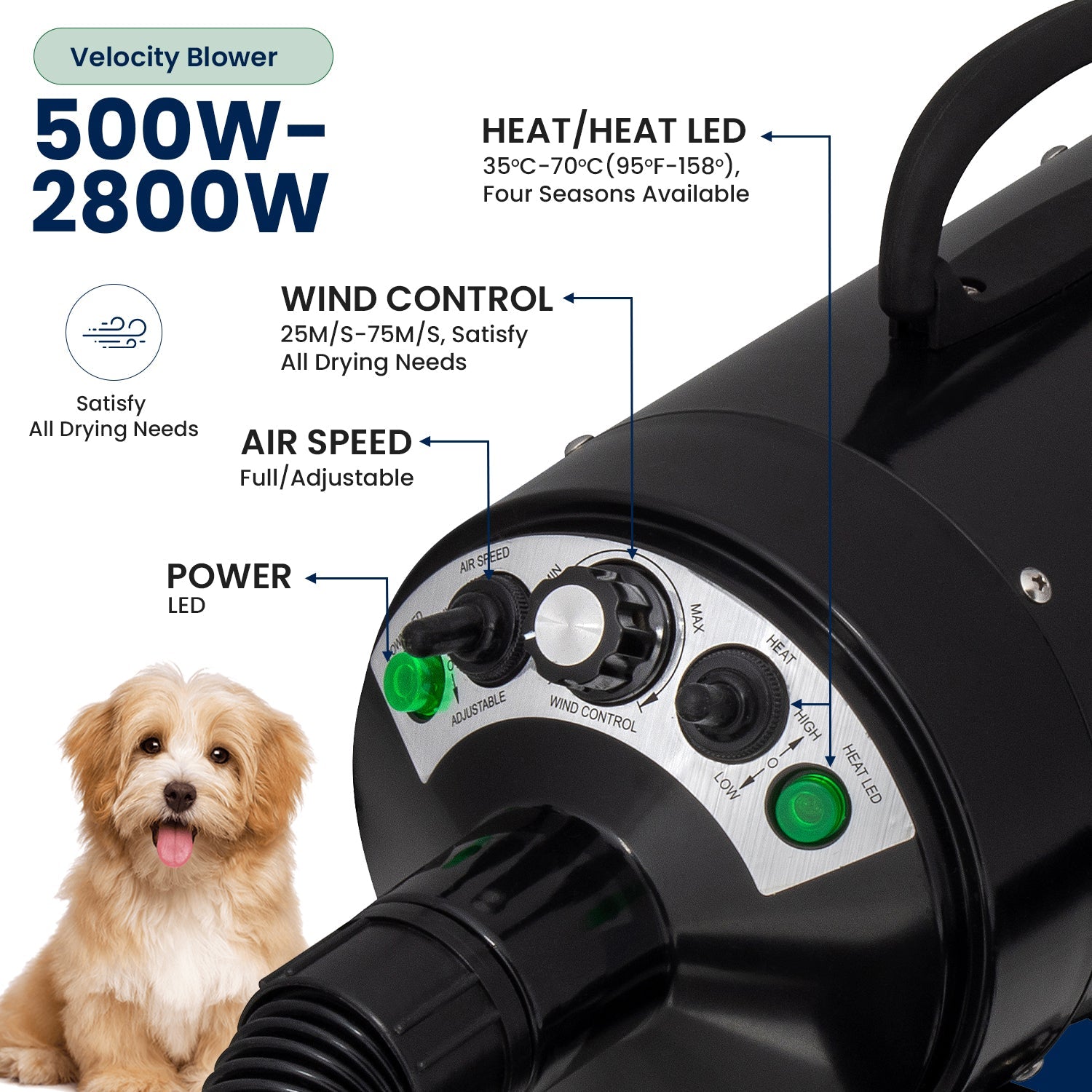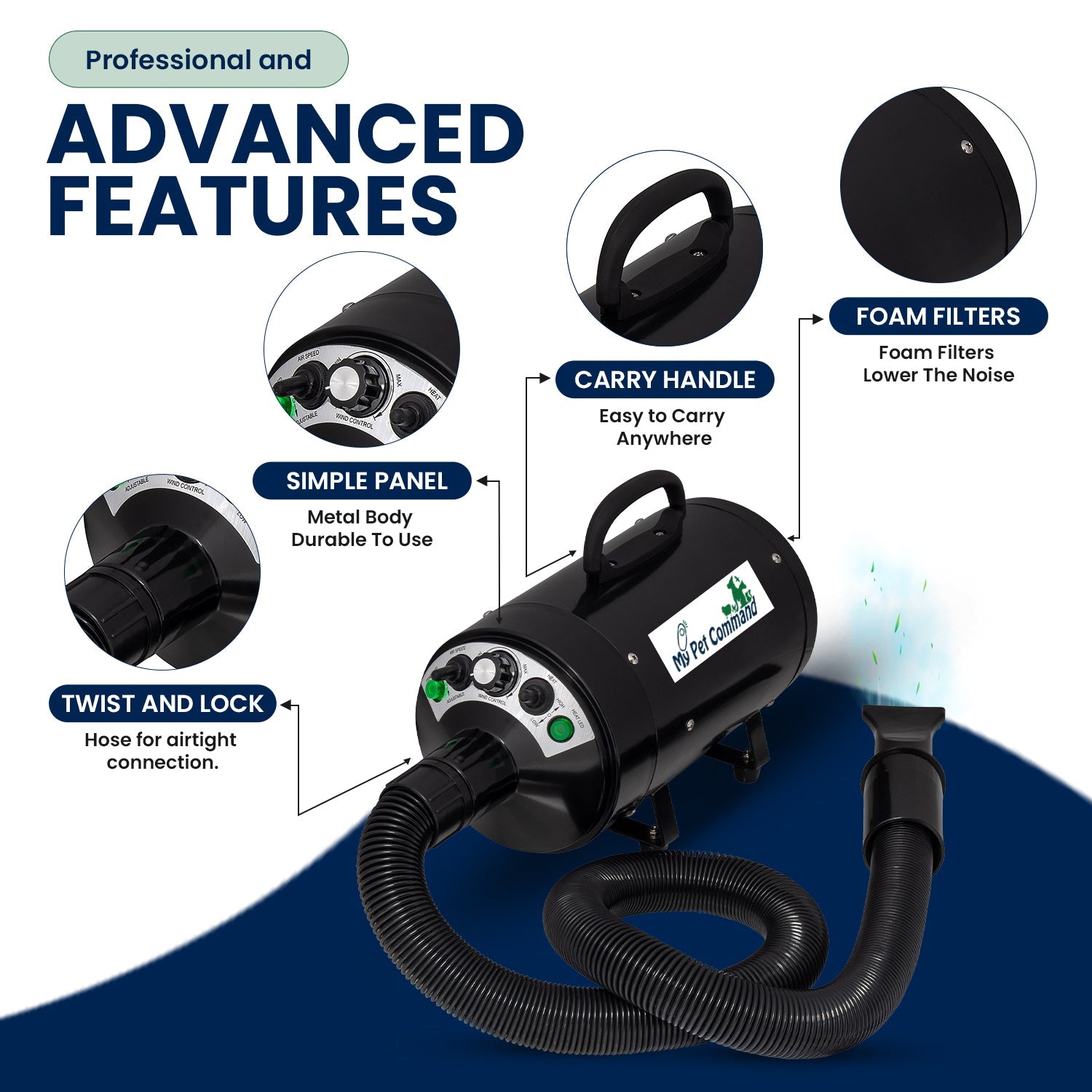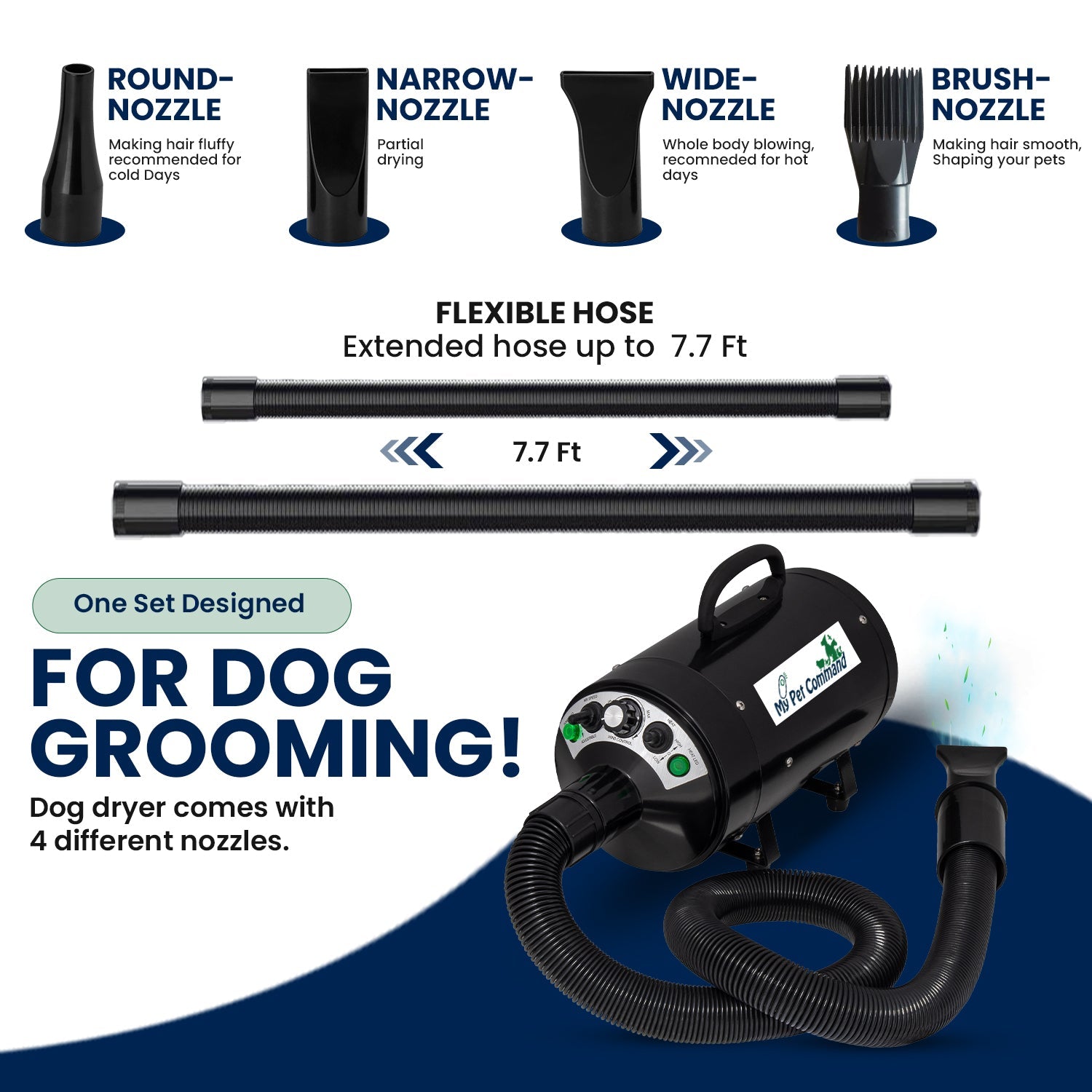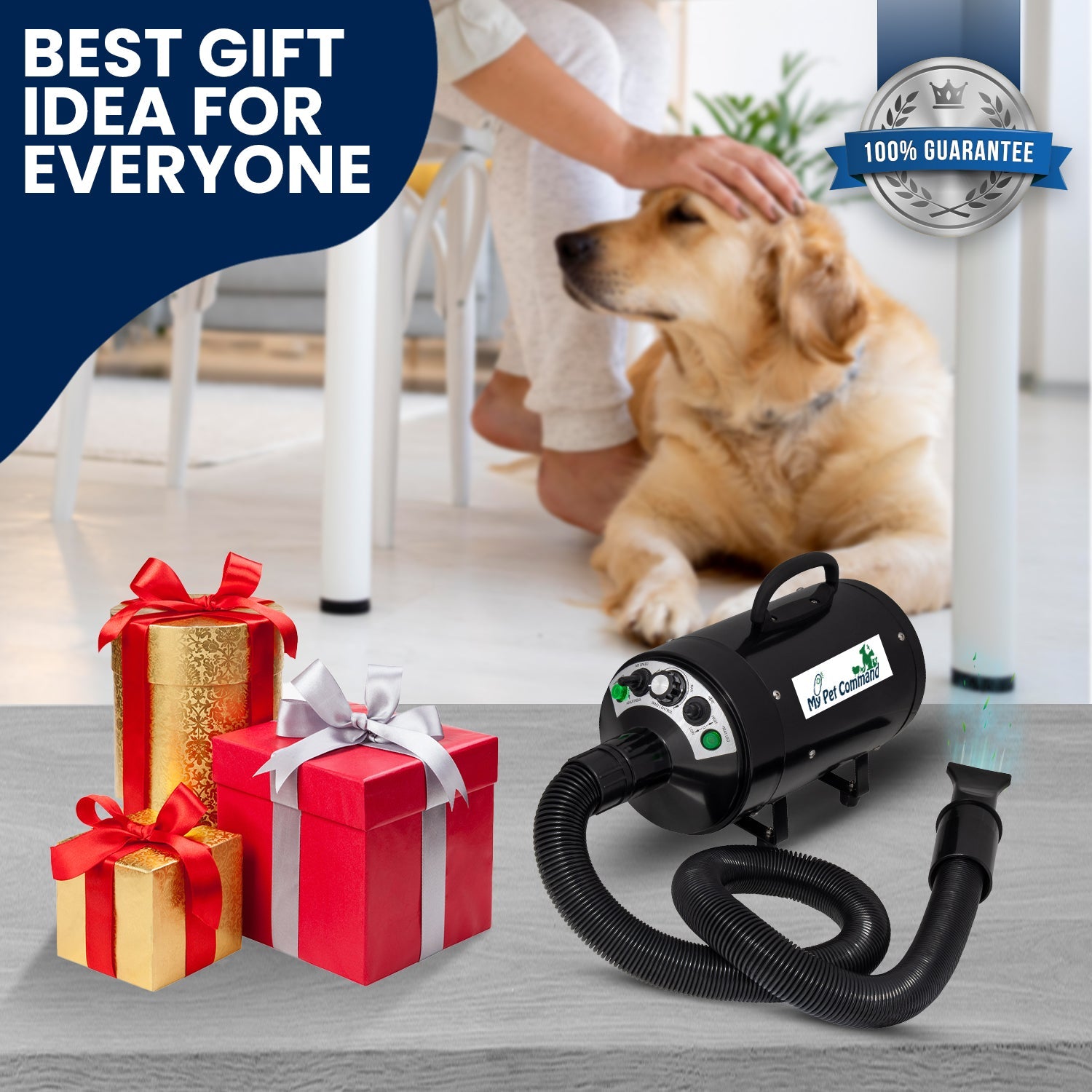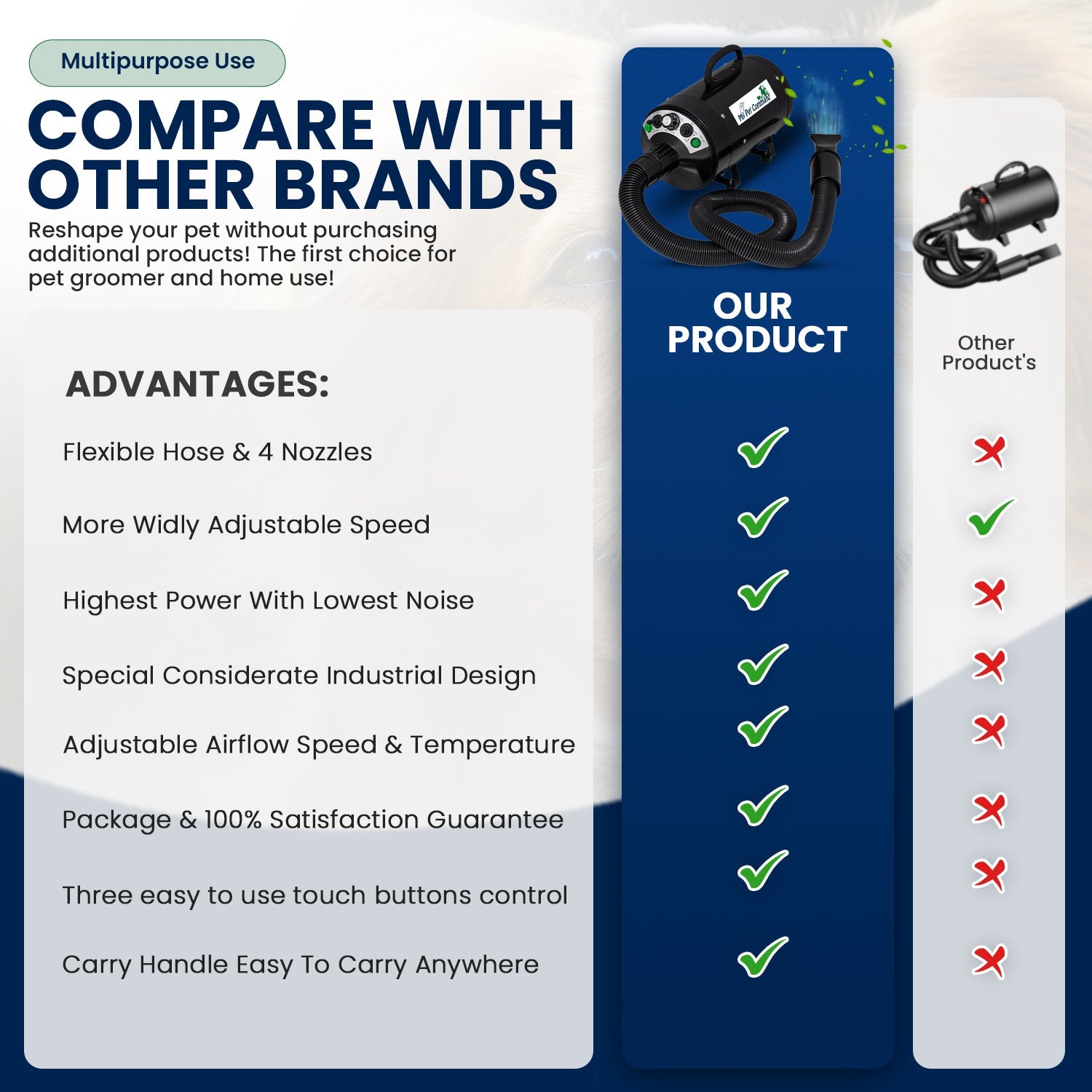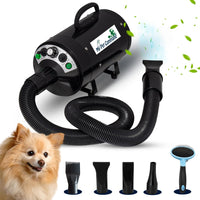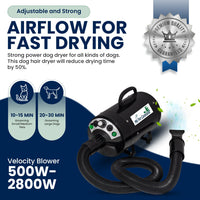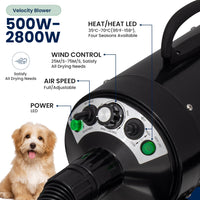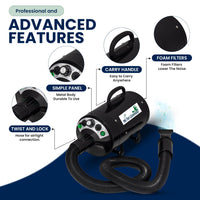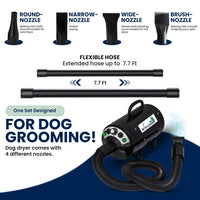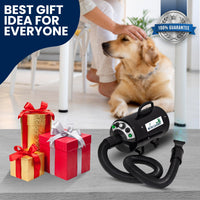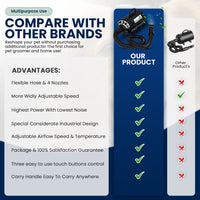 My Pet Command Dog Dryer Blower, Ultra Quiet, Professional High Velocity Blower Adjustable Hot and Cold Airflow

Features
[dog dryer]

 

Impressive drying power, probably the quietest dog hair blower in the world. Professional premium salon style unit made for home or commercial use. Designed for your pet so you can be their favorite professional groomer. Latest noise reducing tech with a user-friendly design
[dog blower]

 

Powerful drying for all pets: Suitable for dogs of all sizes and breeds, from small to large, short-haired to long-haired. Low-noise operation ensures a stress-free grooming experience for both you and your dog. Deshedding and grooming brush helps to remove loose hair and tangles while promoting healthy skin and coat
[pet blower]

 

Fast, easy and efficient dog dryers for grooming, even for thick-coated dogs. Easily switch between hot and cold air settings and control airflow with convenient speed adjustment. This dog blow dryer comes with a long premium hose with a quick locking system which extends up to 7.7 FT (2.4m) with a long 7.6 FT (2.3m) power cord allowing you to have easy access and place the dryer away from your pets to offer them an amazing grooming experience
[dog hair dryer]

 

Highest power with the lowest noise levels, 10% greater airflow than other single motor dryers. This quiet high velocity pet blower is made to dry your pets in no time at all as well as blowing out undercoats for deshedding, freeing you up from endless hours of grooming, variable wind air flow (82-164 Ft/s) and full temperature control (59-129 F) at your fingertips which allows you to fully adjust air speed and temperature control
[pet hair dryer]

 

Bonus, 4 essential attachments included at no extra cost; (1)Pet hair dryer with extendable long premium hose (4) easy to attach Nozzles (1) Pet Grooming Brush (1) User manual. 1 Year Manufacturer warranty. Our USA headquarters is located in Texas so make contact with us for any support or help you may need
Description

Are you looking for a professional high-quality Pet Dryer to use on your dogs or Cats?
Do you need to give your pets a powerful quick drying and grooming experience?
Do you spend Hours on drying and grooming your pets?
Our Answer: - My Pet Command 500W-2800W 4.5HP High quality professional hair Dryer made for home or commercial use is the perfect solution
Our Dryer Bundle addresses the most common problems in pet drying and grooming
with both hot and cold air flow, adjustable air speed and adjustable temperature control. With easy to attach and quick lock system, connect the Hose to the dryer which will extend up to 7.7 FT (2.4M). comes with 4 easy to attach nozzles to suit your drying experience and have your pets dry in no time! My Pet Command Pet Dryer comes with:-
•500W-2800W 4.5HP powerful professional unit made for home or commercial use
•Adjustable and fixed air Speed Knob control with air speed 82Ft/s-164Ft/s (25M/s-50M/s)
•Adjustable temperature control for both hot and cold air with built in Heater 86F-158F (30 Deg Cel-70 Deg Cel) •Long Hose with quick locking system extends up to 7.7 FT (2.4m) with long 7.6 FT (2.3m) power cord
Comes with 4 different Nozzle attachments and bonus Grooming brush Designed for exceptional drying and grooming with full control at your fingertips, it's the only pet dryer you should trust for your pets.
See for yourself the difference between My Pet Command newest model and the competition Buy today with confidence thanks to immediate customer support help and 12-month warranty. Contact My Pet Command USA Headquarters out of Texas for any help or support you may need. Click "Add to Cart" Now!
Video