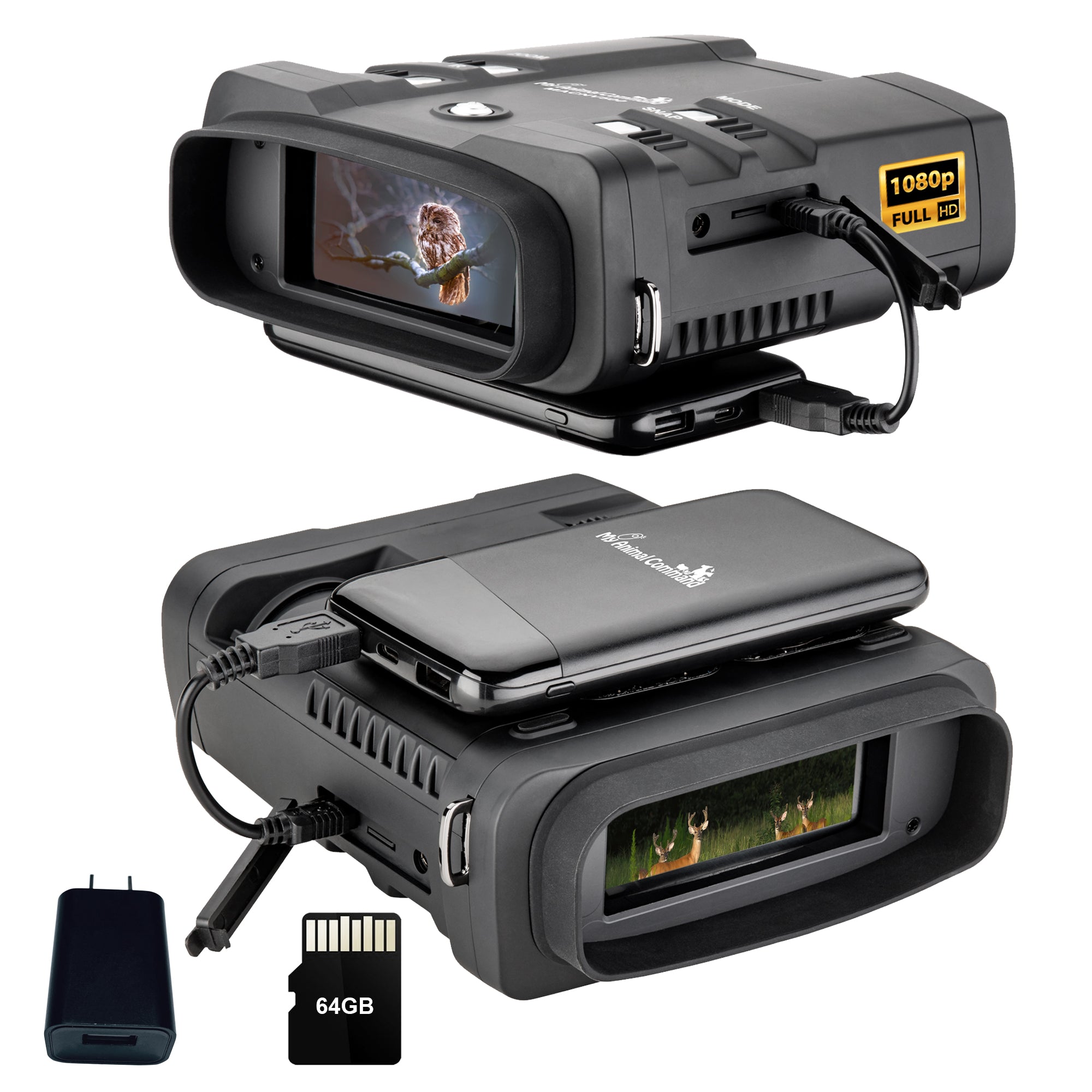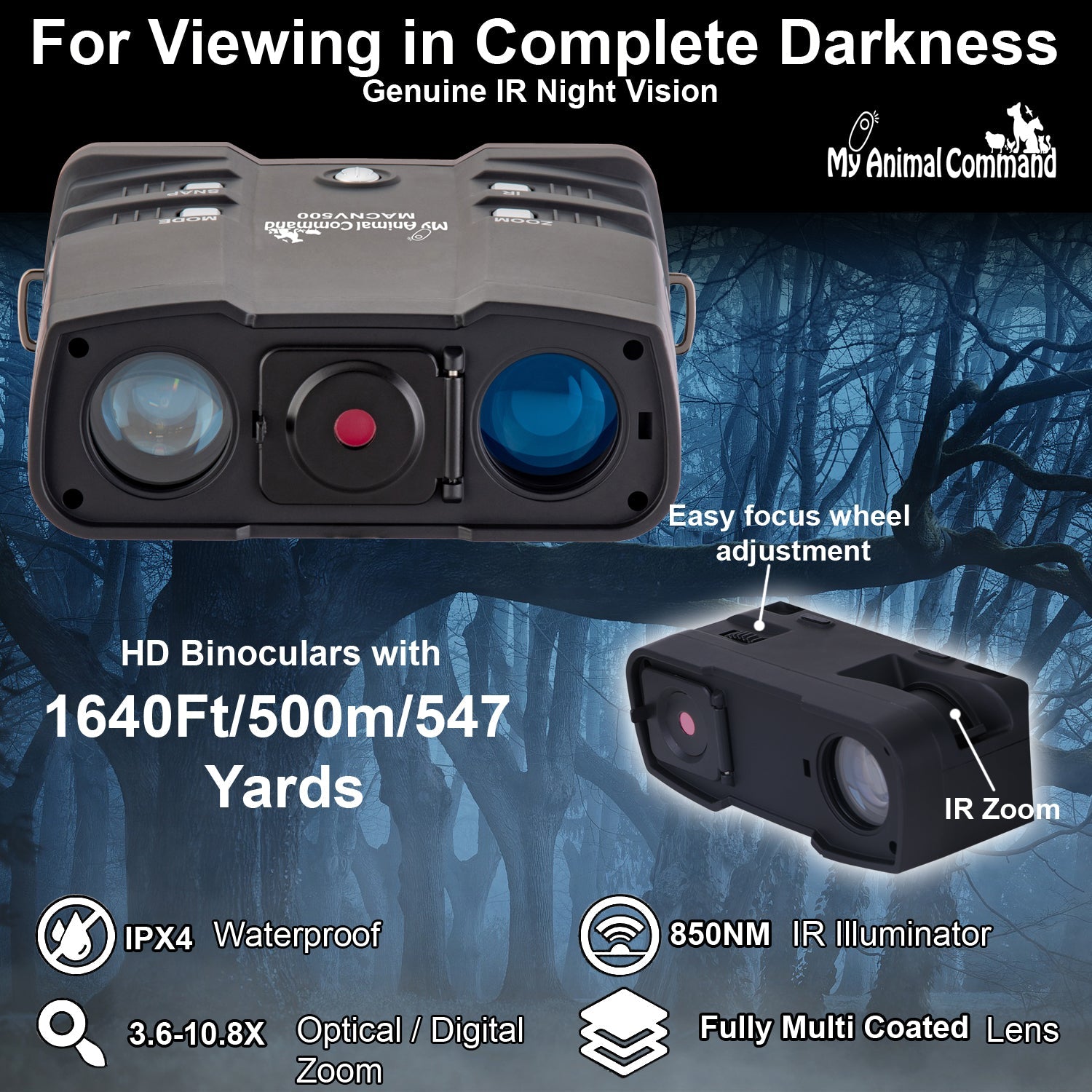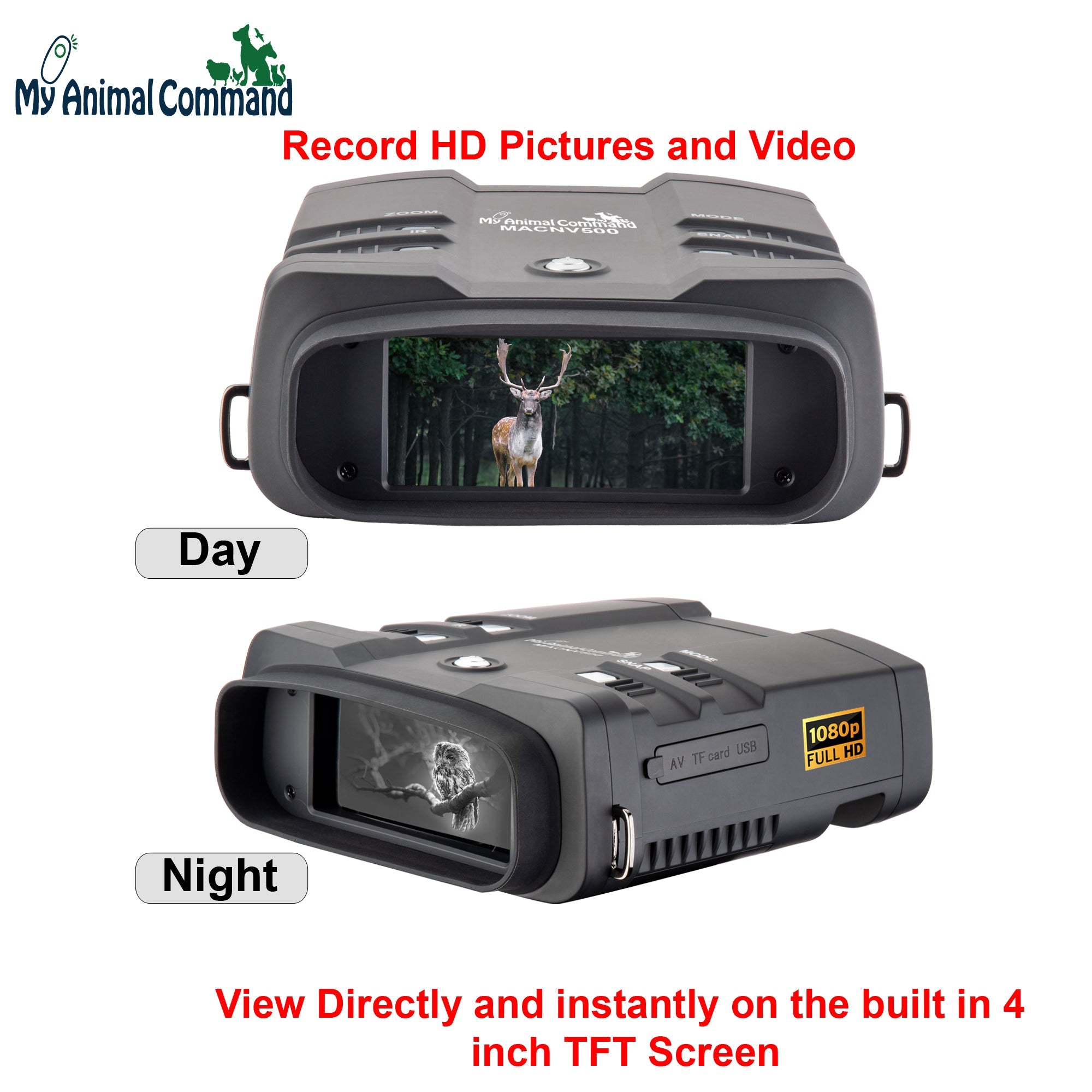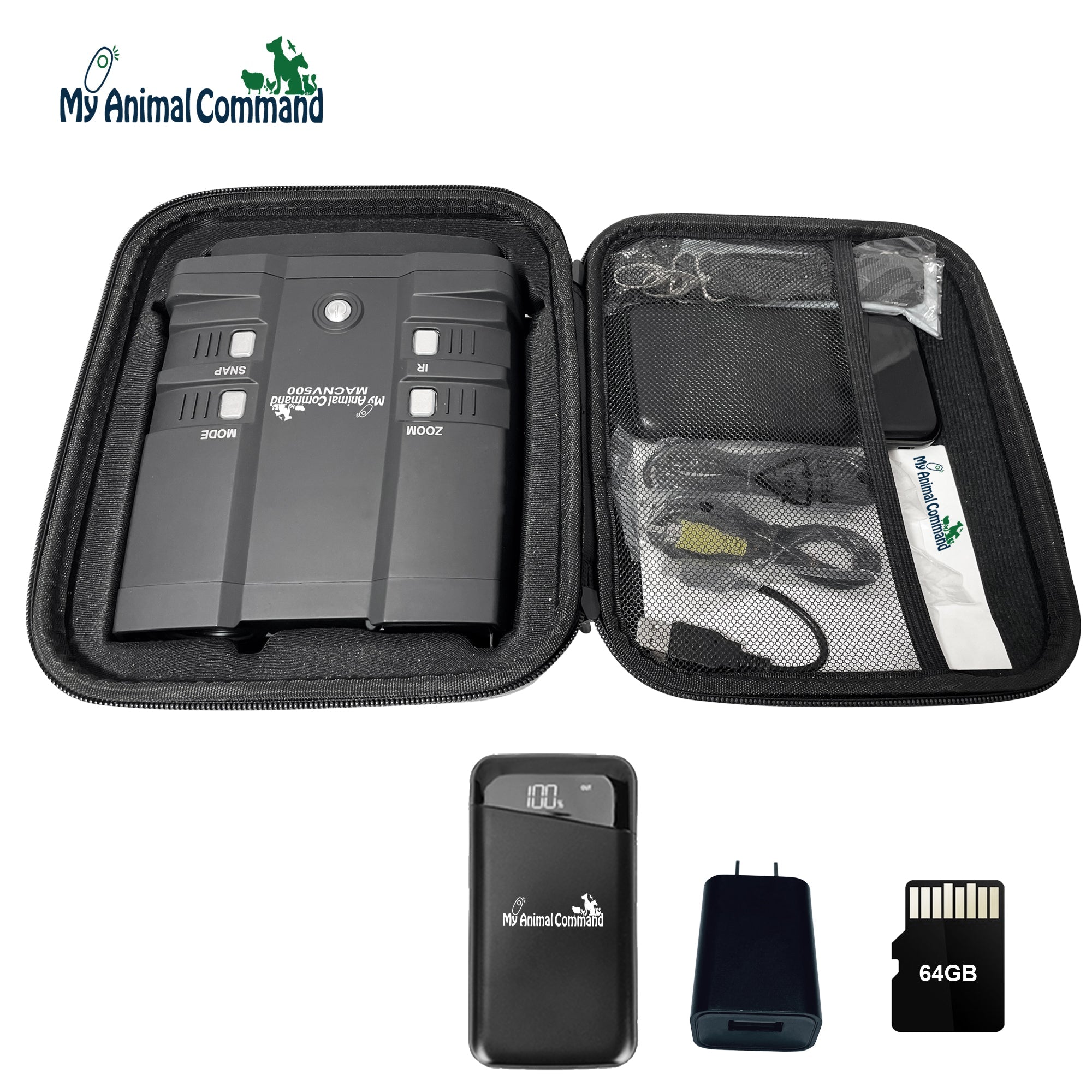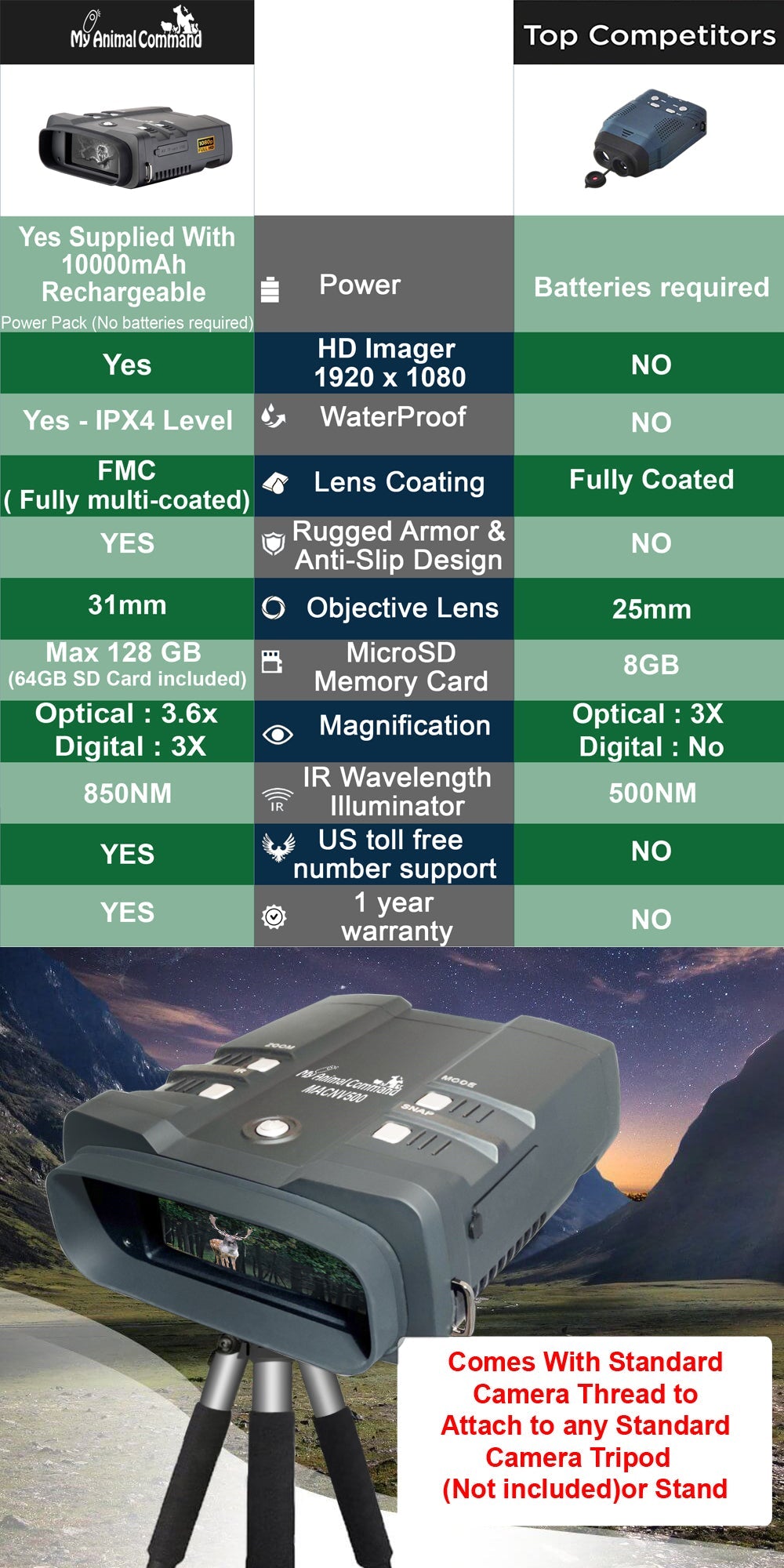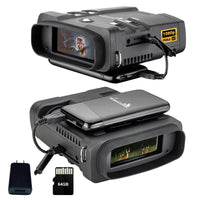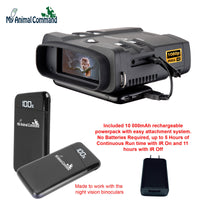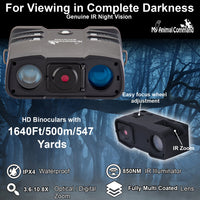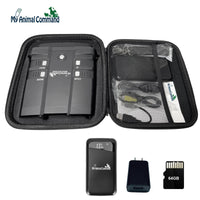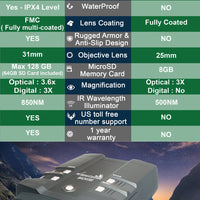 MY ANIMAL COMMAND FULL HD 1640 FT IR NIGHT VISION BINOCULARS PHOTO/VIDEO RECORDING, RECH. POWERPACK

Brand: My Animal Command
Features:
BE UNSTOPPABLE AT NIGHT and never have to worry about Batteries, Run the night vision with the supplied high capacity 10000mAh external detachable rechargeable power pack and get extended 5 Hours of continuous use with IR( infrared) ON and 11 hours with IR OFF. Recharge the Power Pack when you need to and use it over and over again without the need to buy and replace Batteries saving you money and hassle
DO YOU LOVE GAME SPOTTING, HUNTING, MONITORING? IF THAT IS YOUR PASSION, then this digital High Definition Full HD (1920 x 1080) infrared night vision binoculars is the RIGHT CHOICE for you. See clearly in 100% Darkness (monochrome) up to 1640 ft (500m) away. Using the powerful 5W built in 850NM Infrared wavelength Illuminator with 7 x IR settings, 3.6-10.8X magnification 31mm objective aperture. Use it for Colour Daytime Viewing
Take CLEAR HD PHOTOS AND VIDEOS for both night and day saved onto Micro 64GB SD memory card (supplied). View your footage on the built in magnified convex lens LCD 4" TFT Wide Screen size or download your footage to your PC or SD Card Viewer AND SHARE this HIGH EXPERIENCE with your friends! JUST AT A PUSH OF A BUTTON!!!
My Animal Command's GOAL is to offer you a SUPER HIGH EXPERIENCE at a REASONABLE PRICE!!! Rugged and Durable design Use it for all your Hunting, Game spotting and Surveillance needs. Use it for camping trips, Night navigation!
Includes (1) My Animal Command Digital Night Vision Binoculars with 10000mA detachable Rechargeable battery power pack and USB wall adapter Charger (1) 64GB Micro SD memory Card (1) Lens Cleaning Cloth (1) Storage Pouch (1) Neck Strap and all necessary A/V and USB Cables (1) User Friendly Manual !
UPC: 600168680887
EAN: 0600168680887
Binding: Electronics
Item Condition: New
Description:-

Do you need to see clearly in the Dark?

Do you do any Hunting, Game spotting, Bird watching, Camping, Sailing, Security surveillance?

Do you need to Monitor your Livestock?

Do you need Long Battery life and not to worry about always getting and replacing batteries?

Our INNOVATIVE bundle addresses the most common problems in Deer Hunting, Gaming and Security – Battery Life, Durability, HD day and night image quality. My Animal's Command newest Model of Night Vision Binoculars comes with the following features:-

•View in complete darkness up to 1640Ft (500m) with powerful 850NM wavelength 5W IR Illuminator
•HD Imager with 1920 x 1080 Footage
•10 000mAh easy Magnetic attachable and Rechargeable power pack NO BATERRIES REQUIRED!!!
•Easy to use and adjustable optical and Digital focus giving you 3.6-10.8X magnification 31mm objective aperture
•Record and capture photos and videos during night and day which are stored on 64GB SD Card (Supplied)
•Large widescreen magnified via convex lens to 4"TFT LCD Screen viewer for ease of use
•31mm objective lens with fully Multi-Coated lenses. IPX4 water resistant rated
•Comes with Standard Camera thread, to place on any standard Tripod (not included) or holder

MAKE YOUR PASSION REAL!

Designed for exceptional surveillance and wilderness footage, no hunting/Spy binoculars can match this bundle thanks to its easy to use and extended battery design.

Give yourself or others the Perfect gift and give a great experience and happiness using My Animal Command's Digital HD Night Vision binoculars/Goggles

YOU DESERVE THIS EXPERIENCE comes with 12 months warranty

add to Cart now !!!!
Video