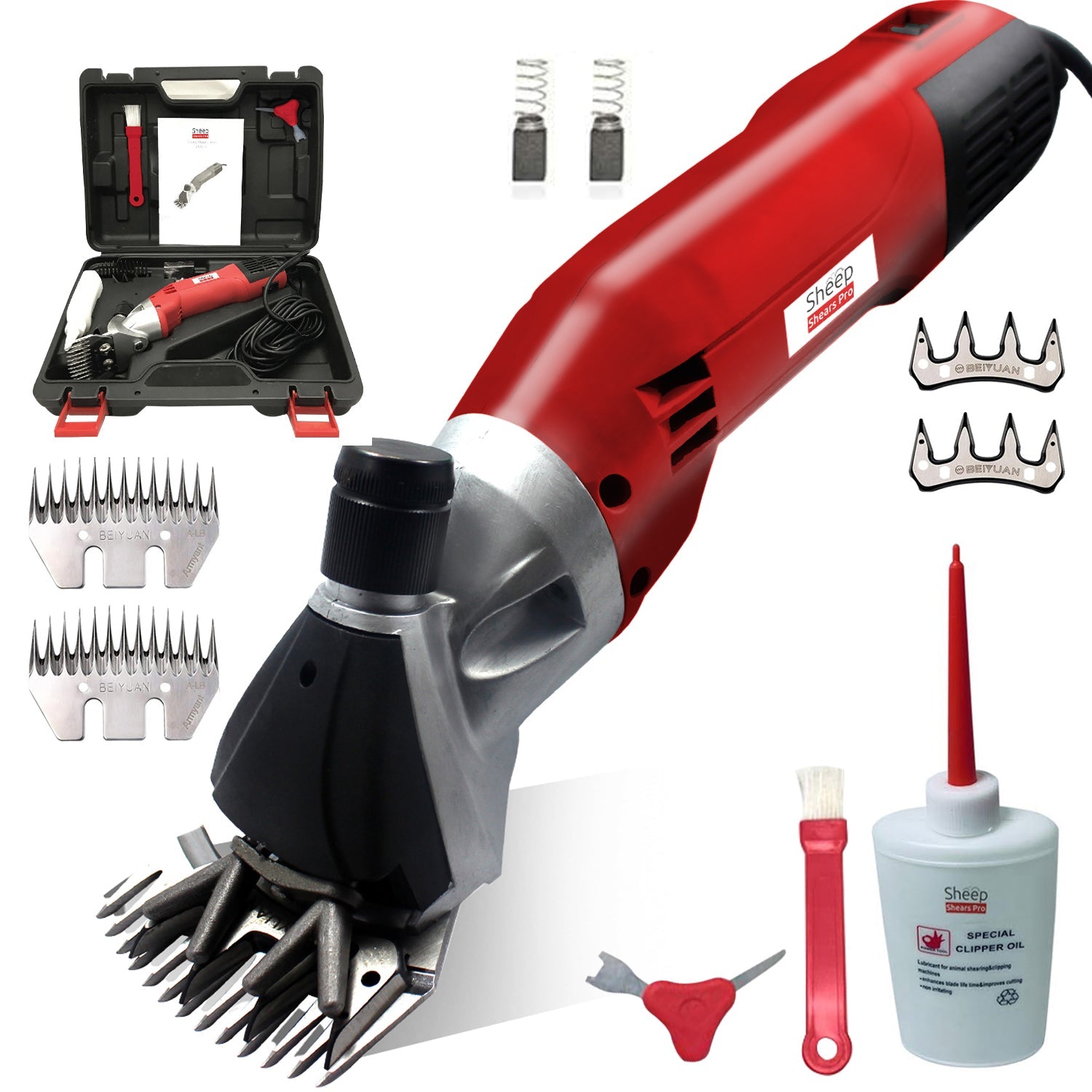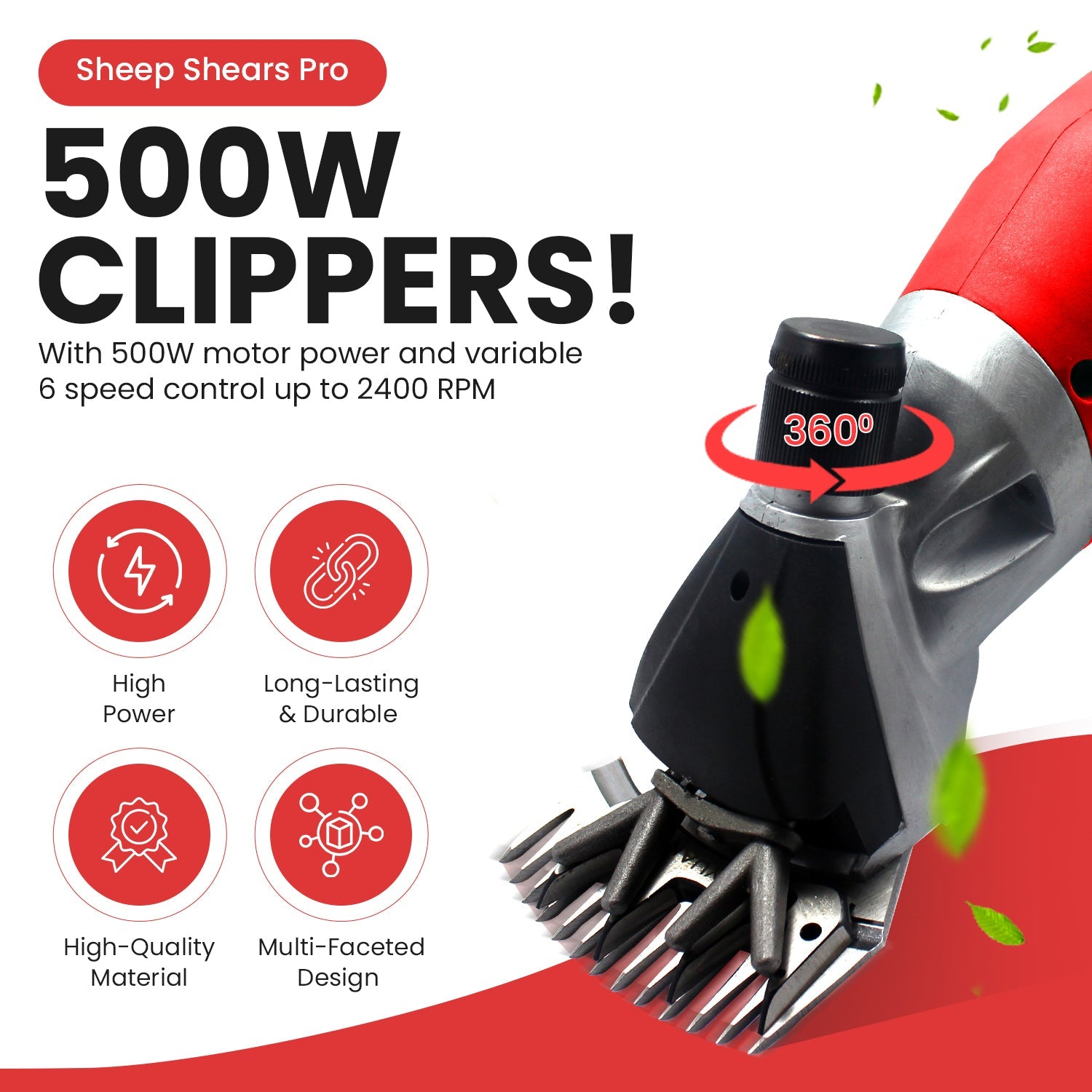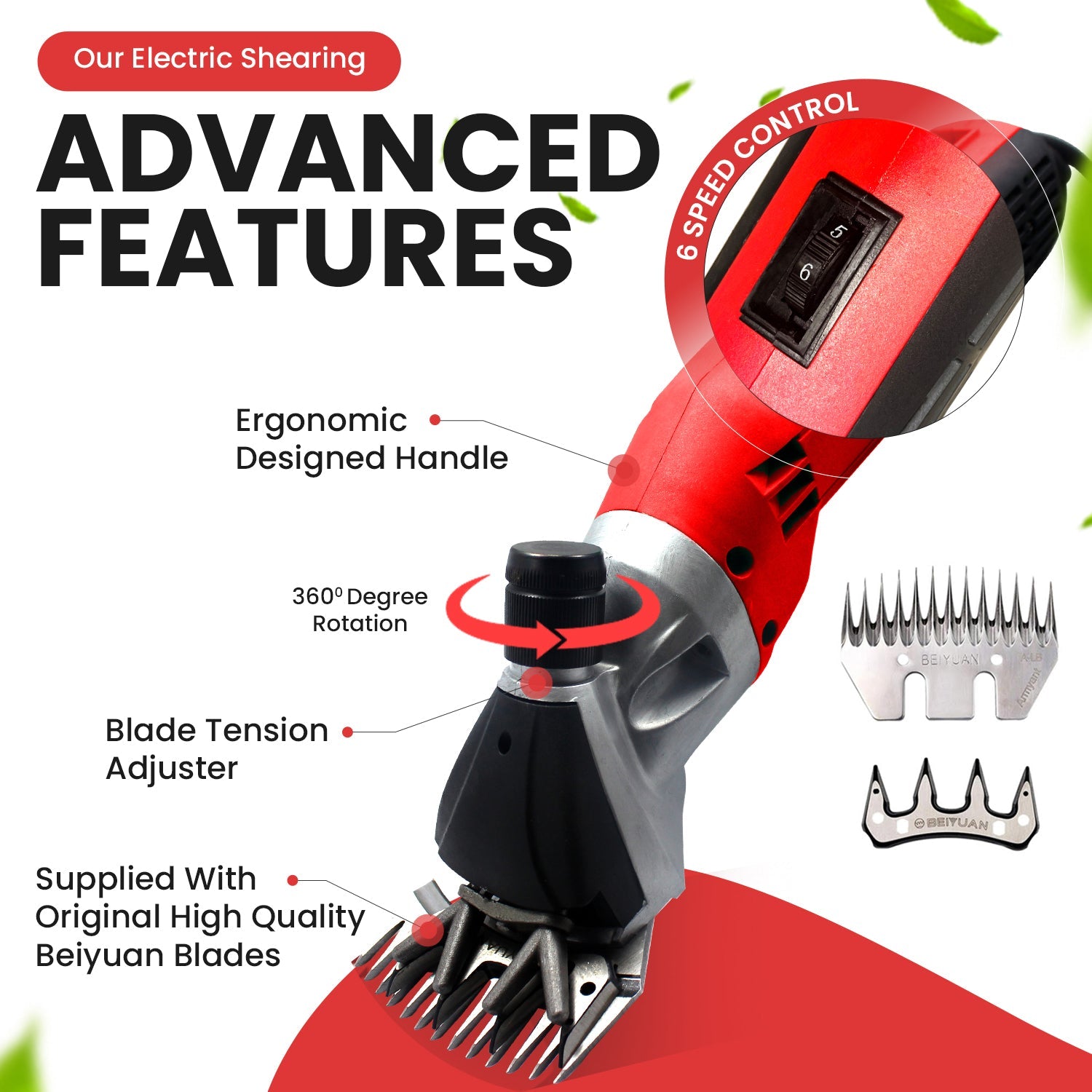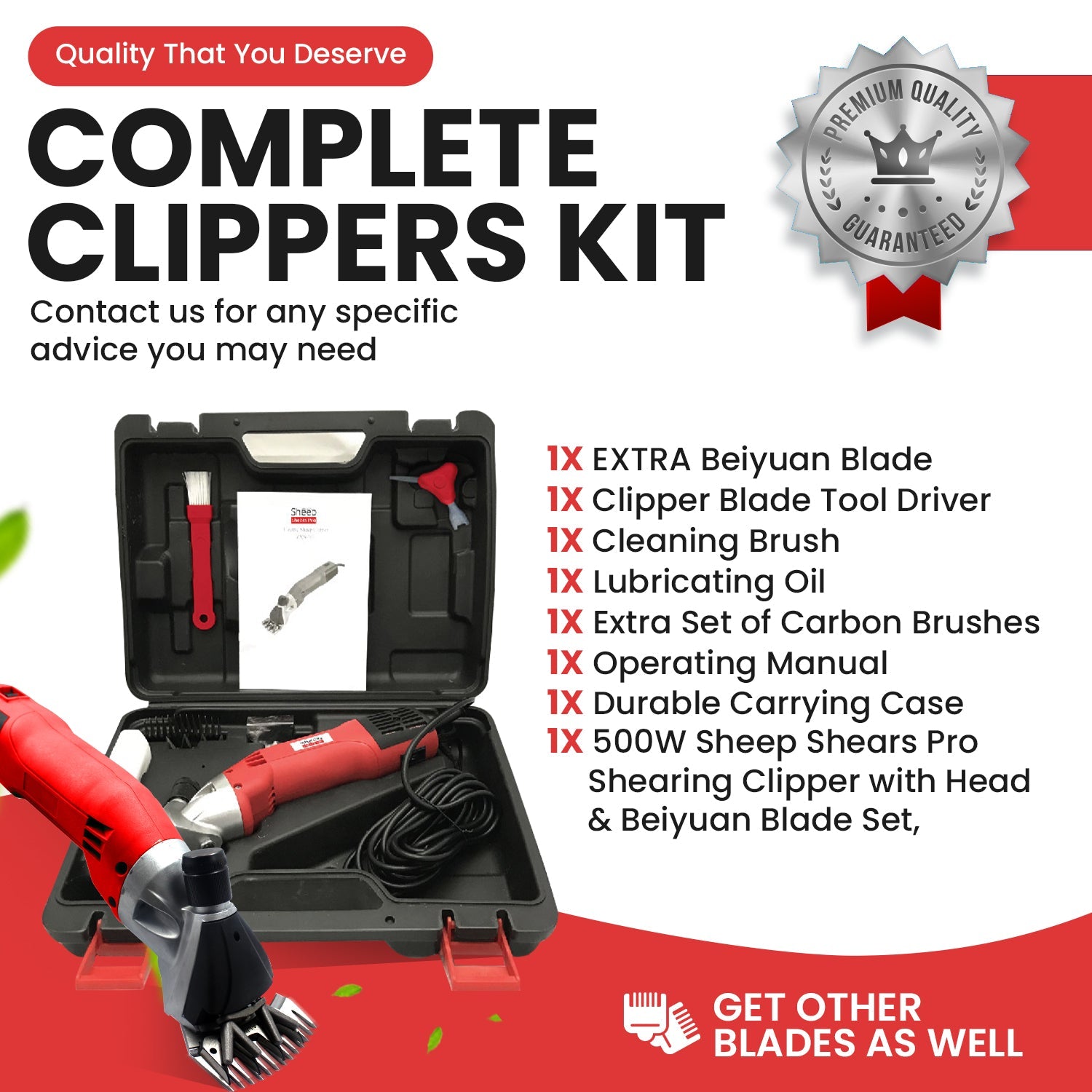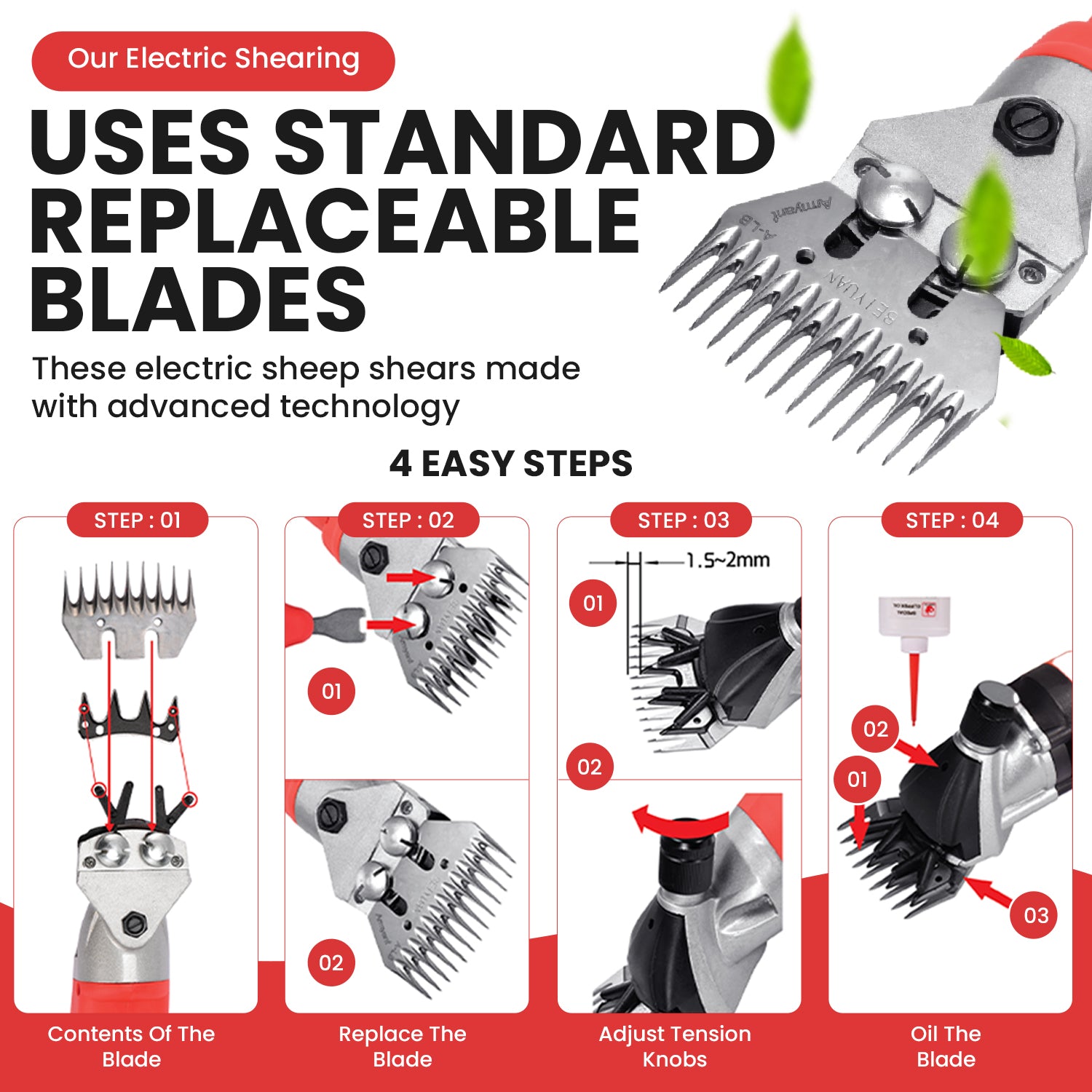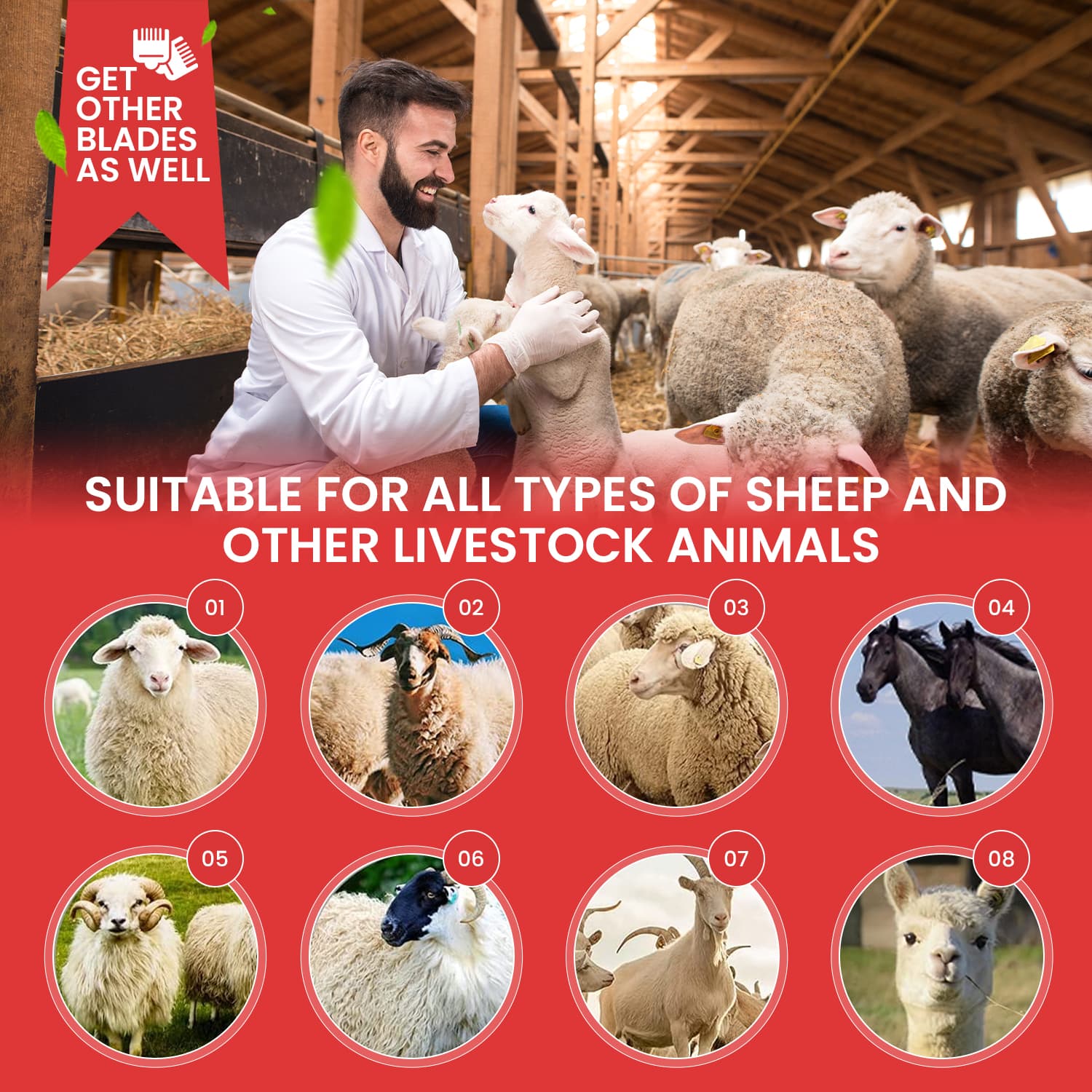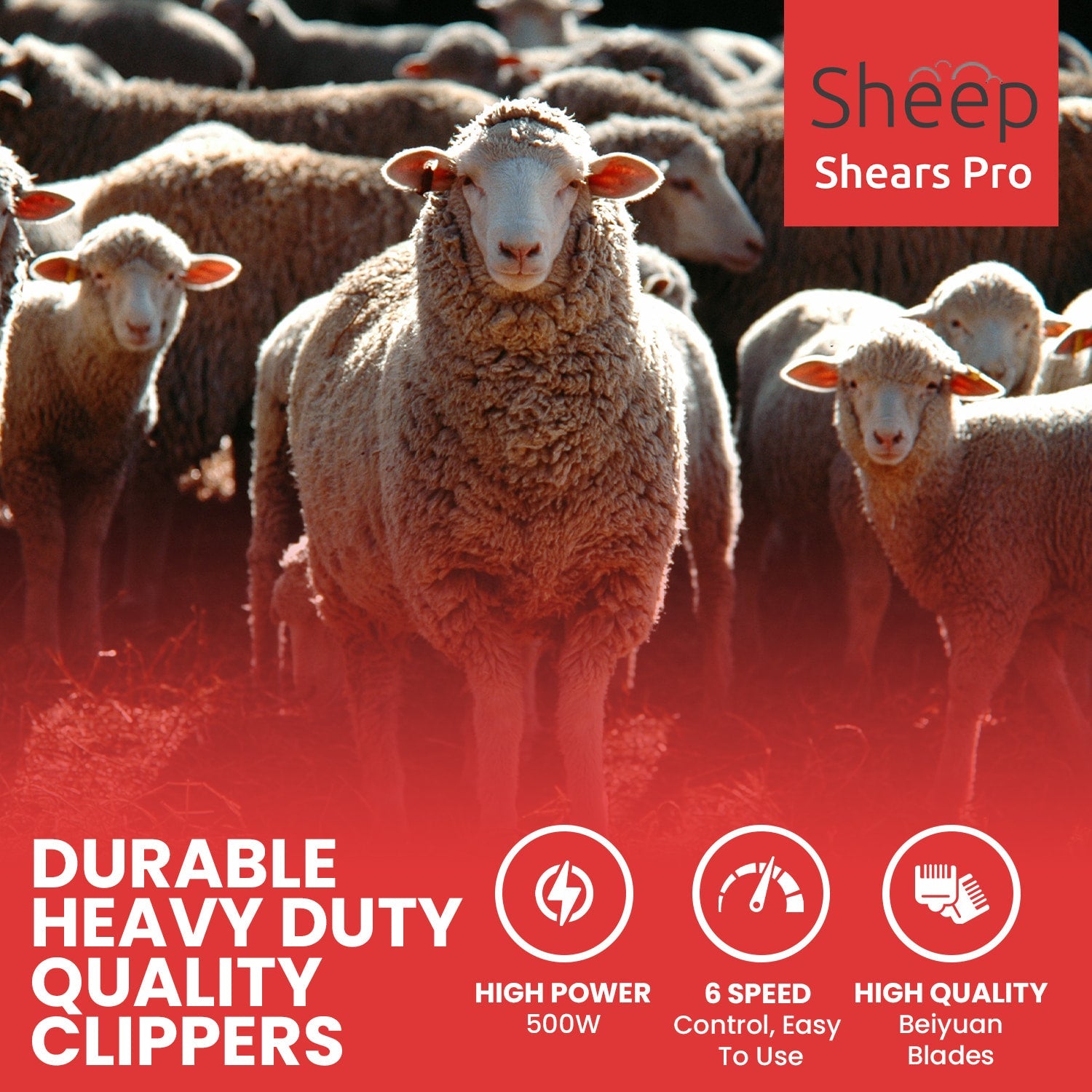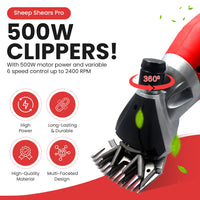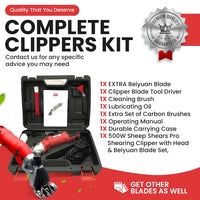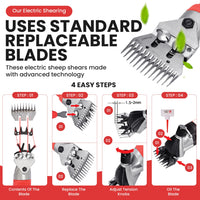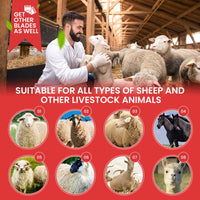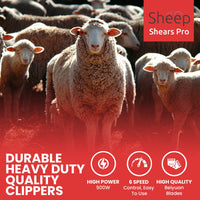 SHEEP SHEARS PRO 110V 500W PROFESSIONAL HEAVY DUTY ELECTRIC SHEARING CLIPPERS WITH 6 SPEED FOR SHEEP

Features
HIGH POWER & SPEED CONTROL: Sheep Shears Pro introduces its brand new professional clippers with 500W motor power and variable 6 speed control up to 2400 RPM with a comfortable grip making precision shearing
EFFORTLESS SHEARING: This electric sheep clipper has 2 High Quality Original 13 Straight tooth Beiyuan Blades with blade tension rotatable button for easy and quick shearing; long lasting use with aluminium head and high quality blades will not harm the animal. It efficiently makes shearing many animals including your sheep, goats, alpaca, llamas, large dogs and angora rabbits
Can be used with other universal Blade types e.g. Oster blades. Comes with 13 Tooth Straight Blades suitable for Sheep. Search Sheep Shears Pro Extra Blades for other Blade types E.g. 9 Tooth Curved Blade more suitable for Alpacas & Llamas or 20 Tooth Straight Blade most suited for Show Goats. Using Sheep Shears Pro Clippers gives you a wider range of Livestock Animals by using different Blade types on the same machine. Contact us for any specific advice you may need
DURABLE HEAVY DUTY QUALITY CLIPPERS: These electric sheep shears made with advanced technology and its cooling air flow ventilators prevent the blades and head from overheating while clipping. High quality motor provides for long lifespan with high heat resistance, low noise and vibration. Made with durable material and performs heavy duty while working on a farm
INCLUDES: (1) 500W Sheep Shears Pro Shearing Clipper with Head & Beiyuan Blade Set, (1) EXTRA Beiyuan Blade, (1) Clipper Blade Tool Driver, (1) Cleaning Brush, (1) Lubricating Oil, (1) Extra Set of Carbon Brushes, (1) Operating Manual, (1) Durable Carrying Case
Description
If you are searching for the perfect set of shearers then our heavy duty electric clippers will be your best choice.
This professional sheep and pet grooming clipper makes shearing simple and effortless.
SHEEP SHEARS PRO HEAVY DUTY PROFESSIONAL CLIPPER FEATURES
500W motor power with 6 Variable speed control up to 2400 rpm
Heat Resistant Full Copper Motor: High Longevity, Low noise and vibration
Wear-resistant with extra sharp, alloy steel blades With Air Flow Ventilators that prevent the blades and head from overheating
Adjustable blade tension for smooth and fast shearing
Easy storage and carrying in the durable, portable carrying case
Has an 18.3ft long power cord for easy manoeuvre
User-friendly design for easy and comfortable gripping.

Let our clippers make your shearing season a breeze for you and sheep! What are you waiting for ?
DON'T DELAY! ORDER NOW! And enjoy your FREE BONUS GIFTS of:
1 Extra Original Beiyuan 13 tooth straight Blade set with cutter
1 Machine lubricant oil bottle included
1 Extra set of carbon brushes.
Can be used with other universal Blade types e.g. Oster blades. Comes with 13 Tooth Straight Blades suitable for Sheep.
Search Sheep Shears Pro Extra Blades for other Blade types E.g. 9 Tooth Curved Blade more suitable for Alpacas & Llamas or 20 Tooth Straight Blade most suited for Show Goats.
Using Sheep Shears Pro Clippers gives you a wider range of Livestock Animals by using different Blade types on the same machine.
Contact us for any specific advice you may need Search Sheep Shears Pro to Buy Replacement oil and Blade kit Never miss that chance to get such powerful heavy-duty electric clippers with most robust Beiyuan blades available in the market. It also features simple use functionality, takes less time to shear, and its 500W power and 6 selectable speeds give you full control on the machine.

Video