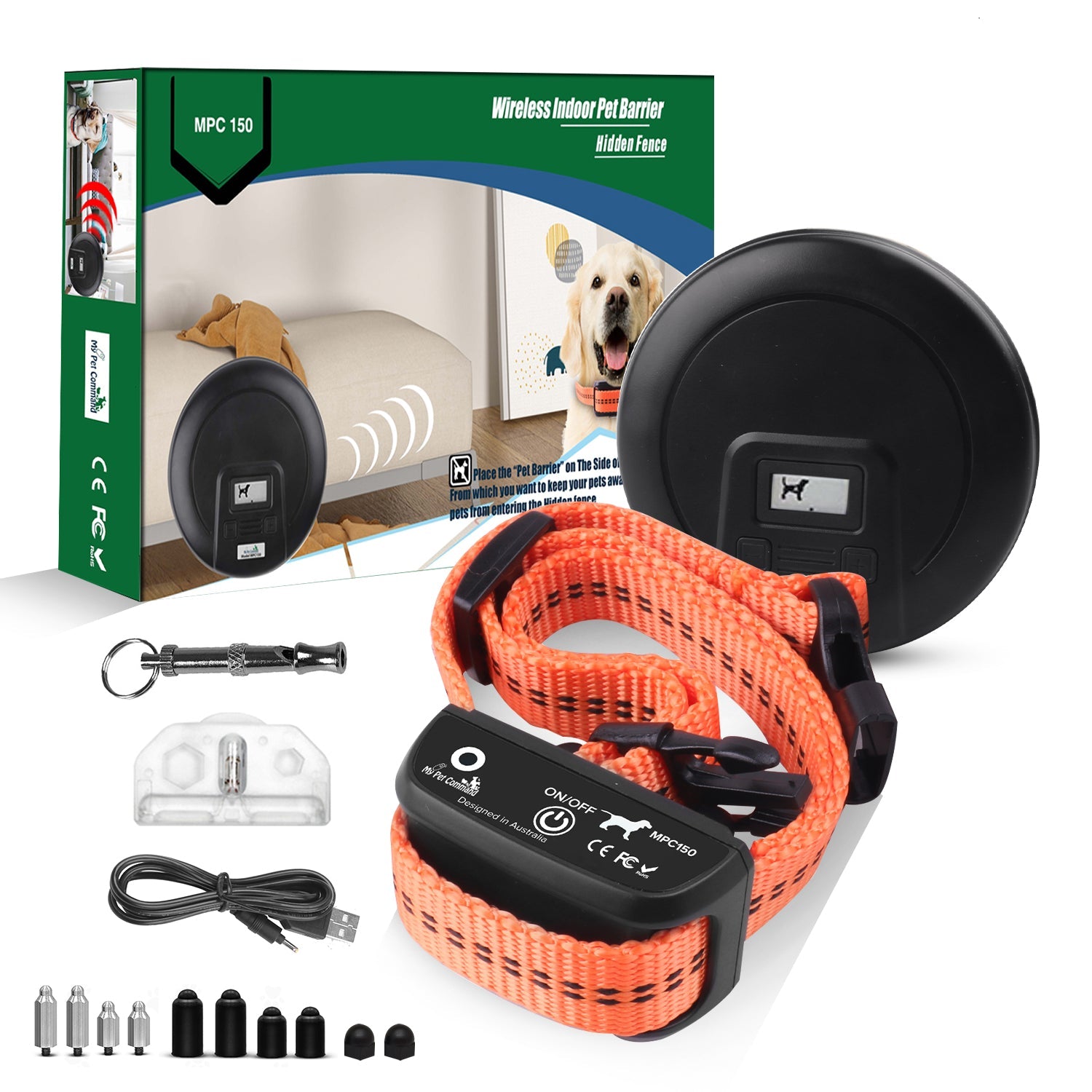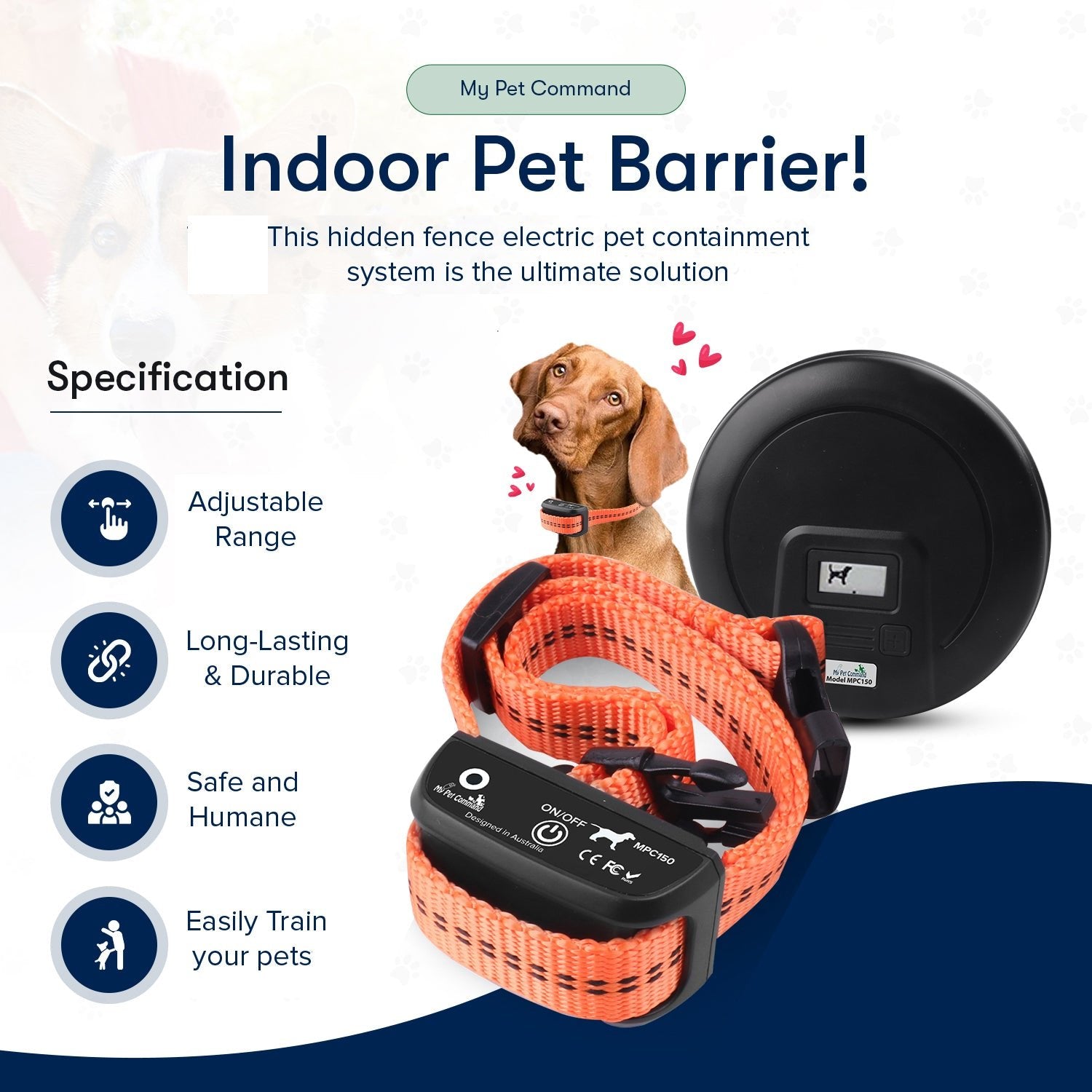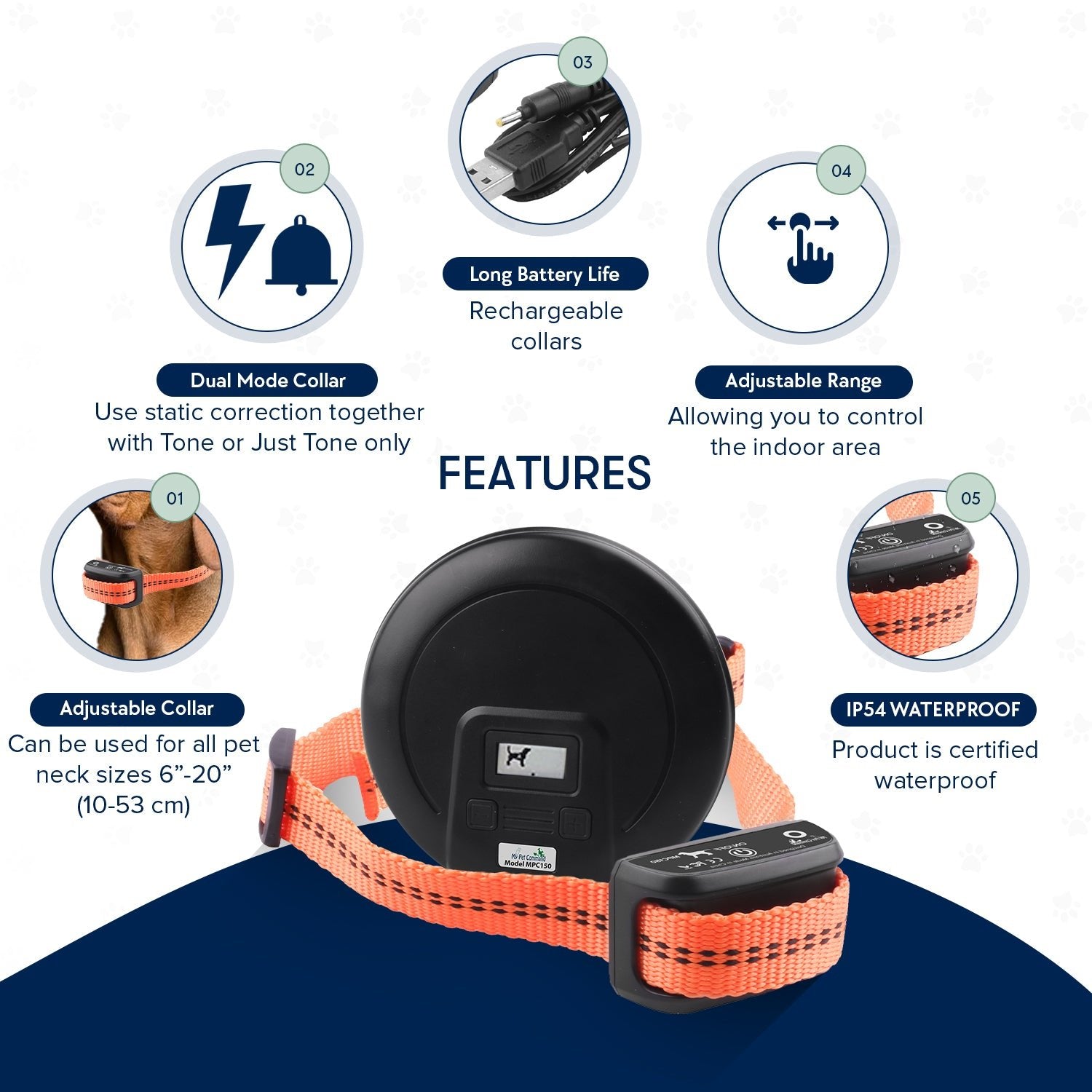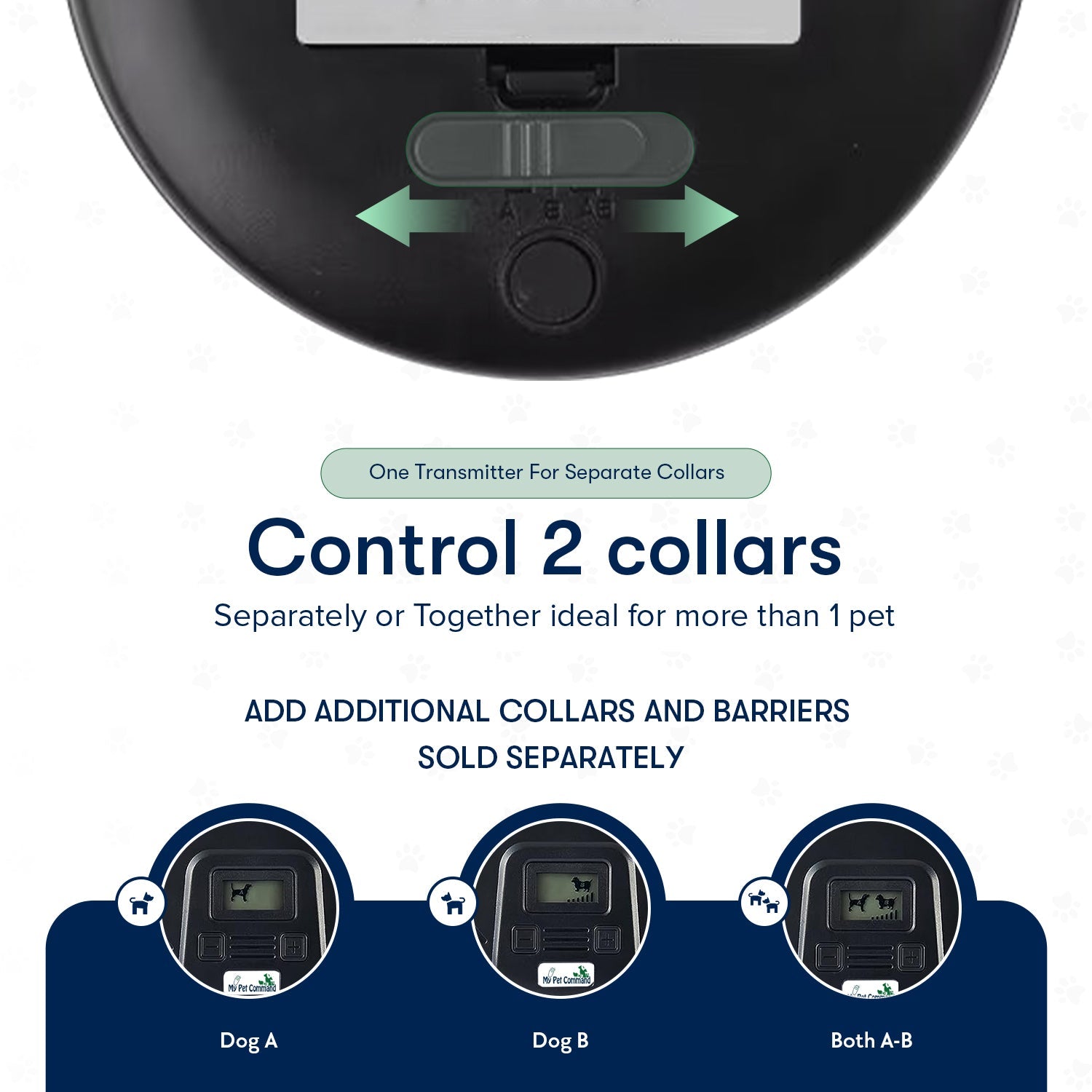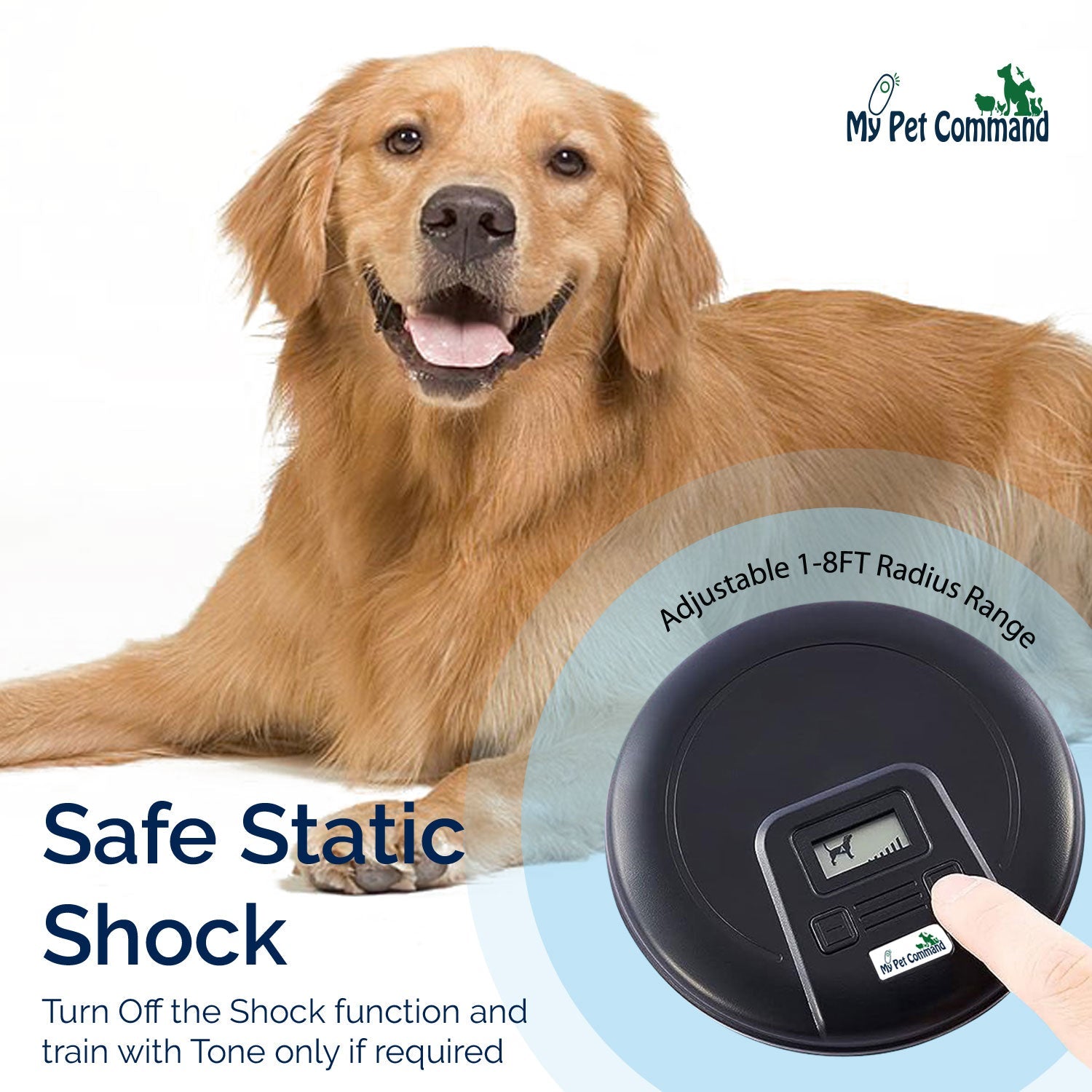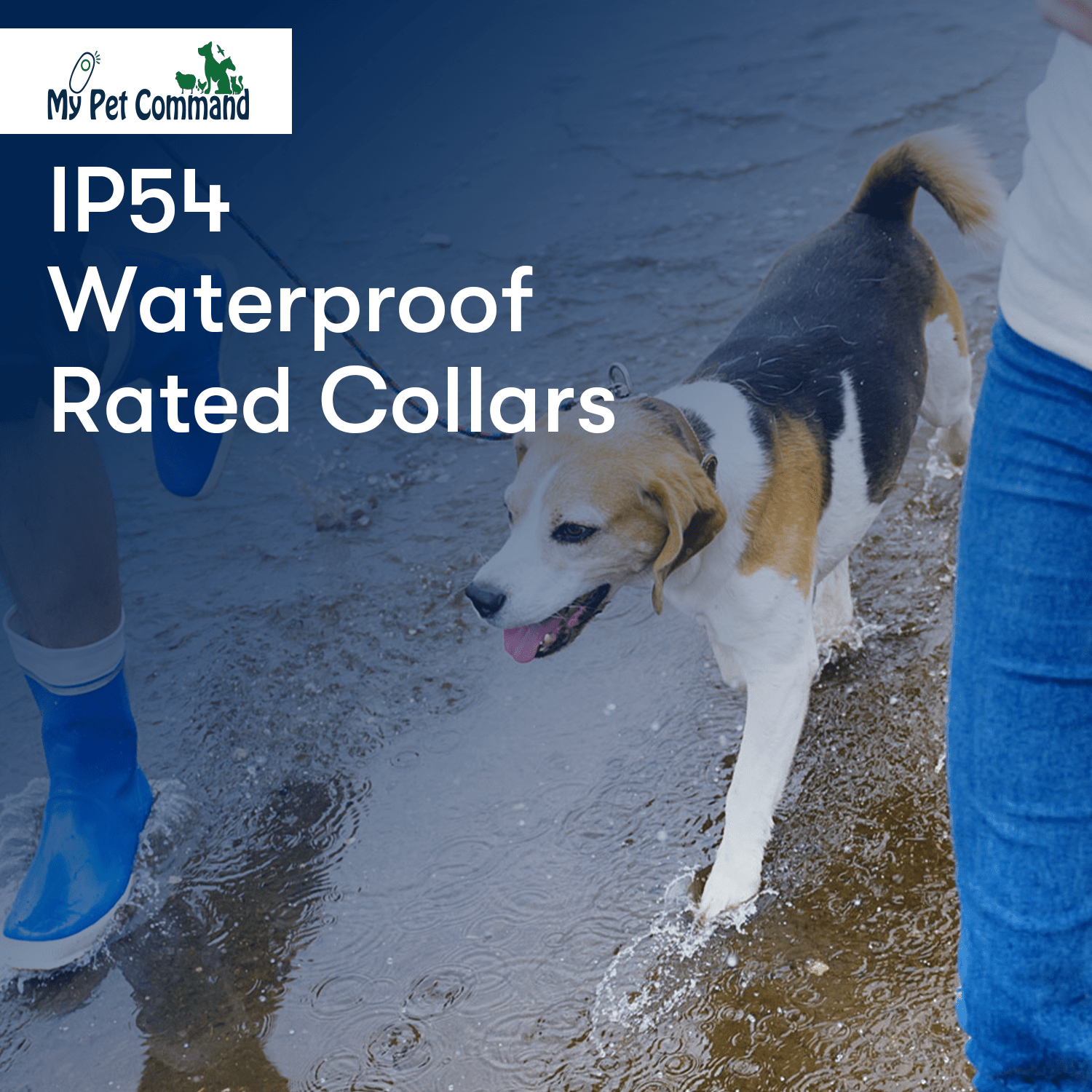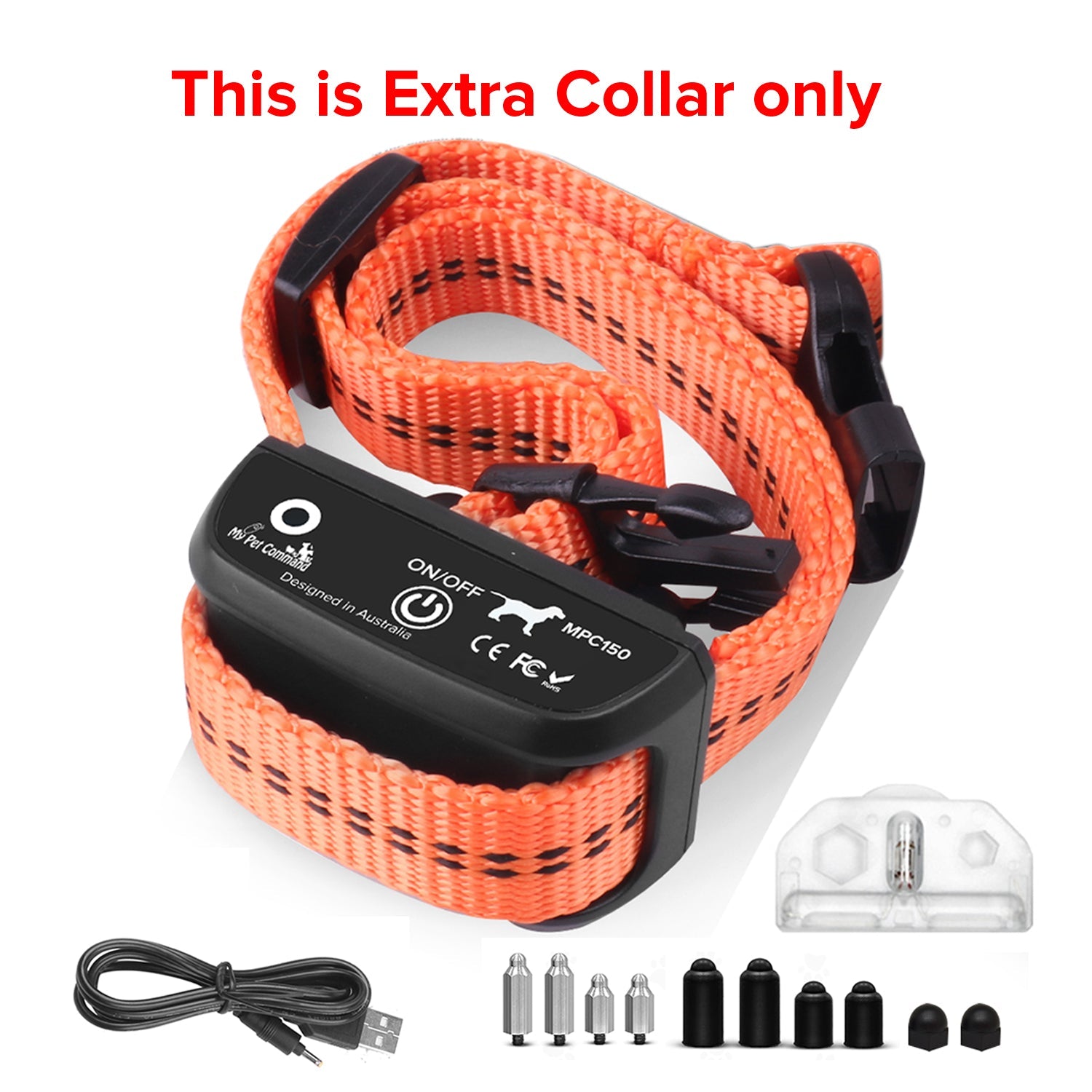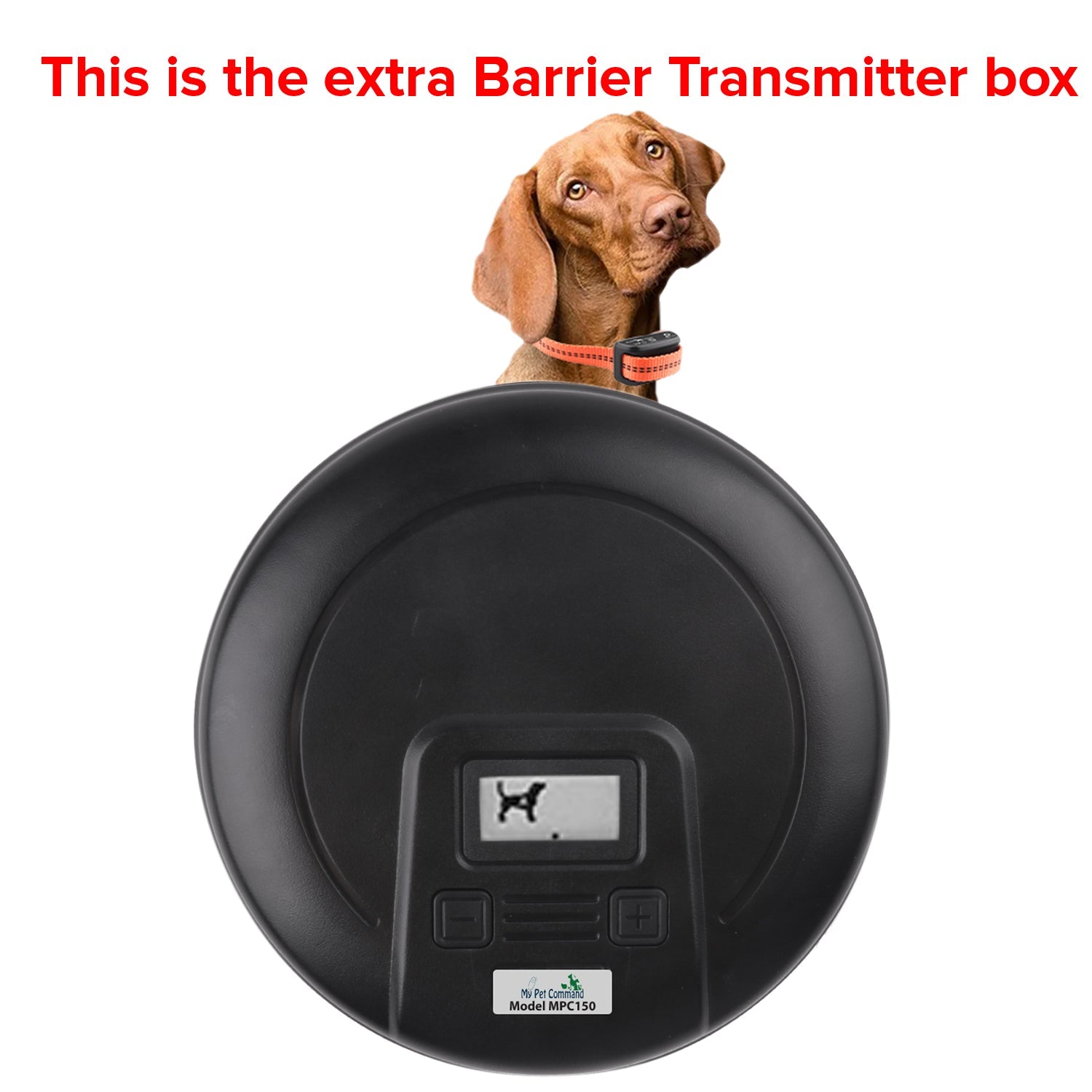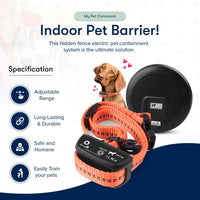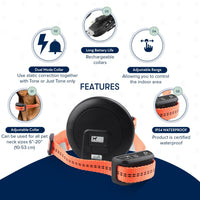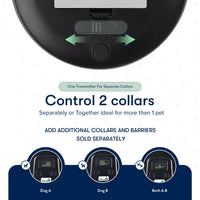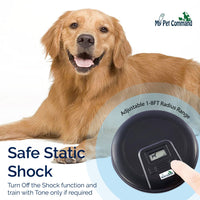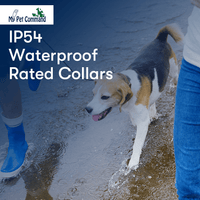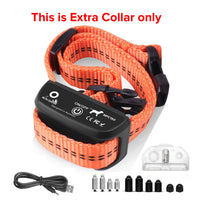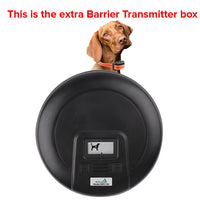 My Pet Command, Indoor Pet Barrier with Adjustable Range, Static and Tone Correction, Hidden Fence for Dogs

Features:
EASILY TRAIN YOUR PETS TO STAY AWAY FROM OFF LIMIT AREAS INSIDE YOUR HOUSE. Do you need to keep areas clear and train your Dog to stay out of there in your house or off your Furniture? Do you need to train your lovely Pets and keep them from climbing onto Tables, Beds, Furniture or not enter areas that they should not be in? If so, this hidden fence electric pet containment system is the ultimate solution. Suitable for all small and Large Dogs (Not tiny dogs)  with neck sizes of 6"-20" (10-53 cm)
EASY AND SAFE INVISIBLE INDOOR BARRIER SETUP DIY SOLUTION WITH ADJUSTABLE TRAINING COLLAR RANGE. This electric fence uses a Small Transmitter barrier box with a wireless waterproof (IP54) collar. Dual Mode collar supplied. Set up your collars for both SAFE STATIC SHOCK with Tone warning or Just Tone only correction. Circular Boundary with Adjustable radius range of approx. 1-8FT to customize it depending on your needs. Turn Off the Shock function and train with Tone only if required
THIS UNIQUE PORTABLE SOLUTION-TOTALLY RECHARGEABLE COLLARS- NO BATTERIES REQUIRED for the collars. 3x AA Batteries (Not supplied) required for the Transmitter barrier Box only to be replaced approx. every 1.5 months if left on all the time to keep your Barrier up and running. Training Collars are Rechargeable via the USB Cable supplied and need to be recharged every 3-4 days if left on all the time and simply use the Charging Cable supplied to plug them into any Standard USB Power socket, etc
EXPAND TO OTHER AREAS BY ADDING ADDITIONAL TRANSMITTER PET BARRIERS AROUND THE HOUSE. By adding extra Barriers, you can easily choose additional off-limits zones you don't want your pets to come to. Also Add Extra collars for additional dogs and can set separate "A" and "B" Frequencies to differentiate between pets (search for "My Pet Command Indoor Pet Barrier Extra Collar")
INCLUDES (1) Pet Barrier Kit with transmitter box and waterproof Collar for neck sizes 6 "(10 cm) to 20" (53 cm), (1) USB Charging cables (2) set of both long and short collar prongs with silicone covers included (1) set of plastic Prongs for no shock option (1) Test Bulb (1) Operating Manual (1) (1) additional Ultrasonic dog Training whistle and guide. My Pet Command is here to support YOU for every single issue and offers a 12-month Warranty.
Description
Do you need to Keep and train your pets away from certain areas in your house? Do you have any problems of Pets climbing on furniture? Do you need an easy and effective DIY solution? Do you need a portable Indoor Electric Pet Barrier you can take anywhere with you? Our Solution: -My Pet Command Advanced Indoor Pet Barrier is the easy and effective solution to train and keep your pets away or off areas you don't want them to go. The Indoor Pet Barrier system works by attaching the collar to your Pet and by receiving a wireless radio signal from the Transmitter Barrier box. It Creates a Circular Barrier and select an adjustable radius range of approx. 1-8 FT, Safe and effective collar. Choose Static shock or tone correction options. Use it for dogs. Once the Pet enters the NO GO zone, they will get a warning tone first and then you have the option to enable the collar for a safe Static shock correction which will deter and train them not to go there! Soon your Pet will learn to stay away from those areas and is an easy and effective tool to train your pets Features are: -•Transmitter Box Uses Standard 3 x AA Batteries (Not supplied) with a 1.5 Month Long Battery life. Pet containment Collars are Fully Rechargeable with supplied USB Cable with a 3-4 Days Battery life •Rechargeable and waterproof (IP54) Collars Dual Mode collars with Static Shock/no shock and tone options• Expand to other areas by adding Extra Transmitter Boxes. Expand to more Pets by adding extra collars. Please note this product is for INDOOR use only. Designed for exceptional training due to its easy DIY Setup design it's the only electronic pet containment kit you should trust for all your training needs. See for yourself the difference between my Pet Command newest model and the competition. BUY TODAY WITH CONFIDENCE THANKS TO IMMEDIATE CUSTOMER SUPPORT HELP AND 12-MONTH WARRANTY!!!Click "Add to Cart Now!
Video