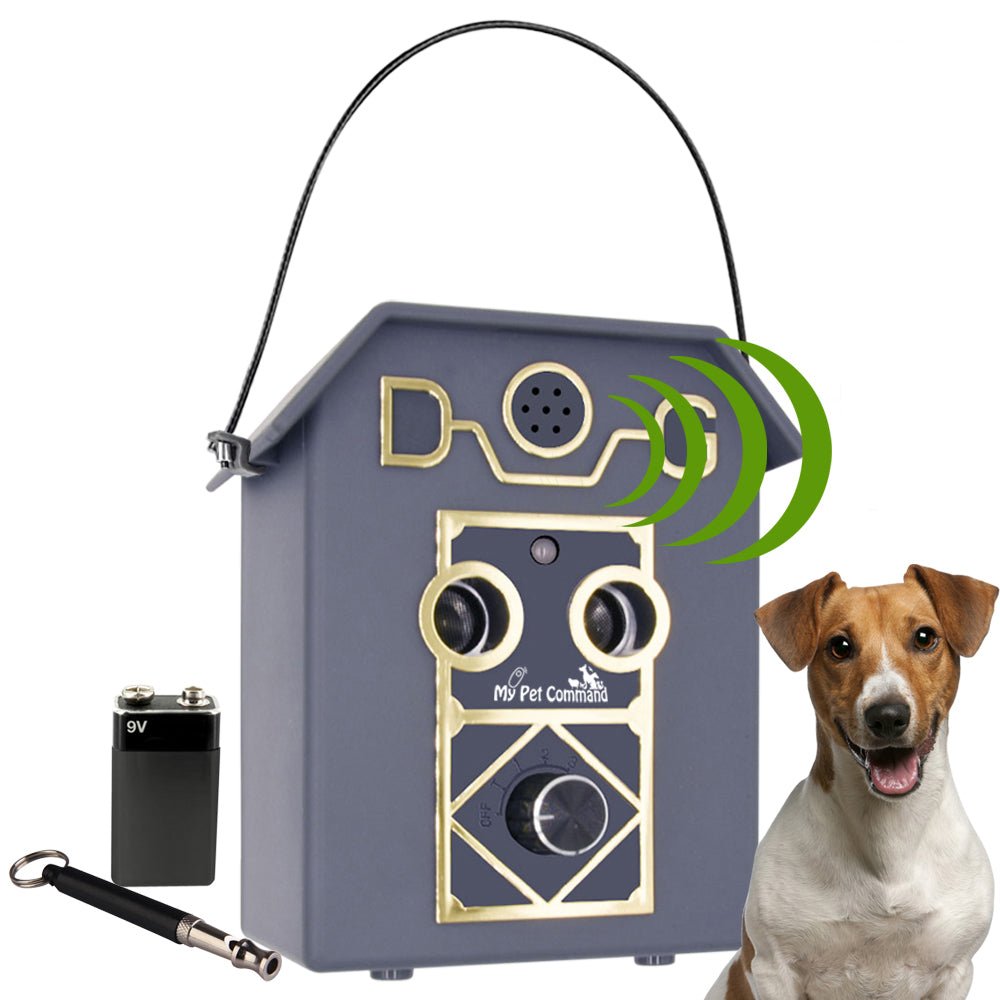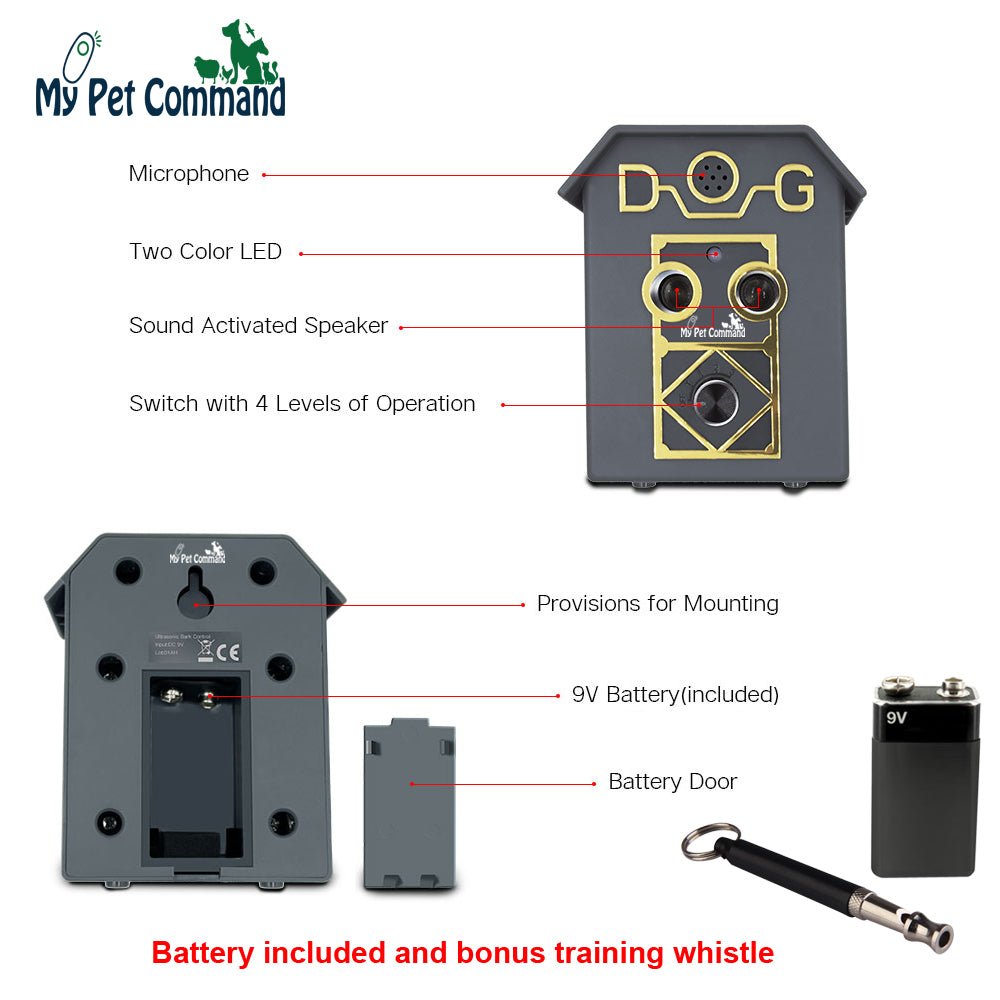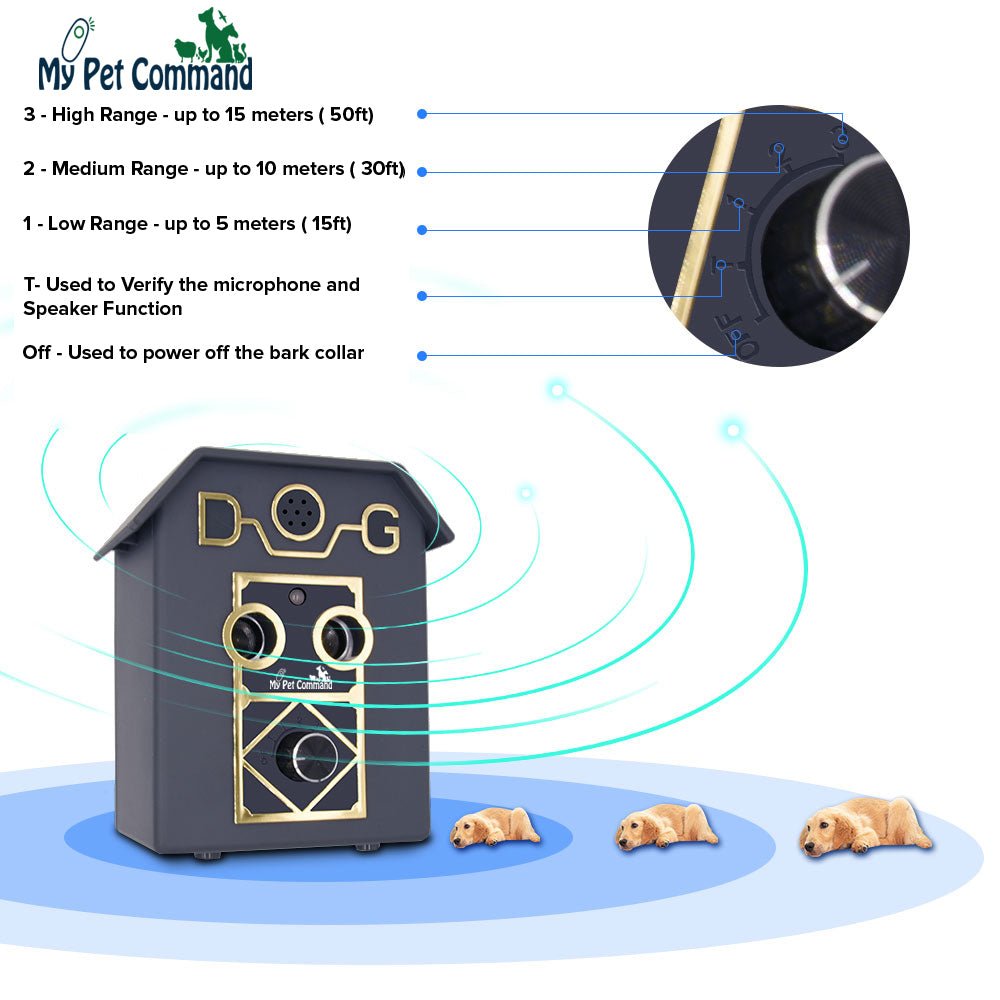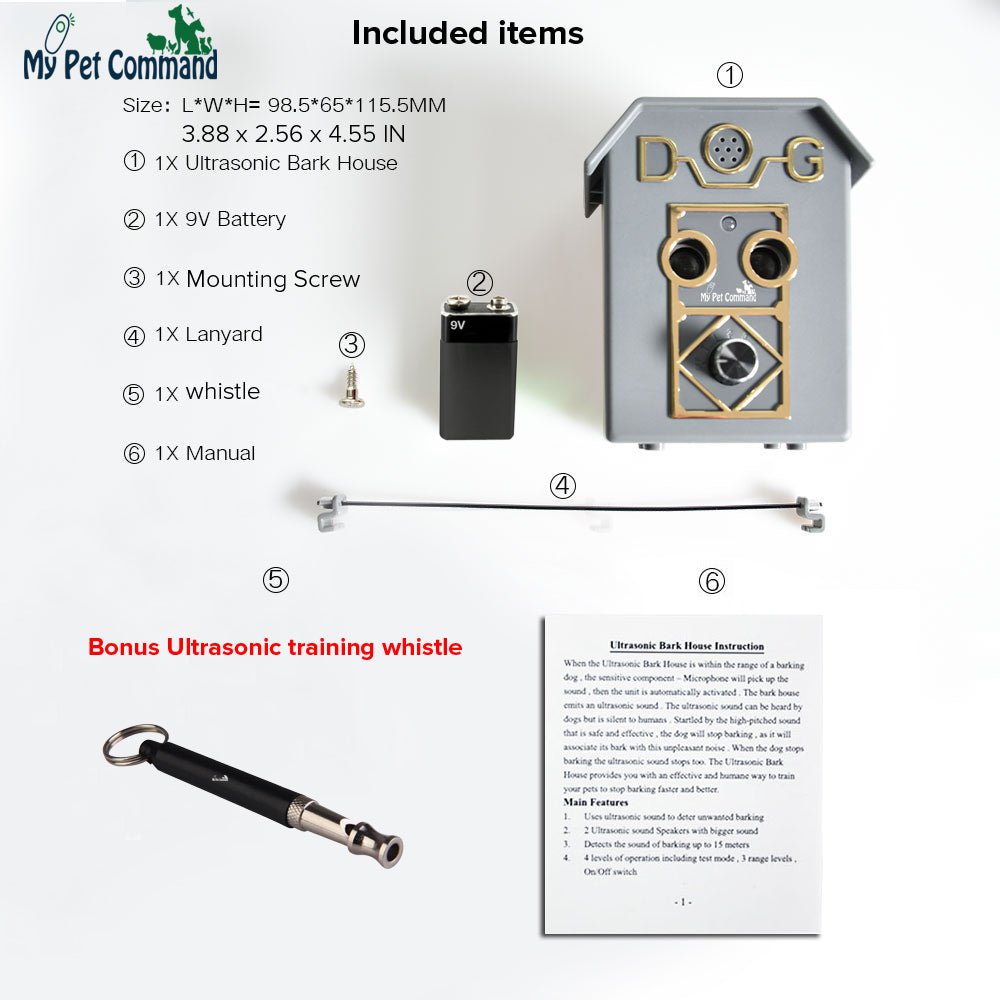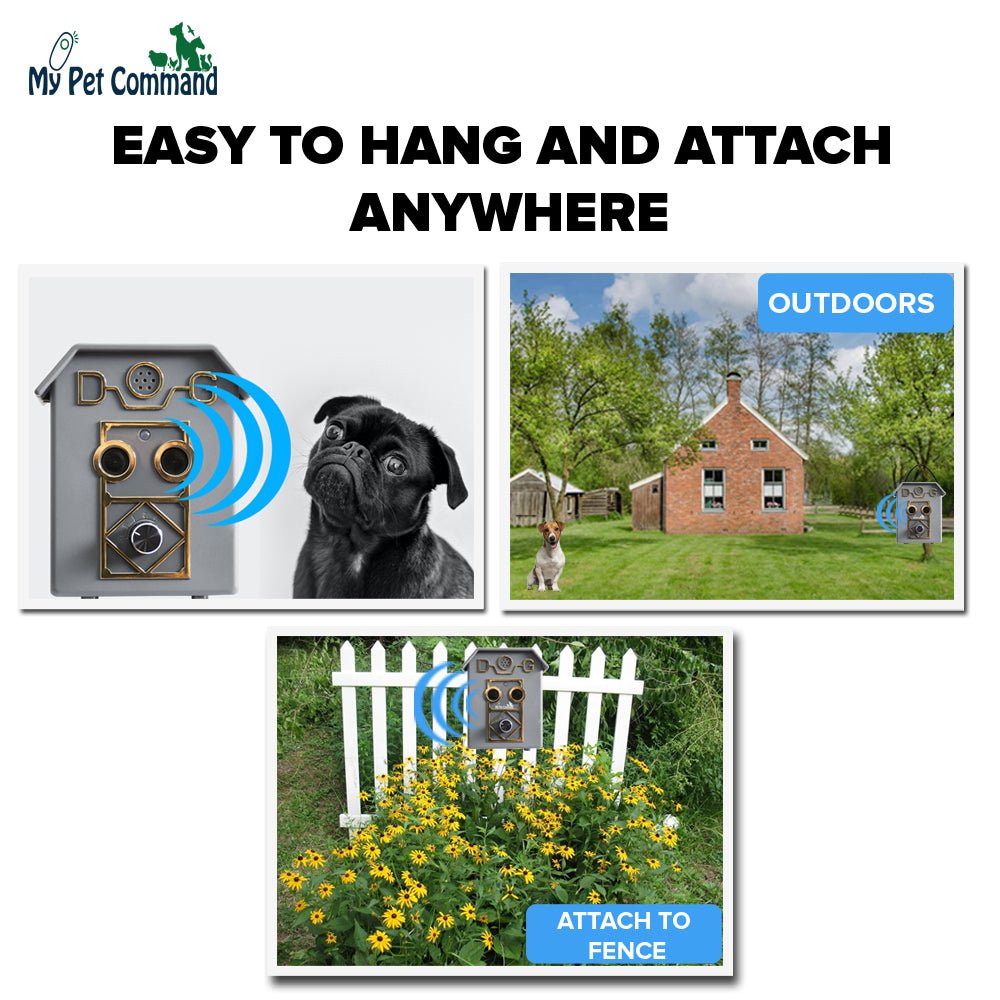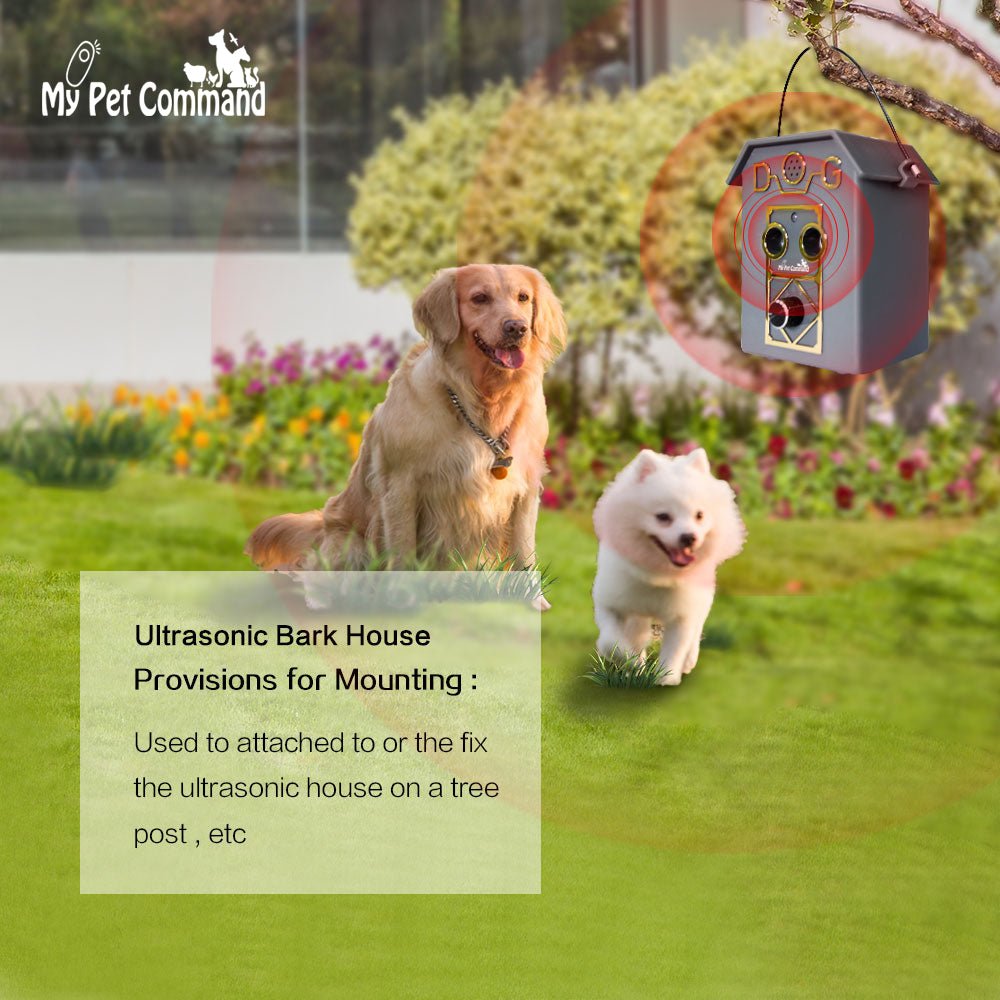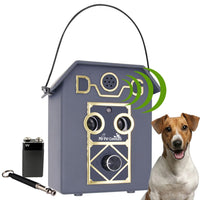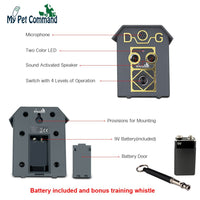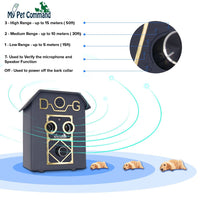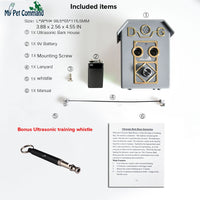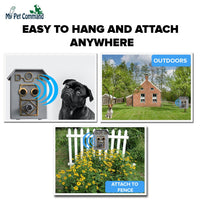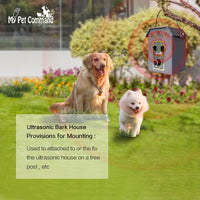 MY PET COMMAND 50FT LONG RANGE ANTI BARKING DEVICE, AUTO ULTRASONIC DOG BARK DETERRENT

Features
SAFE ,HUMANE,EASY TO USE and SET UP! An Ultrasonic anti barking device with 3 distance level ranges up to 50Ft. Simply put this dog bark control machine in any indoor or outdoor setting where excessive barking occurs. The Unit will automatically detect dog's barking sounds with its sensitive microphone feature up to 50 Ft away and emit a safe ultrasonic sound that only dogs can hear to deter and train your or yours NEIGHBOUR's dog to stop barking!!
FULLY AUTOMATIC Anti BARK BIRD HOUSE CONTROLLER. Uses standard 9V Battery (Supplied),Sensitive microphone to pick any dog barking sounds up to 50 Ft away with 3 distance adjustable settings (15-50 Ft) with Dual speaker output to suit your type of dog and environment.
WATERPROOF (IPX4 ) can be used in both outdoor and indoor environments. Comes with a convenient mounting screw provision allowing you to mount it on any fence or post or with hanging lanyard rope tool!!
WORKS FOR ALL SIZES AND BREEDS OF DOGS: We have designed this anti barking control device that will help your dog stop barking humanely, no matter what size or breed (not useful for dogs that are deaf or hearing impaired). Quality is assured, but if you encounter any problem with your item, please do not hesitate to contact us by email or phone, we will always be here resolve the matter via our customer support giving you peace & quiet. Quality guaranteed with 12-month warranty.
Includes (1) Auto anti-Bark Controller (1) Lanyard/hanging rope (1)Mounting Screw (1) 9v Battery (1) Bonus Ultrasonic Training whistle (1) Full Manual and instructions. Try it out and contact us for any help or advice
Description
Do you have annoying dogs that Bark Excessively?
Do you have neighbours Dogs that irritate you with excessive barking especially when you are trying to sleep at night?
Do you need a simple and Easy safe and humane way to control dogs Barking giving you peace and quiet?
Do you want to assure that your dog won't annoy your neighbor's when you are away?
My Pet Command's Auto Ultrasonic No Bark stopper is the perfect easy Training Aid and training tool to help you This Bark Bird House addresses all issues with this High Quality controller such as:
Waterproof for outdoor use,
Easy and simple to use, 3 Distance Settings to Choose from 15Ft, 30Ft and up to 50 Ft,
Dual speaker output.
Test Mode setup with LED Indicator and Low Battery Red LED Indicator making it visually easy to see when your Battery needs replacement
Our bark deterrent is totally portable, take it anywhere or place it in permanent position! An anti-Bark controller for both indoor and outdoor environments with its IPX4 weather rating.
Simply hang it on your Garden Fence, post or tree with the supplied hanging rope Lanyard or use the screw to mount/hang with the mounting screw provision. Place it on a table, shelf or any place for indoor use.
Comes with following features
IPX4 weather rated suitable for both outdoor and Indoor Environments
3 Distance level range settings for 15, 30 and 50 Ft with a Test mode Setup
Dual Speaker Output unlike 1 Speaker output models
9v Battery included. Simply replace the Battery as required
Bonus Ultrasonic Training whistle
Mounting Screw provision (Hang it or attach it where you want) as well as Lanyard rope supplied
It's the only Anti-Bark sonic Controller you should trust for all your anti-Barking needs.
See for yourself the difference between MY Pet Command's newest model and the competition. Buy today with confidence thanks to immediate customer support help and 12-month warranty.

UPC: 0600168680818
EAN: 600168680818
Video